Before I left for a trip to Egypt last October, I purchased this snazzy, aluminum, Away carry-0n bag for the trip. Over the last few months, I've had several comments and emails asking how that bag worked out. Though I loved the bag, I sadly decided to return it after the trip. In today's post, I thought I'd share what I loved about the bag, why I returned it and what bag(s) I'm considering buying now.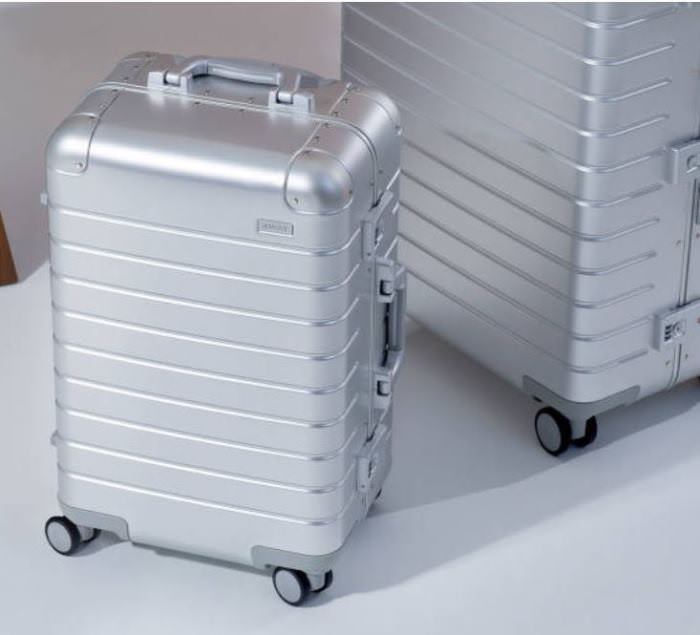 The Away bag comes in a non-aluminum version in a lot of great colors. So if you've been thinking about an Away bag, don't let my experience with aluminum version scare you away. Their regular bags are not as heavy as their aluminum bag.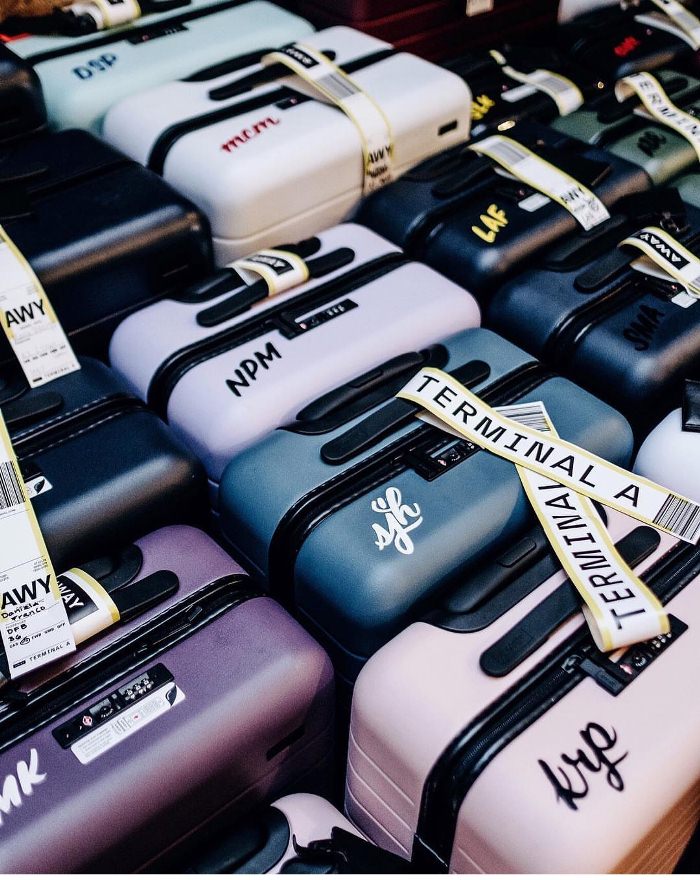 The Pros of an Away Bag
Pro: One of the pros of the Away bag is its size. It's slightly larger than the typical carryon. The Away folks measured the little box thingy that airlines use to test to see if your bag is the right size to be a carryon and they found that carryon bags could be a little bigger than the size of the typical carryon being made today. So that's why their Larger Carryon is an inch or so bigger in width and length than most carryon bags.
I flew three different airlines on this past trip, Delta, Alitalia, and Air France, and had no problems at all. No one ever batted an eye or even measured my carryon.
Pro: The built-in removable battery for charging a phone was awesome. It was used several times on this trip by myself and those traveling with me. Several times other travelers asked me about my bag when they saw me charging my phone, especially when I had my phone sitting/charging on the top of the bag while waiting in line to board one of the flights back home. The battery in the Away bag will charge a phone 3 times before the battery has to be recharged.
Pro: This bag glides like a dream, it practically rolls itself!
In summary, the pros are the slightly larger size, the built-in charger, how easy it rolls. Plus, it's just a great looking bag.
The Cons of the Aluminum Version of the Away Bag
Two days before I left for the trip to Egypt, I filled my bag with the items I always place in my carryon: Laptop, camera, camera lenses, charging cables for laptop and other electronics, voltage converter and adapter, a change of clothing, my Calista, medications I might need and anything else that I'd really miss if it were lost and never arrived at the end of the flight.
Tip: Never, ever pack anything in your checked luggage that you can't live without during a trip or that you would be devastated if it went missing for good. You never know when a checked bag could be delayed or lost forever.
Once I had the bag filled, I tested lifting it above my head as if I were placing it in an overhead bin. I found I could barely lift it up to my face, much less over my head. It felt as if I would drop it or lose control of it if I raised it high above my head. It was heavy!
If you only pack clothes in your carryon, you probably wouldn't have this issue, but I pack some pretty heavy things into my carry on and often my carryon is where I stash those souvenirs I'm bringing back.
I called Away that very day and told them that I needed to return the bag because there was no way I was going to be able to get it into the overhead bin inside a cramped plane without dropping it or accidentally whacking someone in the head. They reminded me I had 90 days to return the bag (used or unused) and suggested I go ahead and give it a try on the trip to Egypt.
I asked the representative how in the world people fill the aluminum bag up, then lift it to get it into the overhead bin. She said that a lot of businessmen buy the aluminum Away bag. That made sense because they are probably a lot taller and stronger, and they may not be loading it down with cameras and such for a business trip. Also, they may carry their laptops in a briefcase or messenger style bag and their aluminum Away bag may just be full of clothes. That would make a HUGE difference!
Ummm, maybe I should have placed my laptop into my "personal item" but then I'd have to carry that through the airport unless I could hook the personal item bag over the handles of the aluminum Away bag. Usually, my personal item is just a handbag, but on my trip to England in July, I'm going to using a much larger bag as my personal item and I may put my laptop in it since it's going to be such a long flight, although I hope to sleep for much of the flight, so maybe not.
If you're taller than me (I'm 5′ 3-1/2″) and don't carry a lot of really heavy things in your carryon, you could probably get the aluminum Away bag into the overhead bin without any assistance. Unfortunately, exactly what I feared came to pass on the trip: On every flight, I had to ask a male flight attendant to help me get my bag into the overhead bin.
One More Con of the aluminum version of the Away bag was something I knew was a possibility: that the bag could get a dent if bumped into anything. I tried to be super careful with my carryon bag, but somehow during the trip, it got a small dent on one side. That dent killed me! I hated seeing it on that pretty bag! If it could get a dent with me being as careful as I was during the Egypt trip, I wondered how it would look like after many more trips?
As soon as I returned from Egypt, I called Away and thanked them for letting me try the bag but told them that I needed to go ahead and return it. Their customer service is outstanding each time I've called. They approved the return with no questions asked and I returned my aluminum bag for a full credit.
My Next Carry-on Bag
Before I head off to England this summer, I'd like to purchase another carry-on bag. Away's regular, non-aluminum carryon bags are a good bit lighter, so I'm thinking about buying another one of their "Larger Carry-on" bags or another bag that I recently discovered that's turning my head.
This is the other bag I've been eyeing–absolutely love how it looks! The only thing I don't like is that it doesn't have the built-in charger that I so enjoyed in the Away bag during my trip to Egypt. Also, it's the normal, standard carryon size, so a little smaller than the Away Larger Carryon bag.
It comes in 7 different colors.
This white color with the brown leather accents would be beautiful with the personal item/bag I'm planning to take on the trip, so I'd be styling as I roll my way through the airport. Har, har!
I have this thing for pink so this color called "Blush" is calling to me! I bet the Away Everywhere Bag in pink would be pretty with this bag.
I also love it in navy, the contrast of the navy against the brown leather accents is stunning! I wish it came with a built-in removable battery. Not sure if I would order it monogrammed or not, but it really does look pretty monogrammed.
See all the colors this bag comes in here: Carry-on Bag.
I also love the striped interior of this bag! It comes in all the bags, no matter the exterior color.
If I go with a non-aluminum Away bag, they also have a lot of colors from which to choose–9 to be exact.
Plus, they have come out with two "special edition" striped colors. This pink one is really cute! You can check out all the colors available for the Away bag here: Away Larger Carry On Bag. Of course, they make bags in all sizes, not just carryon bags.
I really like Away's "The Everywhere Bag" that's designed to sit on top of their suitcases. It comes in 5 colors, so it coordinates with all the colors they offer in their suitcases.
Decision Time
Should I go for another Away bag (non-aluminum this time!) with the built-in battery or the other bag with the pretty leather accents? I've managed to do without a built-in battery on all my other trips, but it sure did come in handy and give me peace of mind, having one charged and ready to go during the Egypt trip. I guess I could take a separate phone charging battery, I have several here at home.
Then there's the vintage style bag to consider. It's so inexpensive, I may go ahead and order it for this upcoming trip and see how I like it. I really love how it looks with the leather accents!
Love it in red, too!
Again, here are links to the two bags above that I'm considering in case you want to check them out.
Vintage Style Bag with Leather Accents
Which do you like best: The Away bag (with the built-in battery) in a non-aluminum color, OR the Vintage style bag with pretty leather accents, but no built-in battery?
Update: Here's another gorgeous luggage with that vintage look. Of course, the price is a good bit higher, but it is beautiful! You'll find it here: Luggage.
*If a post is sponsored or a product was provided at no charge, it will be stated in post. Some links may be affiliate links and as an Amazon Associate, I may earn from qualifying purchases. *