Quite a few years back I splurged and purchased a Louis Vuitton Large-Ring Agenda in the GM (A-5) size. I had never had an agenda before and wasn't sure how I would like it and if I would really use it. It turned out to be a great purchase! I absolutely love having an agenda and find I use it a lot! My agenda stays open on my desk full time and I refer to it on a daily basis. Whenever I travel, it always goes with me. Despite how much use it gets, it still looks as nice as the day I first purchased it. Definitely recommend this agenda if you enjoy using a physical agenda as I do.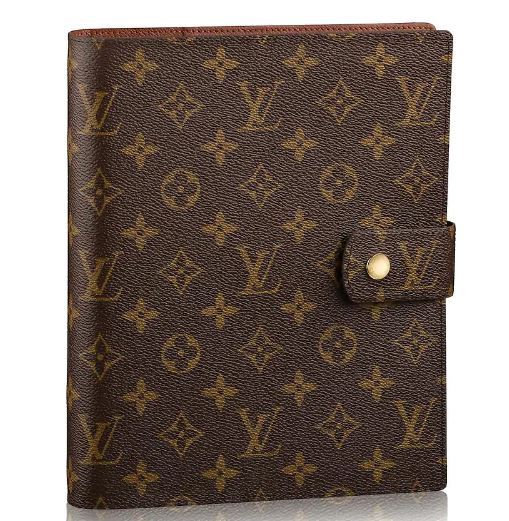 When I first purchased this LV agenda, I had trouble finding refill inserts that I liked. After a good bit of searching online, I came across Mel's Etsy shop and knew I had found my refills.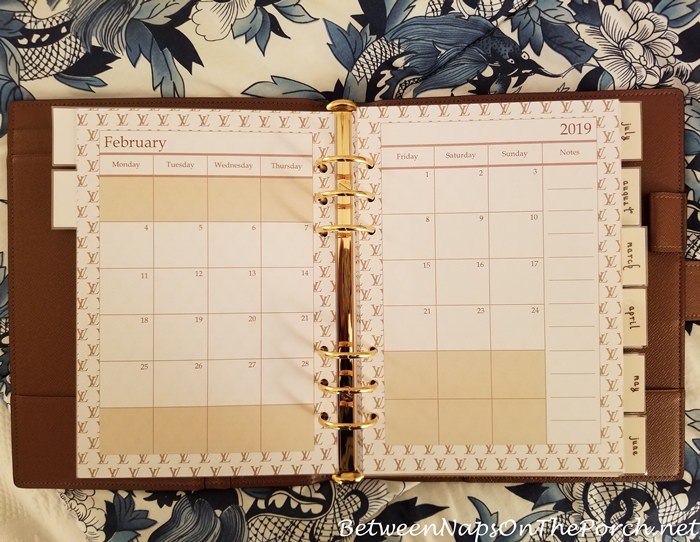 I love her calendar refills and dashboards so, so much. I've purchased many over the years. If you use a desk agenda, you'll find her calendar refills, dividers, dashboards, and other types of inserts here: LV Inspired Agenda Refills. Note: If you don't see what you're looking for, use Mel's "contact" link on her Etsy page to let her know what you need and chances are she can make it for you. She has always been happy to help when I've had a special request. (See more of this agenda and the inserts I've purchased for it in this previous post: Beautiful Calendar Inserts for Any Agenda.)
A Second Small Agenda
I love stalking Fashionphile for preloved items that are in "Like-New" or "Excellent" condition and a few years back I picked up this little Louis Vuitton Small-Ring Agenda in the PM size. Since it's small, it's the perfect size to carry in a small to medium size handbag. I especially love the fun travel motif LV used in the design that year. Every year, for the holidays, LV comes out with a few limited edition designs. I'm not sure what year they created this "Illustre" design, but I have always wanted a small piece from that collection.
The images on this little agenda make me laugh every time I see them. I love the people rushing to make sure they don't miss the train or ship or whatever it is they are boarding. My favorite is the woman in the blue coat with the fur collar and the little dog tucked under her arm. I can just hear her telling the porter in a high-pitched, shrill voice, "Young man, be sure and take my trunks directly to my room–and be careful you don't bang them into anything along the way." I think I can see him rolling his eyes from here. Ha!
When I first purchased this small-ring, handbag/pocket-size agenda, I knew I wanted to use it for note-taking and not as a calendar agenda since it is so small. At that time, I found these cute "To-Do" lists on Etsy. They no longer seem to be available so I looked to see what else I could find.
I actually found two designs I like even better than the refill I initially purchased. I love this striped design in pink. The color is a perfect match to the interior of my little notebook/agenda. (Find this refill available here: Louis Vuitton Agenda PM Refill, To-Do List.)
I think this one is my favorite, though–love the pretty flowers! Again, it's a great match for the interior of this small agenda–like they were made for each other! (This floral agenda refill is available here: Louis Vuitton Agenda PM Refill, To-Do List.)
If you love decorating your agenda, these are my favorite stickers for that. (Find these available here: Holiday/Seasonal Stickers.)
They are so cute on the pages of an agenda or calendar.
Hope you found this helpful if you have either of these agenda covers or an agenda or notebook in a similar design, size, or style. I know not as many people are using physical agendas these days, but I really enjoy the look and feel of them–love writing in them and decorating the pages with little stickers here and there. In fact, I would love to collect a few more of the vintage LV agendas before they become completely extinct. Hopefully, that never happens!
*If a post is sponsored or a product was provided at no charge, it will be stated in post. Some links may be affiliate links and as an Amazon Associate, I may earn from qualifying purchases. *