When it appeared the schools would be closing here in Ohio back in early March, I hurriedly packed my suitcase, loaded up my SUV with a bunch of my son's old, childhood toys and some other gifts I've been meaning to bring up, and I headed north. It was still very cold in Ohio, in fact, it was snowing the day I arrived.
I didn't pack quite as many clothes as I normally do. I tossed in 2 coats: a favorite raincoat (see it here: Raincoat)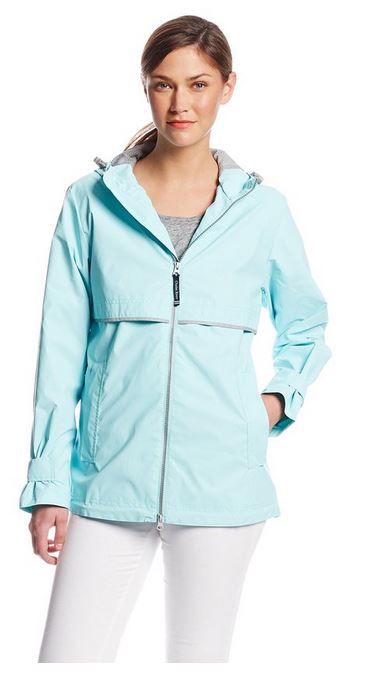 …and my L.L. Bean Barn Coat. (see it here: Barn Coat)
I also packed 3-4 pairs of navy and black jeggings/jeans, several pairs of shoes, a pair of snow/rain boots, winter sweaters and a few long sleeve shirts. The only semi-summery outfit I packed was my favorite polka dot shirt and this green cardigan.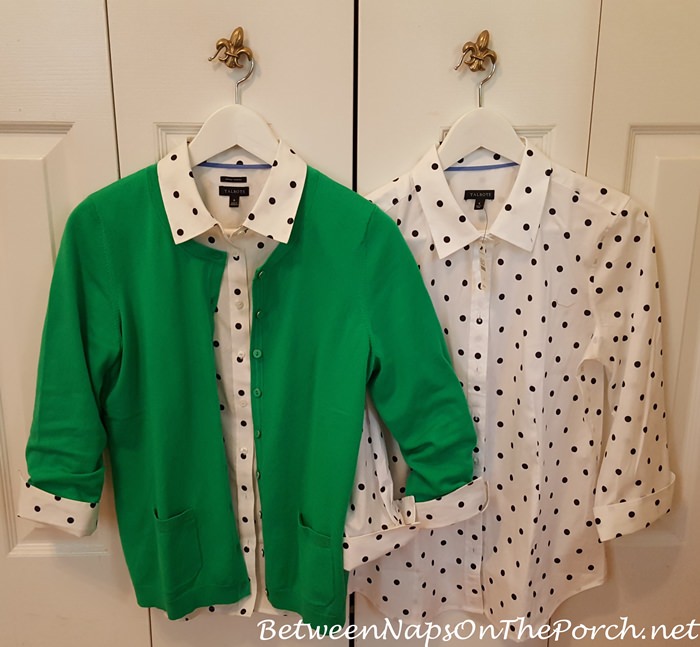 Unfortunately, I forgot my favorite summer sunhat. I've really been needing it on our long 5-8 mile walks around the neighborhood! I may end up buying another one since I'll be here a while. You'll find them here: Sun Hat.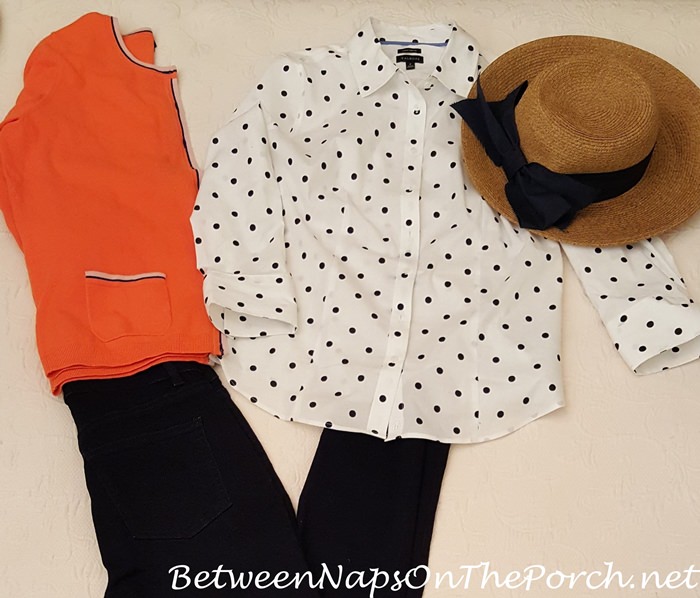 I've been here around a month now and spring has definitely sprung. We've been having temps in the upper 70's which I'm loving, but I realized this week that I'm woefully unprepared for the warm temps we've been experiencing. I really, really wish I had tossed in a couple of pairs of my fave scalloped shorts and some of my casual, linen summer dresses.
Truthfully, I don't really need any shorts since I have plenty at home, purchased over the last two summers, but I always try to add a couple of new summer dresses to my spring/summer wardrobe each year.
With the temps rising and unsure when I'll be headed back home to Georgia, I went in search of a few summer dresses to help get me through the next month or so until things return to normal. I kinda wonder what "normal" will look like after the spring we've had. I'm sure you do, too.
The first place I headed online was to the Tommy Bahama site since I LOVE their linen shift dresses! They have one that I'm super interested in, but unfortunately, it's not currently on sale. So I've decided to wait in hopes it will go on sale.
This is the style I love wearing during the summertime. It's a flattering fit and not too short, hits me right above the knee. It must be a really popular style for TB since they've carried it in different patterns every single summer since I discovered it in the Tommy Bahama store in Maui a few years back. It's currently available here: Summer Dress.
I only purchase cotton or linen dresses for summer since I really dislike how clothes made of polyester, rayon, etc… look on me. Plus, I don't find them near as comfortable or cool as cotton and linen. Linen and cotton do require a bit of ironing, but I find it totally worth it for the look and comfort they offer.
I especially love Tommy Bahama's linen, shift dresses because they fall naturally over the body in a way that's flattering, feminine and very forgiving. That's what I want in a dress…the three Fs! lol They are also lined with a cotton lining, so no need to wear a slip.
In my Google searches a few nights ago, I discovered one of the TB dresses I already own was available in "New" condition on eBay. The price was less than half what I paid when I purchased the dress brand new in Maui, so I bought it. I love the color/style of this dress so much, I don't mind having a duplicate. It should arrive tomorrow or Friday.
I tripped across another TB summer dress that I already own and love on sale at Saks Fifth Avenue Off Fifth. I purchased it again since the price was excellent!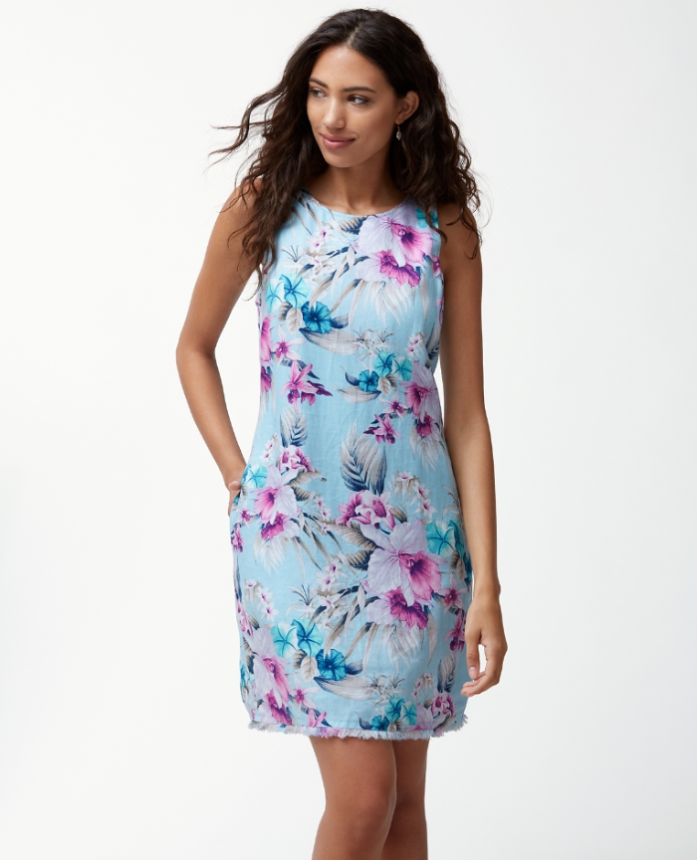 You may remember seeing it in this post where I shared why I dread salon visits so much: My Favorite Hair Style and Anxiety at the Hair Salon.
Unfortunately, I forgot to change the shipping address to Ohio so sadly it's headed to GA. Argggg.
I found another really cute Tommy Bahama linen dress on eBay (New with Tags) and purchased it. It's a style that I've never tried before but hopefully, it will fit. The price was so good I decided to take a chance. The color scheme/pattern reminds me of another TB dress I have at home and love.
You may remember glimpsing it on me in this photo I took while touring the Dior Exhibition in London last summer. (See that previous post here: Beautiful Dior Exhibition: Victoria and Albert Museum, London 2019.)
Last night I found this adorable Tommy Bahama dress on sale and luckily they had it in my size. So this one will be delivered sometime in the next few days and it's one I don't already own. You'll find it and many other Tommy Bahama dresses on sale here:
Tommy Bahama Dresses on Sale. This particular dress can be seen on sale here: Tommy Bahama Sleeveless Shift Dress.
With the three dresses I've ordered, at least I'll have something to wear as the days grow warmer. Talbots doesn't have my fave scalloped shorts in stock right now, so not sure what I'll end up doing for shorts. At some point, when it's not so difficult to travel via interstate back into Georgia, I may make a trip back home to pick up some more clothes. Driving back home right now feels risky with all that's going on, not to mention Georgia is requiring self-quarantining for those folks coming in right now, depending on the state from which they are coming.
Unfortunately, I only brought one pair of sandals with me, the blue pair shown below. These are practical sandals that I love wearing every day around the house, for summer walks or summer hikes or whenever I'm traveling during the summer months. I took them with me to Kenya, Morrocco and Egypt. They saved my life in Egypt where it was broiling hot every single day! They also accompanied me to England last summer.
You've heard me rave about these sandals so many times because they are the most comfortable, supportive sandals I've ever worn. I always buy them here: Sandals. They seem to be in short supply these days, not sure why, but you can see the ones that are still available here: Sandals.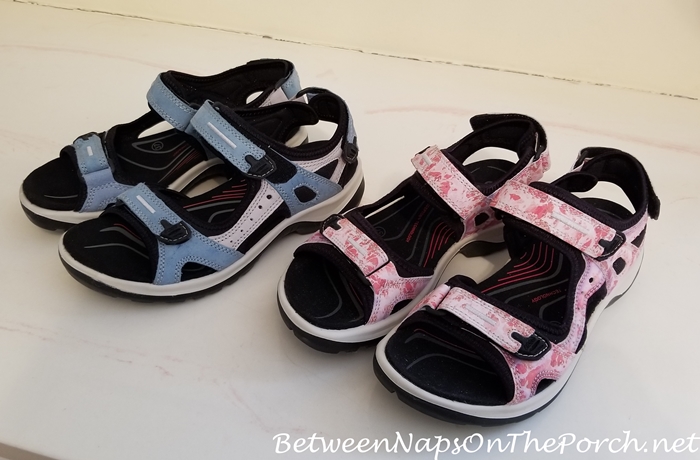 Though I love the sandals above for everyday summer wear, I wanted at least one more pair that would look a bit "fancier" to wear with my summer dresses when I leave the house. Of course, the only place I'm going these days is the grocery store.
I found these cute Skechers sandals for a great price and decided to order them. They are currently $34.95 with a coupon that takes an additional $8.74 off, bringing them down to just $28.18.
They arrived today and I love them! They have so much arch support, a feature I really value in a shoe! They come in several colors but this was my fave. Love how they look on–very flattering.
I ordered my usual size, size 7, and they fit perfectly. I think they will look great with the dresses I've ordered and with my other summer dresses/shorts back home. You'll find these available here: Sandals.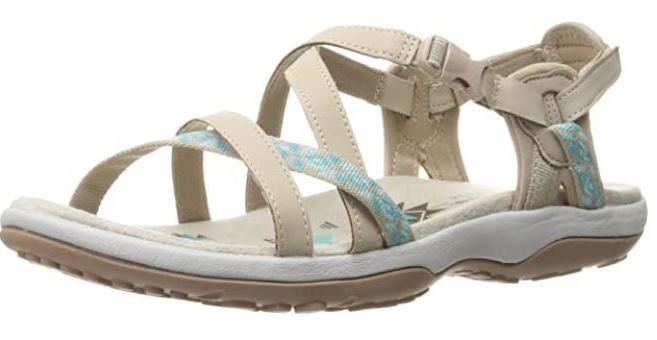 We've been taking a lot of long walks throughout the week and on weekends, so I decided to order some sneakers for the days when it's still too chilly for my fave walking sandals. I ordered these one size up since I like to wear my sneaks with thick, cushy, low-cut socks. They were super affordable at just $32.99.
They arrived today and are perfect with the socks I ordered at the same time. They come in a variety of colors and I wouldn't mind having these in the white/gray color combination, too! You'll find these cute sneakers here: Sneakers.
These are the socks I ordered to go with them. They arrived yesterday and they feel/look great with the sneakers. They come in several color combos, including white. I went with the gray since the sneakers are gray. If I order the white sneakers too, I'll probably order these socks again in the white color combination. If you're in need of summer socks for sneakers, these are available here: Socks for Sneakers.

I think I'll shop for some summer shirts today to go with the jeans/jeggings I brought along with me…maybe pick up some t-shirts and another long-sleeve linen tunic. Love those!
Update: I just noticed Talbots is having a huge spring sale. See everything that's on sale here: Spring Sale. Off to shop the sale!
See you tomorrow for Tablescape Thursday!
*If a post is sponsored or a product was provided at no charge, it will be stated in post. Some links may be affiliate links and as an Amazon Associate, I may earn from qualifying purchases. *