Welcome to the 467th Tablescape Thursday!
Yesterday: Awoke at 5:00 am–body still on Ireland time. Decided to make the most of it and headed down to the garage to start replacing the bowed shelves.
Took a while to unload and reload all the shelves since several had to be removed at once to get them out. Afterwards: much better—no more bowed shelves!
Ditto for all the shelves in the charger plate cabinet…replaced those, too!
Just one cabinet left to go, the one on the far end near the garage door. Been replacing all the shelves in stages so the guys at Home Depot won't run and hide when they see me coming: "Hi, I'd like these 485 shelves cut down to size, please!" 😉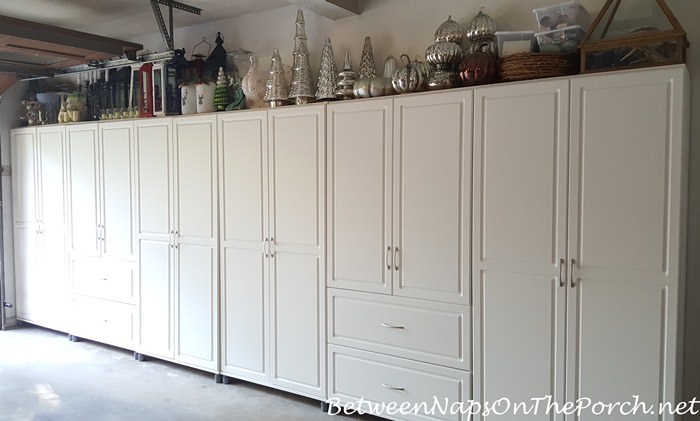 Next: Showered and headed into Atlanta for a doctor's appointment. Appointment over, rushed back home to meet the door guy who had arrived early to measure the basement door for replacement.
Door guy leaves, getting a late start but it's time to get busy creating a table for this week's Tablescape Thursday.
With the table set, photos taken, I turn off the lights on the porch and head back inside. Look down and see this on the breakfast room table. Uh, oh!
Walk back out on to the porch, look at table and yup, forgot to place a napkin at one place setting. Argggg! Too late now to take more photos, almost dark.
Hope you enjoy anyway…we can play the "What's Wrong With This Picture?" game. 🙂
I'm still in summer mode, but the temps were so cool yesterday, it put me in a fall-ish mood.
Designer, James Farmer was talking about layering yesterday on his Instagram page. I guess it's contagious because I was in a layering mood for this table.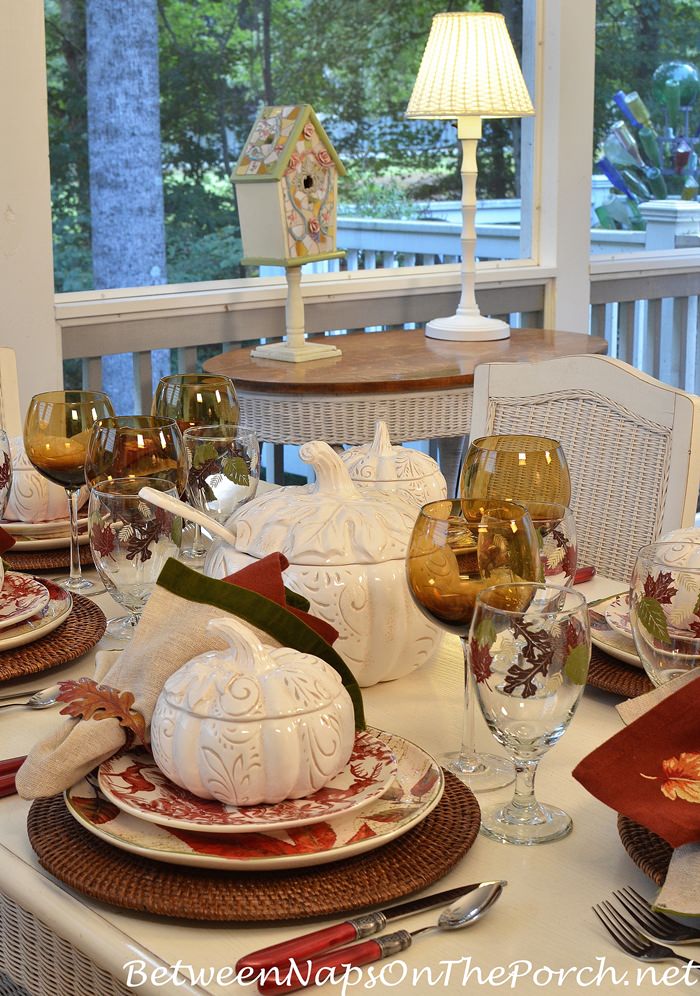 From my now-easily-accessible napkin storage… 🙂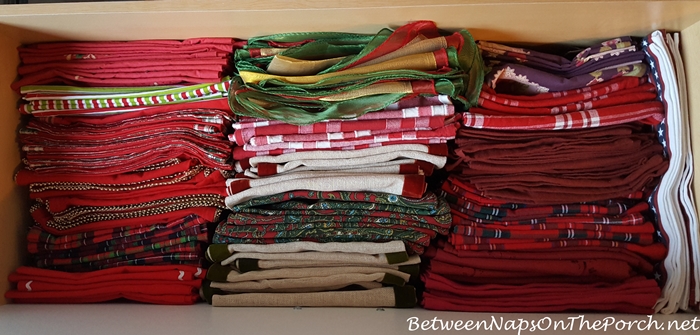 …I pulled green, velvet-edged, linen napkins and layered them atop rust-colored, leaf-embroidered napkins. Linen napkins are from Pier 1 several years ago…leaf napkins are probably from Tuesday Morning, Marshalls or Home Goods, forgotten where now. Couldn't decide on napkin rings so used a couple of different ones: leaf napkin rings…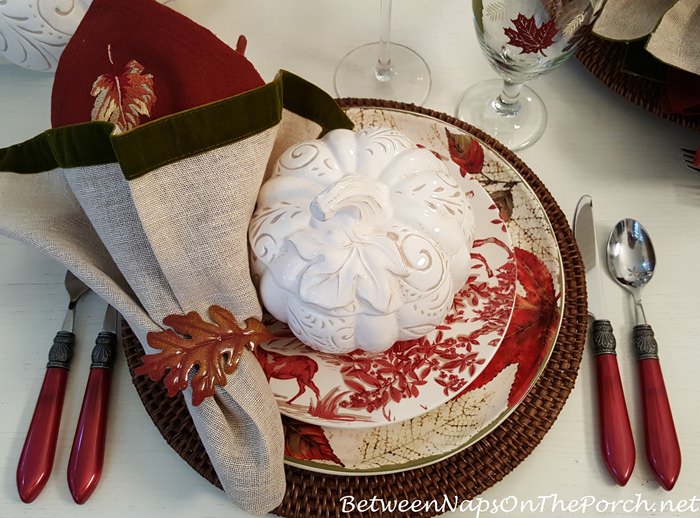 …and acorns wrapped with a red ribbon. They aren't actually tied, just wrapped around for easy removal.
White pumpkin soup tureens are gently easing me into fall…not ready to go orange, just yet. Found the white tureens in Pier 1 a few years ago. They have white ones again this year here: White pumpkin tureen.
Not quite ready for fall, either? Consider decorating with white "fall" accents for an easier transition from summer to autumn. (See more of this summer-fall transition hutch here: Decorate Your Home in White for Fall.
Never dreamed I get so much use out of these deer plates when I first purchased them at Pottery Barn–really thought they would be mostly for Christmas. I love using them in other ways like this safari tablescape here: On Safari.
Had fun layering them with fall leaf plates for this autumn table. Leaf glasses are from Dollar Tree several years ago. Wine glasses were a find at A Classy Flea antique shop several years back.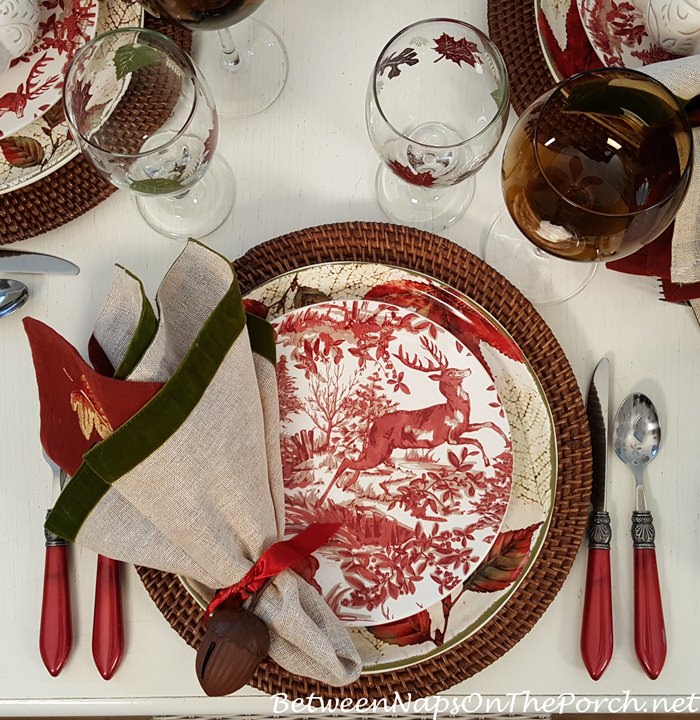 This leaf pattern must have been popular because it's being offered again. You'll find it available and on sale here: Autumn Leaf Dinnerware. This autumn leaf dinnerware and Spode Woodland are my favorite for this time of year. Can't get enough of either!
Here are two other tables where I've used the leaf dinnerware…click on title to view that table.
Autumn Table with Woodland Friends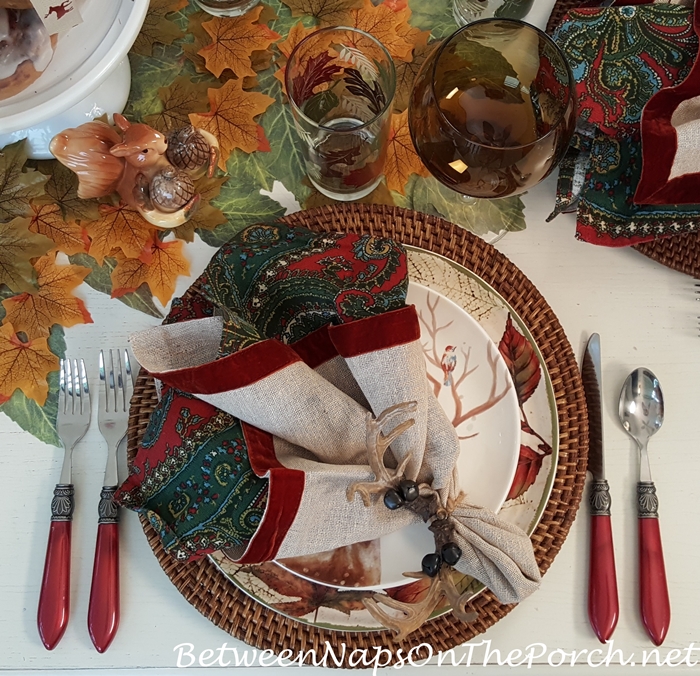 Used both the salad and dinner plates for this tablescape: Autumn Table Setting with Roasted Pumpkin Soup.
Can't stop watching the Weather Channel. Hope everyone who should have evacuated, has evacuated. Irma means business!
Looking forward to all the tables linked for this week's Tablescape Thursday!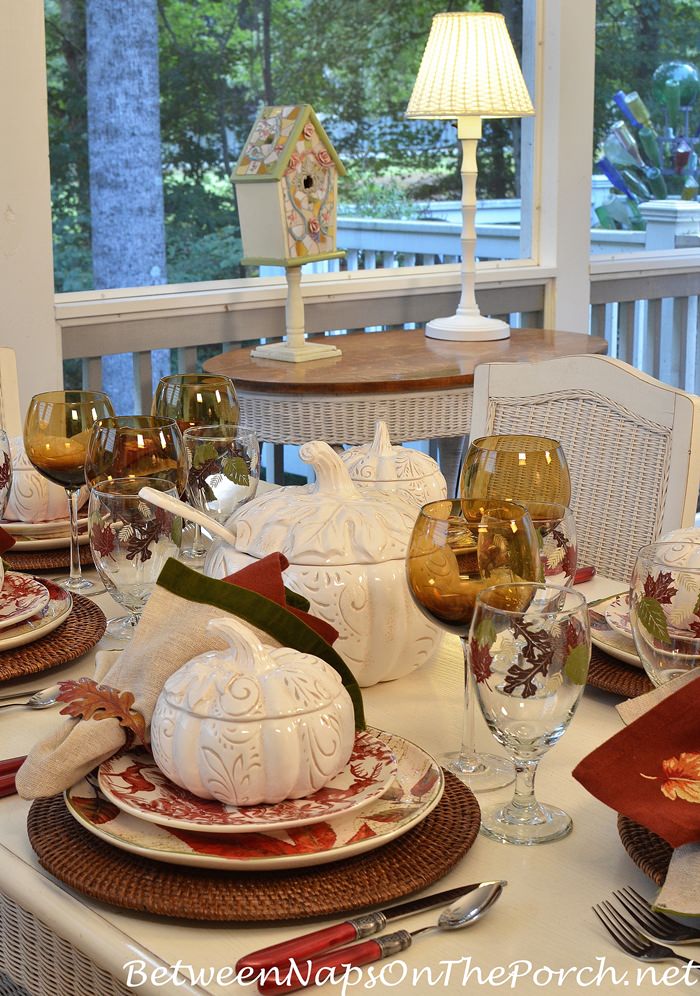 Pssst: I post almost daily to Instagram. Follow Between Naps on the Porch on Instagram here: Between Naps On The Porch.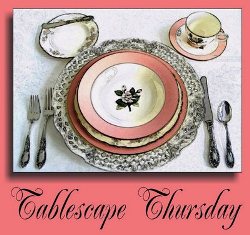 If you are participating in Tablescape Thursday, please be sure to add your permalink below, and not your general blog address.To get your permalink, click on your post name, then copy and paste the address showing in the address bar, into the "url" box when you link up.
You'll need to include a link in your post back to the party to link up and participate. That's so visitors to your blog will be able to find the party and the other Tablescape Thursday participants. Requiring a link back also prevents businesses and scammers from linking up to sell their products. (Yup, that really happens, unfortunately.)
Please Note: After 1 week, party links are still available to view by clicking on the blue button below.
*If a post is sponsored or a product was provided at no charge, it will be stated in post. Some links may be affiliate links and as an Amazon Associate, I may earn from qualifying purchases. *