Welcome to the 748th Metamorphosis Monday! Hope you had a restful Memorial Day weekend and are enjoying some additional time off today. When I last shared the basement storage/work room, the painting was mostly finished except for the windows and some areas that needed a bit of touch-up. Before I share how it looks now, here's a photo of where we started. This side of the basement was functional for storage but not very pleasant to be in.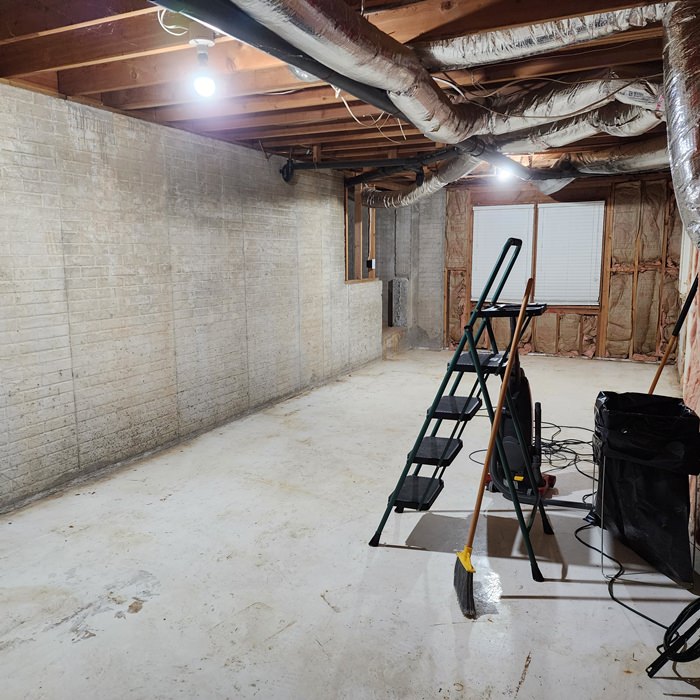 I started trying to improve this area by doing a search for the best paint for basement foundation walls and found several articles recommending a paint called DryLok. I painted this concrete wall and another wall behind me (not visible) with DryLok, the product I most saw recommended for basement walls. DryLok is thick, much thicker than regular paint, so it's a workout to apply, plus they recommend you do at least two coats. I did apply two coats and went back and applied a third coat in areas I felt needed it. It definitely lightened up the room some.
Each time I made one improvement here in the unfinished side of the basement, it made me want to keep going! I decided the visible insulation on the other two walls of the basement definitely needed hiding.
Prior to hiding the insulation with drywall, I had additional lighting added to the staircase leading down to the basement since I knew it would be much easier to reach the electrical stuff while the walls were still open. Two overhead recessed lights and stairstep lighting were added at that time. I also had a whole house surge protector and an additional 4-gang outlet added to the storage room. Later, when the electrician came back to add additional lighting to the storage room, he commented how thankful he was that he was able to add the lighting to the staircase before the walls were completed.
Covering up all that insulation with drywall was a huge step in this renovation. I thought adding walls would make the space feel smaller but it had the opposite effect and actually ended up making the room feel bigger. After the drywall was added, I could not wait to get something done with the flooring.
I went with the same flooring I chose for the garage a few months back. Granite Garage did another awesome job installing the flooring here in this storage room. I learned during that time that in addition to garages, they do a lot of basements and patios, so it's pretty common to have this type of epoxy flooring installed in basements. After it was installed, I noticed the flooring looked darker here than it does in the garage. That's when I realized the two, sad-looking, bare light bulbs lighting this space had to go.
The electrician came back and added 10 recessed lights and what a difference it made! Now the floor looked the same as it did in the garage–so much lighter. Okay, how about a reveal now that all the painting is finally complete!
Here's how this room looks today. I took this photo with a wide-angle lens so that's why the room looks extra long. This room is pretty long, though. I was curious about its dimensions so I measured it today. It's 11-1/2 feet wide by 31 feet long.
You may remember I had thought about having open shelving in this space, but ultimately I chose closed storage cabinets.
When I first finished the garage renovation, I had plans to store lanterns atop the shelves. After seeing how that looked, I ended up removing them because I loved the clean, uncluttered look of the garage.
That's kinda what happened here. The more I thought about it, the more I realized I wanted closed storage for this room. I know several of you recommended open storage since open shelving lets you store larger items, especially in large storage bins. See that open door there at the end?
That door leads to this storage room where I have a good bit of open storage space already. So that's one of the reasons I decided to go with closed storage cabinets in the main storage room.
Here's how this room looks from the other end.
I'll be adding one more storage cabinet once they are back in stock.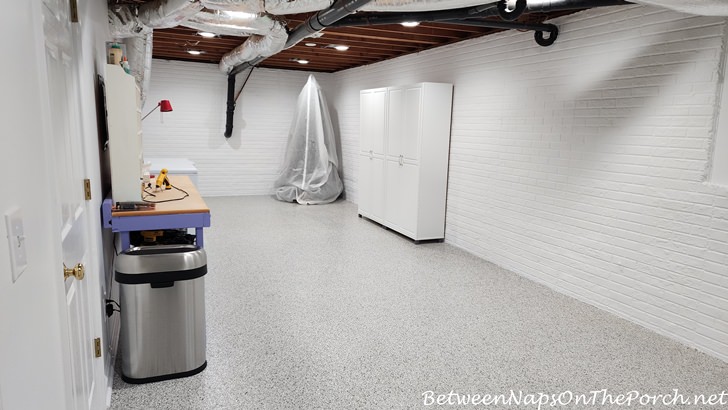 The Workbench: Do you remember my old workbench that used to be along this wall?
I couldn't resist spiffing it up a bit for its newly upgraded surroundings. lol
After running every color of the rainbow through my head, trying to decide what color to paint the workbench, I decided to go with the same color I chose for the potting bench here in the garage. I was surprised to find I still had plenty of paint left over from when I painted the potting bench.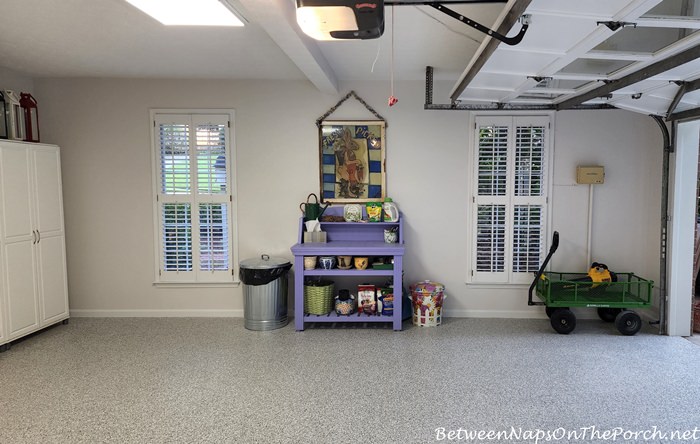 The color is a Sherwin-Williams color called, Dahlia.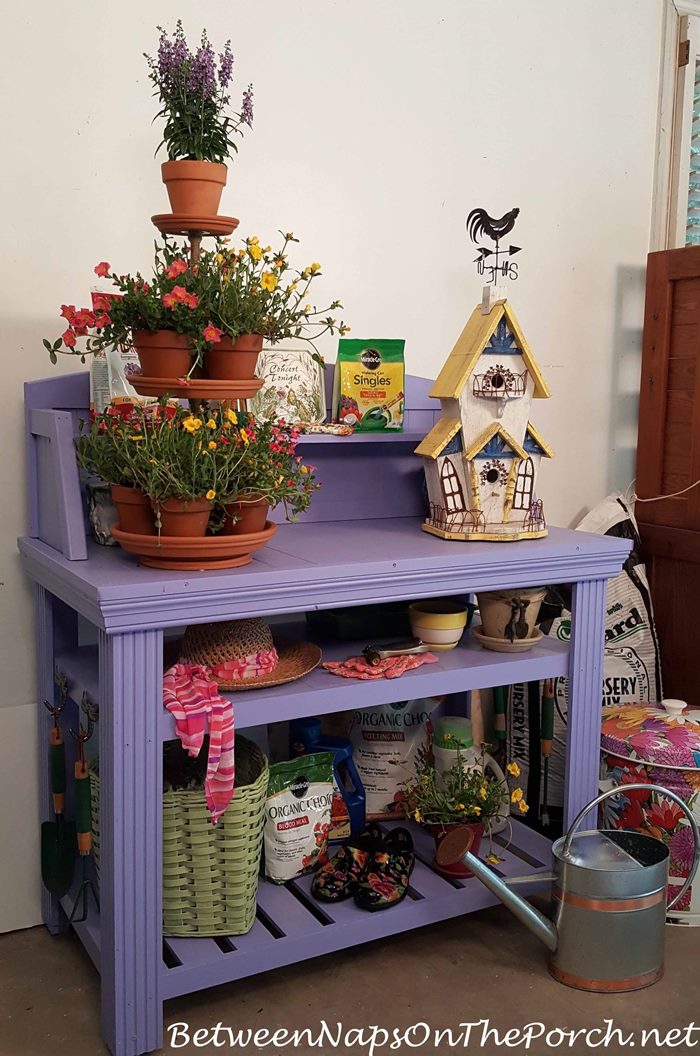 I really like how this color looks with the flooring in the garage, so I thought it would work great for the workbench, too.
I think it turned out really cute! It adds a bit of whimsy to this mostly black, gray, and white space. I didn't paint the top work surface or the top of the shelf below, just the frame. I like how Dahlia looks with the stainless steel Simple Human trash can on the left, and the stainless paper towel dispenser that's attached to the workbench on the right.
I've never mentioned this before, but the reason I chose this style of trash can for this room is so it would always be open, thus making it easy to throw things away. Also, I knew I'd never place food items in this trash can, so I really didn't see the need for a can with a lid. I like its "industrial" look and the shape was perfect for the end of the workbench. (Trash can is available here: Commercial Grade Stainless Steel Trash Can. Paper Towel dispenser is available here: Stainless Steel Towel Dispenser.)
When the painter was here, he called someone he knows to come out and measure for the door I'd like to have installed for the storage room at the far end of the room. Unfortunately, the person he called never came by. So I still need to find someone to help with that. I also need to purchase new faux wood blinds for the two windows at the end of the room. The old ones were a dark beige color and didn't look good with the white walls and white trim. They've been donated to Goodwill. I love how the windows look wide open but since this is the basement, for safety reasons I think it would be best to have them covered. I can always raise the blinds if I want to see the windows open again.
We've come a long way since this room looked like this!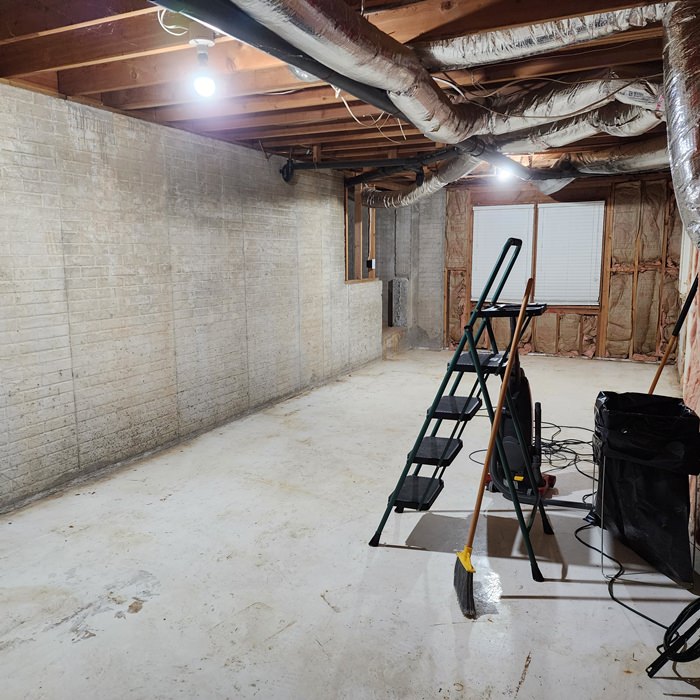 I had a couple of questions asking why I don't have a ceiling installed. Well, there are quite a few reasons for that. If I put a ceiling in, it would require moving that big, sewer line from where it currently runs down the center of the basement, over to the far side.
You can see where it connects to an outside wall there at the end of the room. Also, all the ductwork would have to be moved/rearranged. I have no idea what all that would cost but I don't think the benefit of a closed-in ceiling would probably make it worth the cost for this storage workroom. The next owner after me can do that if they decide to make this area into a bedroom, office, exercise room, etc…
Also, the other side of the basement is already finished except for the flooring–which I will probably do sometime later this year or next year. I'm itching to do some bathroom renovations next, so the flooring may have to wait a bit.
I don't mind leaving the ceiling open on this side since this space is just being used as a work/storage/freezer room. Plus, the open ceiling really makes it easy when plumbing, electrical, etc… needs to be accessed since so much of that stuff is located here on this side of the basement.
If you have any questions about this renovation, please let me know. Thanks so much for coming along on this project! It has definitely been a journey and I'm looking forward to a bit of downtime before the next renovation gets underway.
Looking forward to all the great Before and Afters linked for this week's Met Monday! Pssst: Did you know Between Naps On The Porch is on Instagram? You'll find me on Instagram here: Between Naps On The Porch. Like to know when a new blog post is up? Subscribe for email updates (it's free) and your e-mail will never be shared. Subscribe for free post updates here: Subscribe.
Metamorphosis Monday: Metamorphosis Monday is a party that's all about Before and Afters. Please link up your Before and After projects like DIY projects, room makeovers, craft projects even recipes. Please do not link up Table Settings, save those for our Tablescape Thursday party on Thursday. If you are participating in Met Monday, you'll need to link your post to the party using the "permalink" to your MM post and not your general blog address. To get your permalink, click on the name of your post, then copy and paste the address that shows in the address bar at the top of your blog, into the "url" box for InLinkz when prompted. NOTE: Please do not link up more than 3 posts from your blog. In order to link up, you'll need to include a link in your post back to the party so visitors to your blog can find the other party participants. When linking up to the party, give the InLinkz system time to find the link in your post to avoid having your link held for moderation/approval. Thanks!
You are invited to the Inlinkz link party!
*If a post is sponsored or a product was provided at no charge, it will be stated in post. Some links may be affiliate links and as an Amazon Associate, I may earn from qualifying purchases. *