Do you ever move furniture around? I was texting with a friend recently who was moving furniture into different places in her home and she asked me that question. I replied back that I rarely ever did because in most of the rooms in my home, the furniture really only fits in the room one way. I have to eat those words because I ended up doing exactly that, moving some things around.
One minor change made this weekend was moving this little lamp from a nearby dressing room to the secretary here in my bedroom. I've been needing a small lamp for this space and this one fits really well. Now I need a lamp for the place from whence I moved it. lol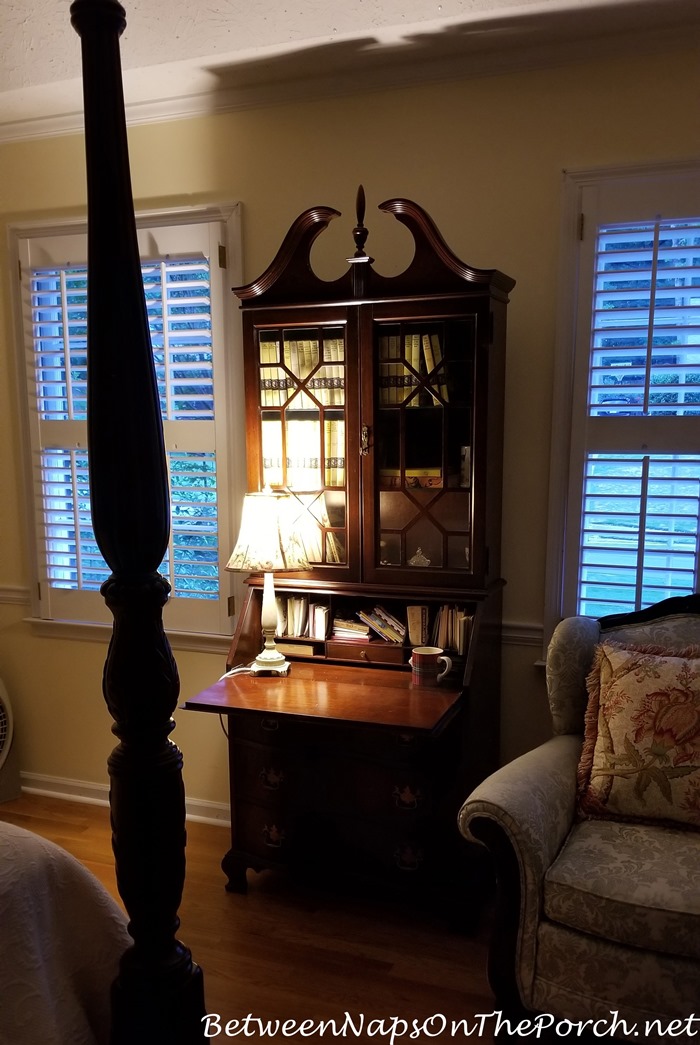 The other change I made was a pretty big one. The upstairs living room/bonus room used to look like this.
A while back I added a small, blue chest over near the antique Bornholm tall case clock. This weekend I got an idea that I'll be sharing with you for Met Monday. I'm not sure yet if I'll do it, will depend on how much it costs, but I'll bounce the idea off you on Monday and you can tell me what you think.
In the meantime, the clock is no longer here in the bonus room.
It's here at the top of the stairs in a spot where it looks right at home–like it's always been there. (Don't know why it doesn't look centered on that wall because in-person, it looks perfectly centered. Did it move itself during the night, I better go check!)
I do like the view coming up the steps so I may leave it here even if I don't go through with something I have in mind for the bonus room. Looking forward to sharing that with you on Monday!
Update: For my fellow puzzlers out there, I just had the most beautiful puzzle delivered today! It depicts a charming, old-world bookstore. It actually reminds me of a real bookstore I saw on Instagram. I wonder if they modeled the bookstore in the puzzle after that actual store? For you puzzle lovers, this puzzle is currently on sale here where I purchased it: Book Store Puzzle.
*If a post is sponsored or a product was provided at no charge, it will be stated in post. Some links may be affiliate links and as an Amazon Associate, I may earn from qualifying purchases. *