So, I have this thing for bunnies. This sweet bunny first appeared in a spring table setting back in 201o and ever since then, bunnies seem to always find a way into my spring tables.
Who could resist that face?!
Over the years I've continued adding to my bunny menagerie, they are great as a spring or Easter centerpiece or for any place you would like to add a bit of spring to your home. (View this table setting in full here: Spring Table Setting with Wisteria Centerpiece.)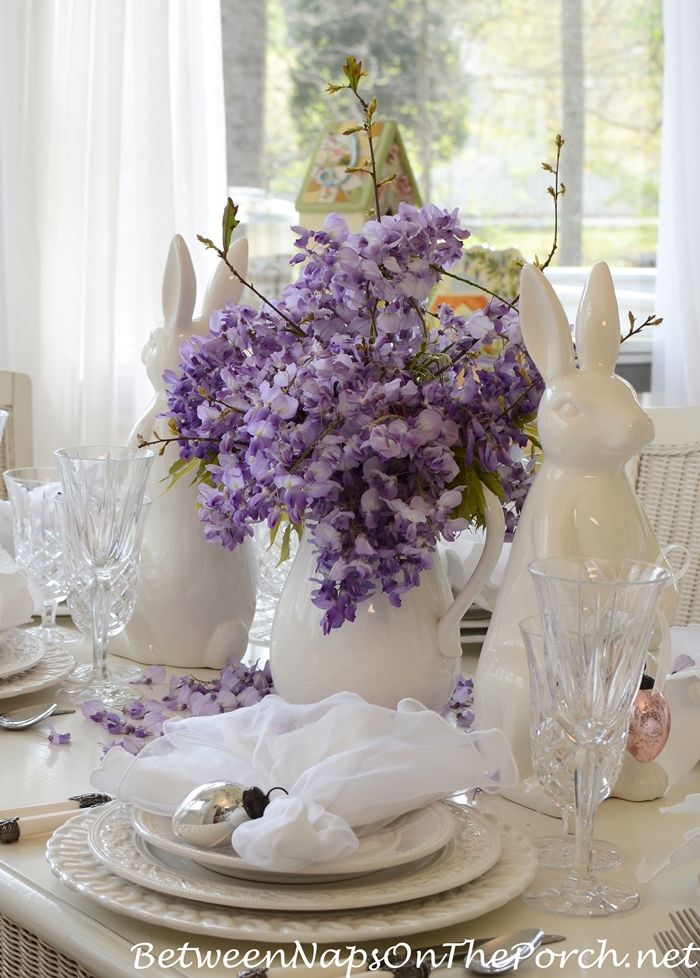 Sometimes they even find their way into a whimsical Alice in Wonderland Adventure. (Table setting can be viewed in full here: Whimsical Alice in Wonderland Table Featuring the White Rabbit. )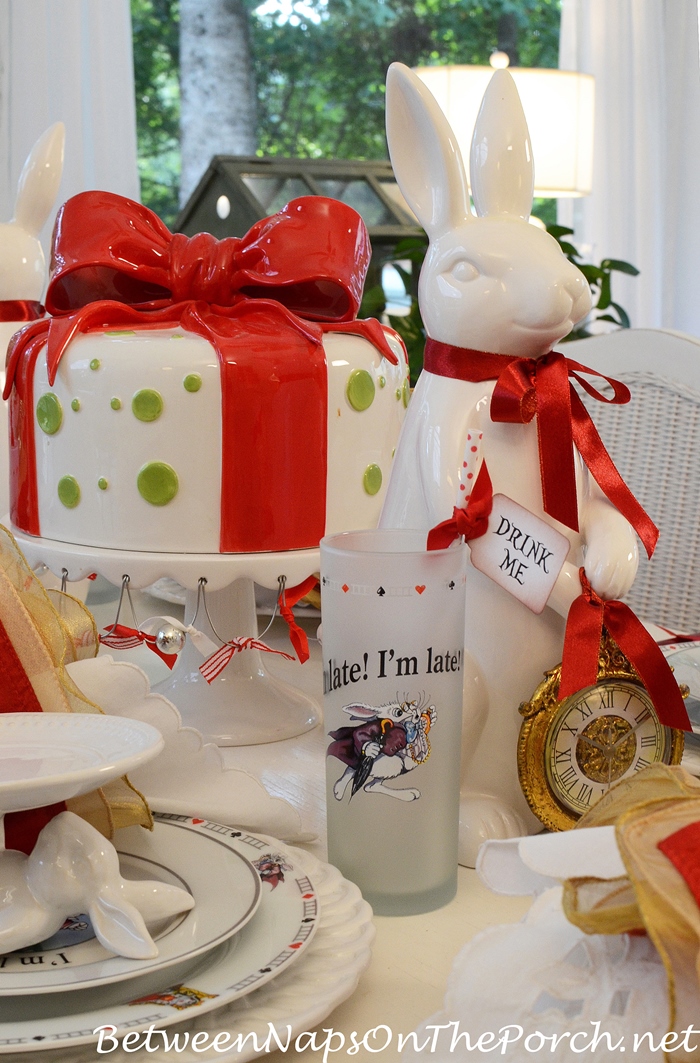 My favorite bunnies are those carrying a little basket. The baskets are perfect for filling with flowers. (View this table in full here: Spring Easter Tablescape and Debutante Camellias.)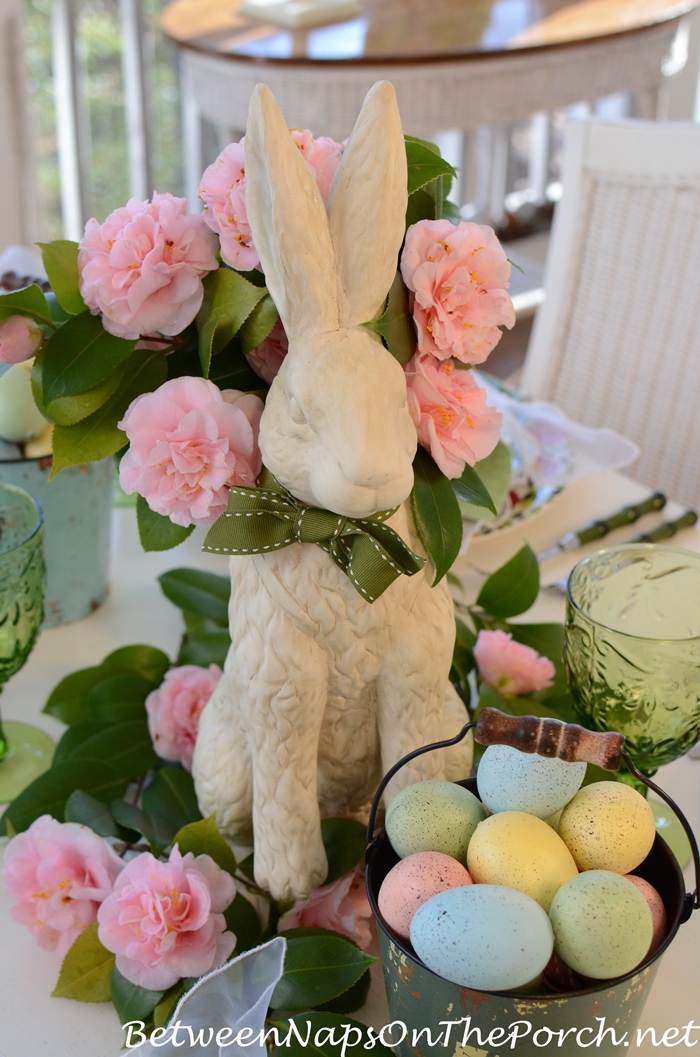 Of course, sometimes bunnies are just super busy hiding all those Easter eggs. A basket definitely comes in handy for that. (View this table in full here: Easter Bunny.)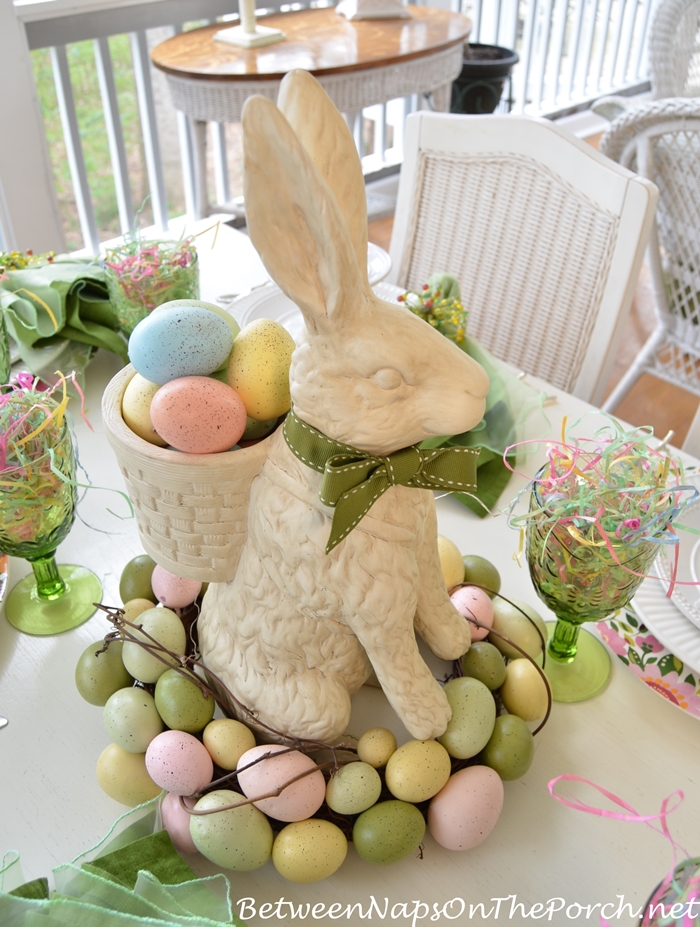 Sometimes bunnies will have two baskets, one in the back and one in front! Love that! (View this table here: Easter Table Setting on the Porch.)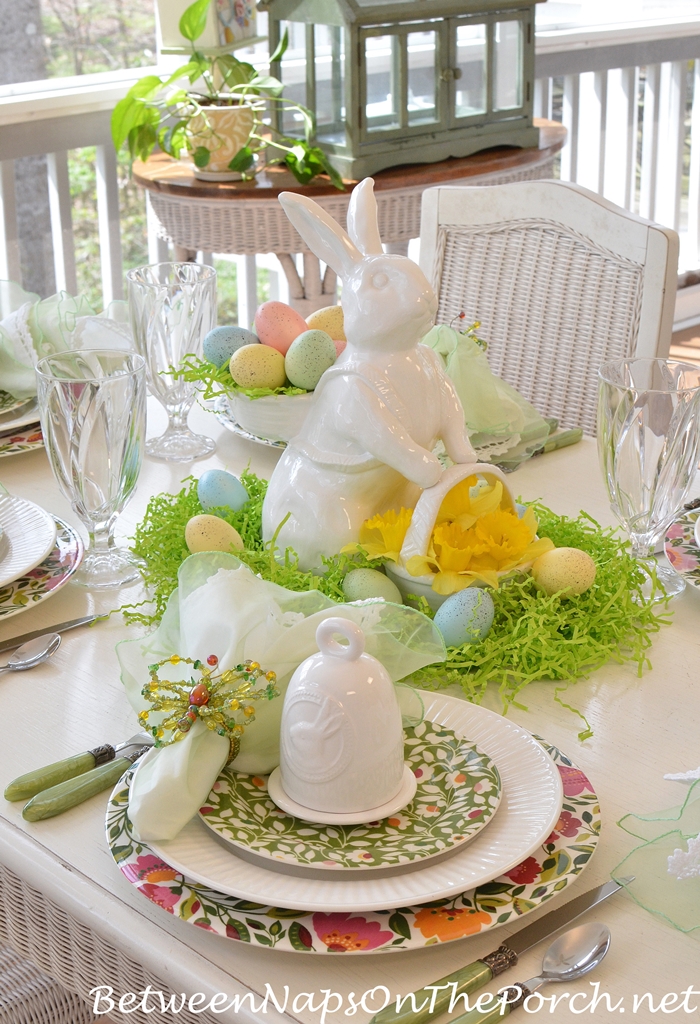 Last year I spotted these guys in Pottery Barn and loved their sweet wicker-style baskets. They reappeared back on the WS site for a nanosecond this year so I never even got a chance to mention them in a post. I shared a quick link via email with a BNOTP reader who asked me about mine and when I looked a couple of days later, they were showing "No longer available." I hope she got her bunny before they vanished. I noticed on a couple of outings recently, the stores seem a bit empty this year, I guess it's due to the events of the past year. (View this table in full here: Bunny Table for Spring.)
Day before yesterday, I was shopping the spring goodies online and spotted this darling vase below. All scrolling came to an immediate halt! lol I was on the phone seconds later, checking with my local PB to see if they had it in stock. They did!
When I arrived, I had to take the one on display, it was the only one they had left. Thankfully there were no chips or damage; it's in perfect condition. There's a 3rd bunny on the other side helping to hold up the vase. 🙂 These are some hard-working bunnies! (Vase is available here: Bunny and Butterfly Vase.)
Do you see the adorable butterfly? He just stopped by to smell the sweet daffodils I cut from the garden this morning.
Can't wait to use this lovely piece in an upcoming spring table setting! If you need one of these for your spring tables, get it before they are all gone. I doubt they will last online much longer, the way things are going this year. You'll find it currently available here: Bunny/Butterfly Vase.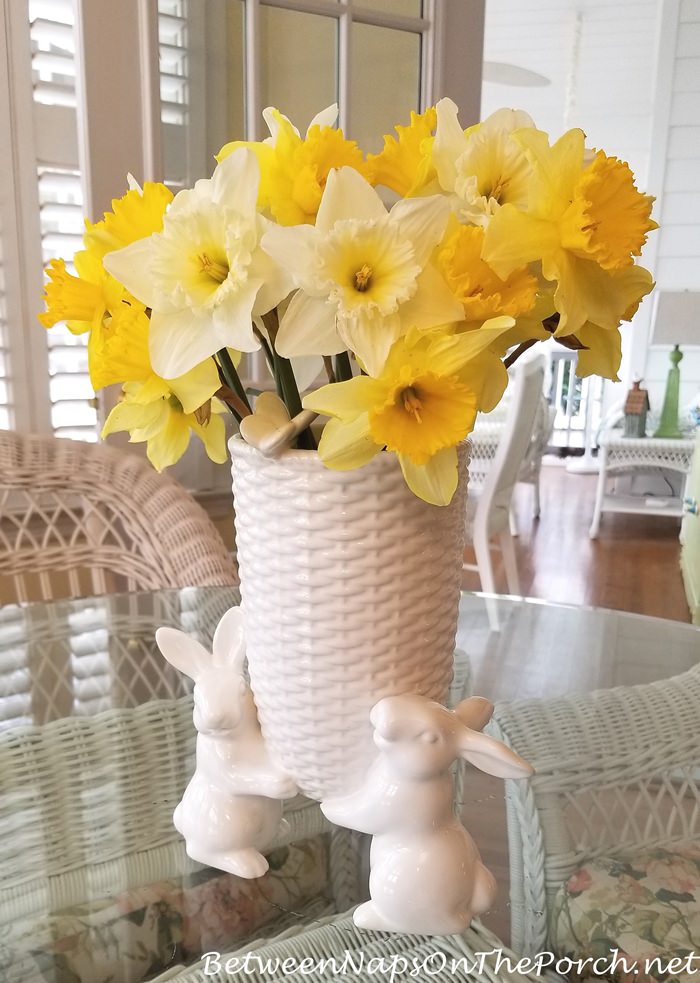 I'm thinking about ordering this piece, it's calling my name. Argggg! lol You'll find it here: Bunny Server.
If you're looking for a precious bunny for holding sweets or perhaps floating a gardenia or camellia blossom, this adorable bunny is available here: Bunny with Butterfly.
You'll find all the bunny servers and decorative bunnies here: Bunnies for Spring or Easter.
Happy spring to you! So excited we get to spring forward tonight! Yay for longer days filled with beautiful sunshine!
*If a post is sponsored or a product was provided at no charge, it will be stated in post. Some links may be affiliate links and as an Amazon Associate, I may earn from qualifying purchases. *