Birdie Update
Mr. Snake has not been back. I guess he doesn't want to encounter that psycho woman again who sent him sailing off the top of the bench and into the shrubs when he tried to make a dinner of the Eastern Phoebe birds nesting in the corner of the front porch.
The birdies have made quite the mess up in that corner of the porch, but you can't mind too much when you see these sweet faces. Just look at that adorable hairdo the one on the right is sporting. 🙂
They have their eyes open now, I don't think it will be too many more days before they leave the nest. I just hope Mr. Snake doesn't make a reappearance about that time. I'll be trying to keep an eye out, I hope they don't spend a lot of time on the ground once they do leave the nest. Wonder how birds know when it's time to take the big leap? I guess it's just instinctual.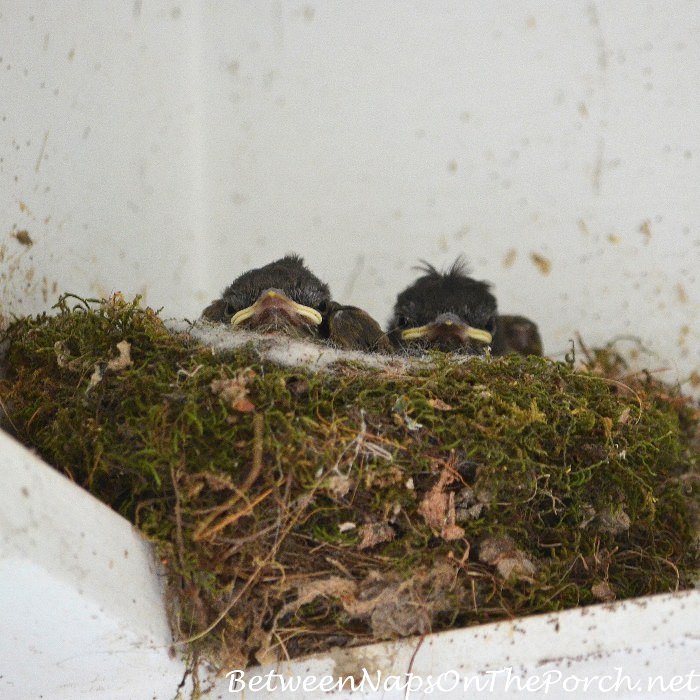 Storage Cabinet Update
I don't have the best news on my garage cabinet storage. These are the dead bodies of all the cabinets that have arrived in the last few days. They are all three chipped and dented, awaiting UPS pickup tomorrow.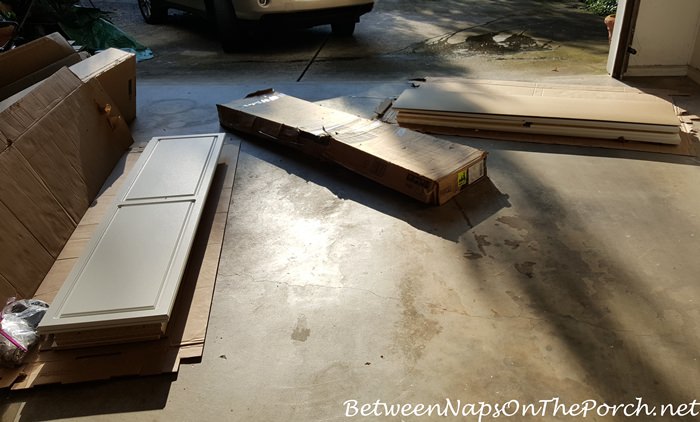 In all, I ordered six cabinets. The two that arrived via a professional shipping/moving company on a giant truck/pallet, have arrived in one piece. The four that arrived via UPS and FedEx, have all arrived damaged. The boxes always look beat up upon delivery and inside I have found chipped and dented cabinet sections. So disheartening!
I would have been willing to accept a couple of chipped pieces if they were on the back side where they weren't visible. But all the chips are right on the front of the cabinets where they are very obvious, especially since many of the cabinet parts have 2-3 chips/chunks taken out.
I was hoping I could find enough non-chipped, non-dented pieces out of these three boxes to at least put together one whole cabinet. Nope. It's pretty bad when you can't even assemble one good cabinet from the parts for three cabinets. In one box, 7 out of the 9 pieces were damaged, plus one of the hinges.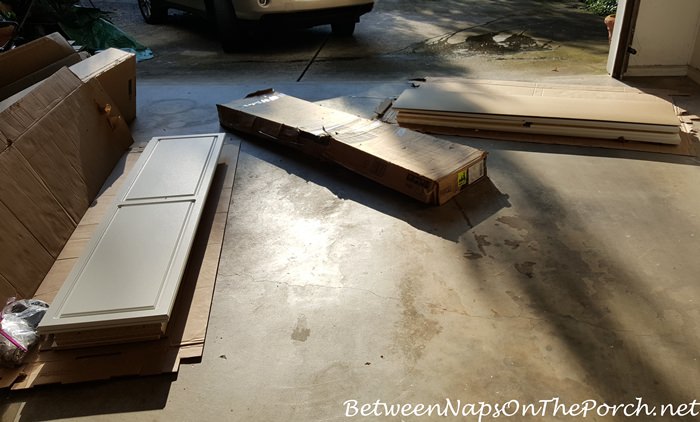 I can't tell you how discouraging this has been. The boxes are very difficult to get into because they have to be opened where I can get all the pieces back in if they have to be returned. So I can't just rip into them. It has been brutal on my fingers/finger joints.
Then there's the sorting and moving around of all the heavy components, only to discover many are badly chipped and dented. Each box contains so many damaged pieces that Ameriwood, the company that makes these cabinets, won't send replacement parts. If more than half the pieces in a box are damaged, they won't send replacements…and every box has had more than half damaged.
Now Amazon is out of the cabinets, so I'm waiting for them to come back in stock. I'm hoping when they get more in, I can convince someone at Amazon to ship the four that I need via the company they used for the larger units with the drawers. Apparently, it's more expensive to ship that way but I can't imagine all these returns are very cost-effective, either.
The cabinets with the drawers that I shared in THIS post, are the only ones that have arrived undamaged. These have been delivered on pallets, so they haven't been thrown around on trucks and man-handled to death.
The other drawer cabinet (like the one above) is awaiting assembly in my garage, so that's what I'll be working on today.
The dishes I brought out in anticipation of having cabinets to store them in, have come in handy for sorting and organizing some of the parts. Tip: Shamrock bowls make great sorting dishes with their three-leaf shape. Just something to keep in mind the next time you need to sort screws, cam bolts, compression dowels and the like. 😉
I took this photo when I was assembling the first cabinet. One hinge came with a dented cap and another was missing it's cap entirely. I've swapped those two pieces out from the damaged cabinets that have arrived.
I really can't recommend ordering this unit from Amazon until they stop using UPS and FedEx for delivery. I ordered four, and all four have arrived badly damaged, one so bad, the package was broken in half and bent over. That one I refused at delivery.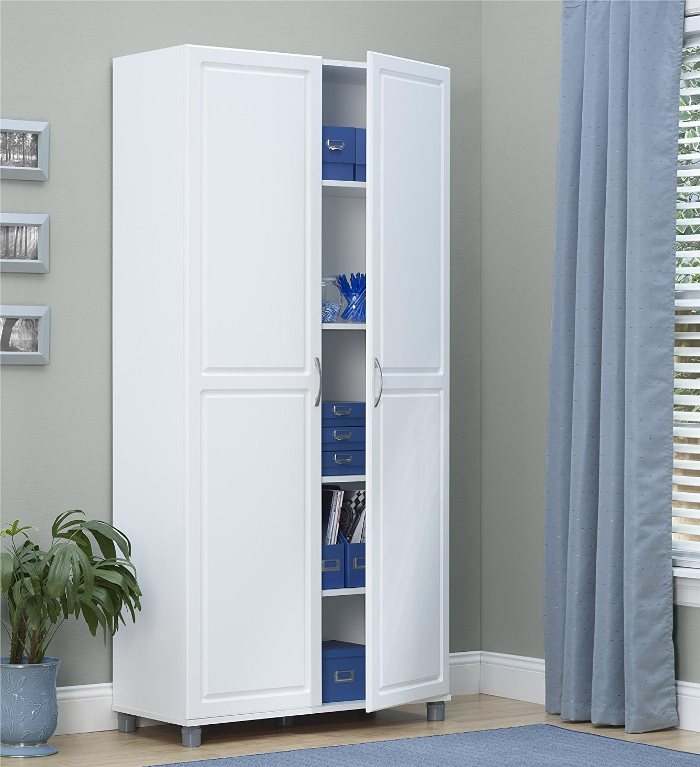 Amazon delivers this unit (with drawers) below via a professional moving company. It has arrived undamaged both times. Just passing this info along in case you plan to buy any of these cabinets on Amazon. You'll find this cabinet available here: Storage Cabinet.
Awesome Summer Sales
I just discovered one of my favorite stores, the one where I've purchased my wicker bags, is having a 40% off flash sale right now. Check it out here: 40% Off Flash Sale.
Cabinet assembly can wait a little bit. This is the time of year so many of my favorite stores have their summer clothes on clearance.
Big Sale at Talbots!
Also, Talbots is having a big summer sale right now. These cute wedges that I just purchased recently are included in the sale. You may remember when I shared how they look on in this post: Stylish Summer Sandals.
Shhh, don't tell, but I ordered a pair for my daughter-in-law, a little surprise that she should be getting in the mail in about a week. I love my son dearly but he's just not into Espadrille Wedges and such…have no idea why! lol I'm enjoying having someone I can talk fashion with. You'll find these cute wedges here: Wedges.
My local Talbots had a fashion show recently and one of the ladies was wearing this skirt. It was soooo cute! I almost bought one that day but I was hoping it would go on sale…and it has! It's on sale right now for more than 50% off! I may just have to go for it! You'll find it here: Summer Skirt.
Love this cute ruffled sweater-jacket that's also on sale. It available in four colors.
I'm super tempted to get it in black. I had a sweater similar to this in black years ago. It was by Ralph Lauren and I wore it completely out. It was so flattering on, very feminine and comfortable! It would be a great transition piece for going into autumn. You'll find this sweater-jacket here: Sweater.
Eyeing this raincoat for Ireland. It doesn't look heavy or like it would be too hot and the length looks perfect–not too short and not too long. It's currently on sale here: Barbour Raincoat.
I'm a big fan of Frye bags and just discovered their shopper tote. I think it would be great for travel or as a carry-on bag. It's available here: Shopper Bag
Enjoy the summer sales, love this time of year for finding great deals!
*If a post is sponsored or a product was provided at no charge, it will be stated in post. Some links may be affiliate links and as an Amazon Associate, I may earn from qualifying purchases. *