Welcome to the 764th Metamorphosis Monday! If you've been reading BNOTP for a while, you may remember that back in the day when I first started ordering storage cabinets for the garage (and now for the basement) the cabinets were often arriving very badly damaged.
They would often arrive with big chips and dents in various parts. During that period, I had so many returns and reorders, only to have the cabinets once again delivered with extensive damage.
On one occasion, the box the UPS guy attempted to deliver was literally bent in half. As I watched him carry the bent-in-half box down my driveway, I knew that meant the entire side panel of the cabinet had been broken in half, yet he still attempted to deliver it that day. Of course, I refused the delivery since it was obvious the cabinet had been destroyed.
During one of those wrecked deliveries, the UPS guy, obviously very upset, told me that they didn't have the right equipment to move packages of that size around their warehouse. He said that they only had small, short dollies and that long boxes hung way off the dollies which was probably causing the dents and damage. He added that they didn't have any way to load long heavy boxes onto their trucks, either.
Upset that he was being required to deliver the cabinets, and also upset that he was having to come back a day or two later to pick them back up once I opened the boxes and discovered they were damaged, he felt sure the cabinets exceeded the weight UPS delivery personnel were required to deliver. On one of his delivery trips to my home, he asked if I had a scale on which he could weigh one of the boxes. I retrieved a scale from my bathroom and he weighed one of the tall cabinet boxes. That day, he stated that the box appeared to be 2 pounds under the maximum weight that they were required to deliver, but of course, that was trying to weigh a damaged box on a scale designed to weigh humans.
After that disaster, I started purchasing the cabinets via Walmart, having them delivered to the Walmart Market that's not too far from my home. Two Walmart employees would place a cabinet into the back of my SUV, only one cabinet per trip for the short drive home. Once home, I would open the box inside my SUV and remove the cabinet pieces one by one since it was impossible to unload the box from the back of my SUV by myself. That's how I finally managed to get the remaining cabinets I needed for the garage to my home in one piece.
Fast forward a couple of years to just a few months ago when I started buying the same cabinets for the basement. I decided to try purchasing them via Amazon one more time, hoping the delivery issues were finally resolved. To my delight, instead of being delivered via UPS, they were delivered by two, strong Amazon guys in an Amazon van. When I unboxed them, I found them to be in pristine condition–no dents, no broken panels or chipped shelves. Yay! Amazon had finally figured out a way to get the cabinets delivered without having them destroyed in the process.
A few days ago, in a post I shared about holiday decor storage, I mentioned that I had ordered two more cabinets for storage here in the basement. When I received the tracking number, I was dismayed to discover the cabinets were going to be delivered by UPS, but I hoped for the best.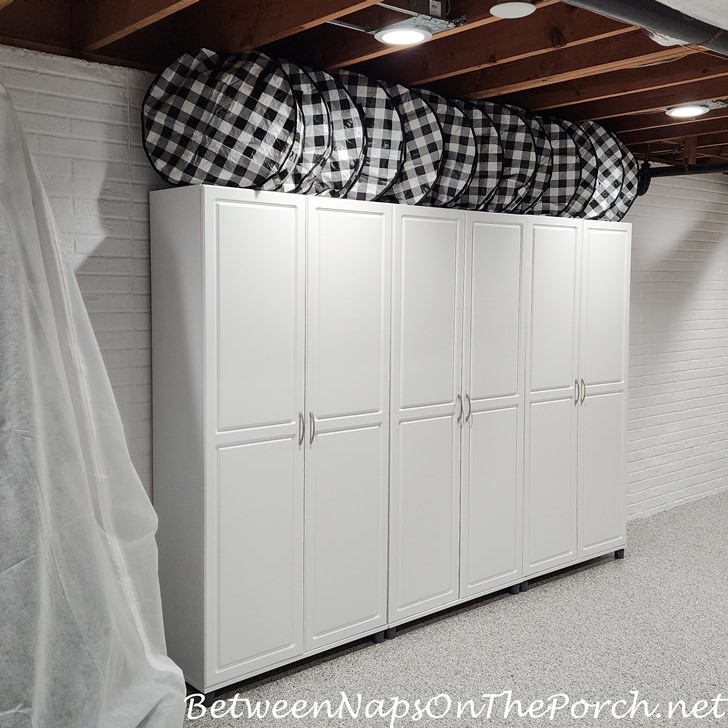 Friday was delivery day and a big UPS truck pulled up between my and my neighbor's home. I saw the UPS delivery person get out and place several large boxes at the end of my neighbor's walkway. After she completed that delivery, I apprehensively walked toward her truck to get a look at the cabinet boxes before she removed them.
The UPS driver turned out to be a really sweet, petite woman–I'm 5'4″ on a good day and she appeared to be a few inches shorter. Our conversation was like deja vu as she told me that she had no idea how the boxes had ended up on her truck–that she had not been the one to load them. She stated that she had no way to get them off the truck because "they exceeded the weight limit of what we are supposed to deliver." She pointed to printing on the box which clearly showed that each box weighed 145 pounds. She said their max weight limit to deliver is 130 pounds, adding "I don't even have a hand truck so I have no way to deliver them."
I told her a little about my past delivery experiences and how upset the other UPS driver had been that he was being made to deliver the long, heavy cabinets. I told her how the last few cabinets I had ordered were delivered by two Amazon delivery guys and those had arrived without any issues. As we stood there staring at the cabinets on the truck, she pointed out how the boxes were already damaged, again saying that she really had no way to get them off the truck since she couldn't lift them.
She and I were in full agreement that they should just be returned since the boxes were damaged. She stated they could even be missing parts since they had come open. She left with the two cabinets saying that she was going to mark them as damaged so that they wouldn't attempt to deliver the same cabinets again and they would be returned.
Sadly, that doesn't seem to have happened because the very next day (Saturday) I received an email from UPS stating that a second delivery attempt was going to be made today–Monday. Argggh! I wonder why they are attempting to deliver them again when the delivery driver marked them as damaged and needing to be returned. Why does UPS keep accepting packages for delivery that are well beyond their accepted delivery weight? So many questions.
Looking forward to all the great Before and Afters linked for this week's Met Monday!
Pssst: Did you know Between Naps On The Porch is on Instagram? You'll find me on Instagram here: Between Naps On The Porch. Like to know when a new blog post is up? Subscribe for email updates (it's free) and your e-mail will never be shared. Subscribe for free post updates here: Subscribe.
Metamorphosis Monday: Metamorphosis Monday is a party that's all about Before and Afters. Please link up your Before and After projects like DIY projects, room makeovers, craft projects even recipes. Please do not link up Table Settings, save those for our Tablescape Thursday party on Thursday. If you are participating in Met Monday, you'll need to link your post to the party using the "permalink" to your MM post and not your general blog address. To get your permalink, click on the name of your post, then copy and paste the address that shows in the address bar at the top of your blog, into the "url" box for InLinkz when prompted. NOTE: Please do not link up more than 3 posts from your blog. In order to link up, you'll need to include a link in your post back to the party so your readers can find the other party participants. When linking up to the party, give the InLinkz system time to find the link in your post to avoid having your link held for moderation/approval. Thanks!

You are invited to the Inlinkz link party!
*If a post is sponsored or a product was provided at no charge, it will be stated in post. Some links may be affiliate links and as an Amazon Associate, I may earn from qualifying purchases. *