Welcome to the 514th Tablescape Thursday!
I think I may be living in England these days…or maybe I'm in Ireland. I've never seen so much rain, and this has been going on for much of the summer. It has been nice not having to worry about watering the plants on the deck, but I've almost forgotten how sunshine looks!
So please excuse the moody skies in the background. Today is definitely going to be a "curl-up-with-a-good-book" day.
The standard Tardiva hydrangeas are blooming now, you can see them in the background there on the deck. I moved them to this end of the deck earlier in the summer and they seem to be much happier here. Though they can take full sun, it was a challenge keeping them watered before I moved them. In full sun they needed watering every single day. Now that they get a bit of shade during the day, they only need watering about every third day. Of course, with the ever-constant tropical weather we've been having, I haven't had to worry about that at all.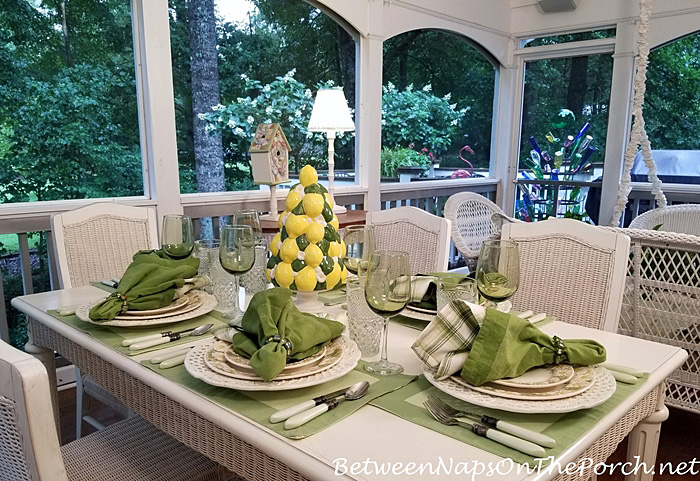 The inspiration for this week's table came from pretty, vintage glasses I saw on Instagram a week or two ago. The glasses reminded me of some my sister, Glenda, had given me many years ago.
Years ago when I was visiting my sister, she was clearing out a storage area and insisted I take home some old glasses and a vintage, ceramic lemon tree that had once belonged to her mother-in-law, Virginia. I've used the lemon tree once or twice in the past for Tablescape Thursday so it may look familiar, but I'm pretty sure this is the first time I've used the glasses.
Initially, I planned to just use placemats for this tablescape, but I really missed the look of chargers. So these creamy-white, pierced chargers found their way to the table. (Chargers were purchased from Horchow several years ago.)
The green placemats bring back a lot of fond memories. I purchased them for dinners here on the porch just as the porch was being completed back in 2008. (The green napkins are available here: Green Napkins, but I think the plaid ones are sold out now.)
The placemats and their matching napkins (not used in this tablescape) were the inspiration for the color I painted the porch hutch. Home Depot used one of the napkins to match/mix the paint color. (See the post where I painted the hutch here: Hutch Transformation.)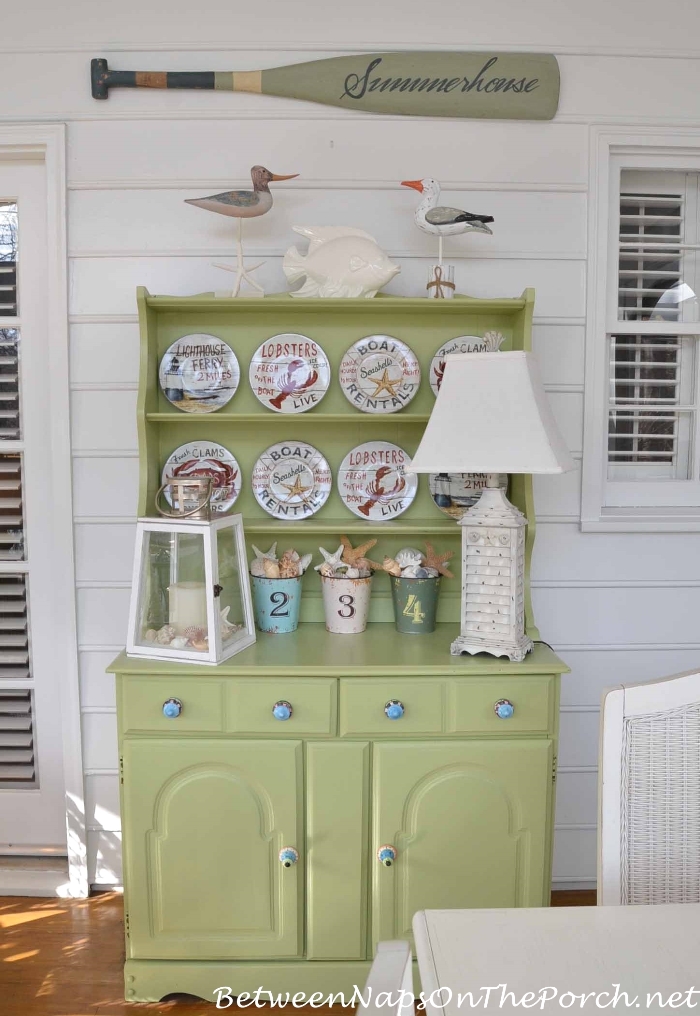 Vintage glasses wanted vintage dishware, so I pulled out a favorite I keep stored in the hutch: Metlox Poppytrail in the pattern Sculptured Daisy. I found these sweet dishes many years ago while antiquing and love them, still. They are the sunshine on this rainy day! If you love this pattern as much as I do, you'll find a good bit of it available here: Metlox Sculptured Daisy.
The green wine glasses were a Dollar Tree find a few years ago. The creamy white flatware is available here in several colors: Flatware.
These vintage glasses are incredibly heavy, I love that about them. They feel so solid! They should be filled with home-made lemonade for today's table setting, shouldn't they?
I wonder what Virginia would think if she could see her lemon tree and glasses still being used today. I hope it would make her smile. This table has me feeling a little nostalgic, or maybe it's just all this rain.
If I'd had lemons in the house while setting this table, I would have scattered a few down the length of the table–so imagine you see pretty lemons casually scattered going out from the center of the lemon tree. 🙂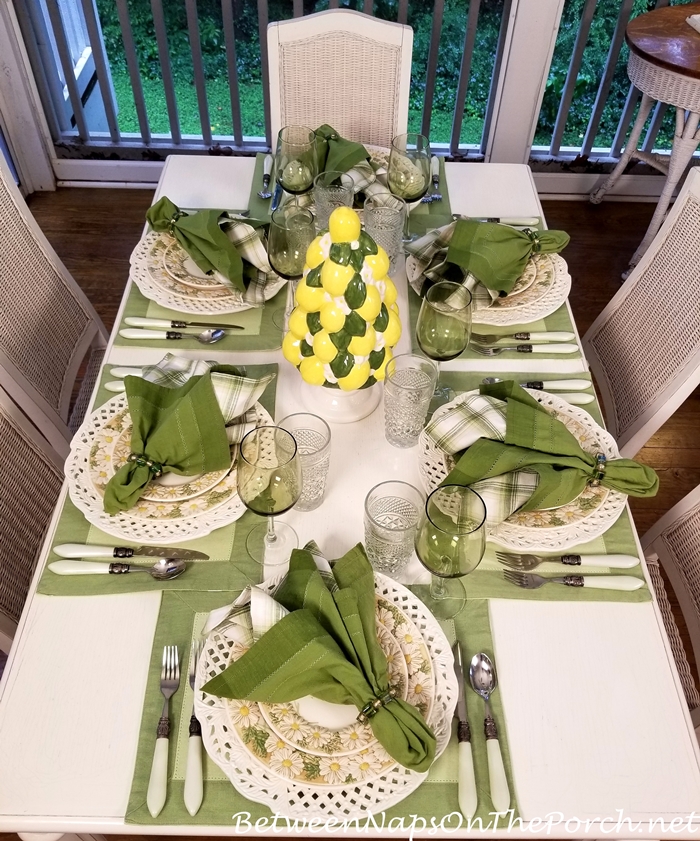 Hope you are seeing some sunshine today! Looking forward to all the beautiful tables linked for today's Tablescape Thursday!
Pssst: I post almost daily to Instagram. Follow Between Naps on the Porch on Instagram here: Between Naps On The Porch.
If you enjoyed this post, subscribe for free email updates when a new post is up here: Subscribe for post updates.
Tip: Please do not use a Hotmail e-mail address to subscribe. Hotmail is notorious for filtering out perfectly good emails. Google and you'll find tons of people complaining about this. I regularly hear from subscribers who used a Hotmail address to subscribe and are not getting blog post updates, so please use another email to subscribe if possible. I've found Gmail to be awesome, it's what I use and it's free! Plus, they don't filter out the e-mails you want in error like Hotmail does.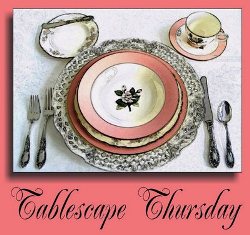 Tablescape Thursday
If you are participating in Tablescape Thursday, please be sure to add your permalink below, and not your general blog address.To get your permalink, click on your post name, then copy and paste the address showing in the address bar, into the "url" box when you link up.
You'll need to include a link in your post back to the party to link up and participate. That's so visitors to your blog will be able to find the party and the other Tablescape Thursday participants. Requiring a link back also prevents businesses and scammers from linking up to sell their products. (Yup, that really happens, unfortunately.)
*If a post is sponsored or a product was provided at no charge, it will be stated in post. Some links may be affiliate links and as an Amazon Associate, I may earn from qualifying purchases. *