Welcome to the 569th Metamorphosis Monday!
Merry Christmas and the most happiest of holidays to you! Today I'm sharing a fun, whimsical makeover I semi-completed for my grandsons' bedroom recently. I say semi-completed because the artwork I ordered to go above their beds wasn't the quality I expected and had to be returned. I've also ordered a different lamp and will share how it looks once it arrives.
Here's how their bedroom normally looks.
When the boys outgrew their toddler beds, my daughter-in-love and I chose a dinosaur themed bedding for their room since they are pretty obsessed with dinosaurs these days. You may remember this little makeover from earlier this year. (View this Dinosaur-Themed Bedroom Makeover here: Dinosaur Themed Bedroom for Two Dinosaur-Loving Boys.
For Christmas, there's been another big metamorphosis!
Santa and his reindeer have been hard at work transforming this bedroom into a Christmas wonderland! By the way, all the bedding I'll be sharing and linking to in this post is currently on sale. It appears if it's ordered this morning, they are promising one-day delivery.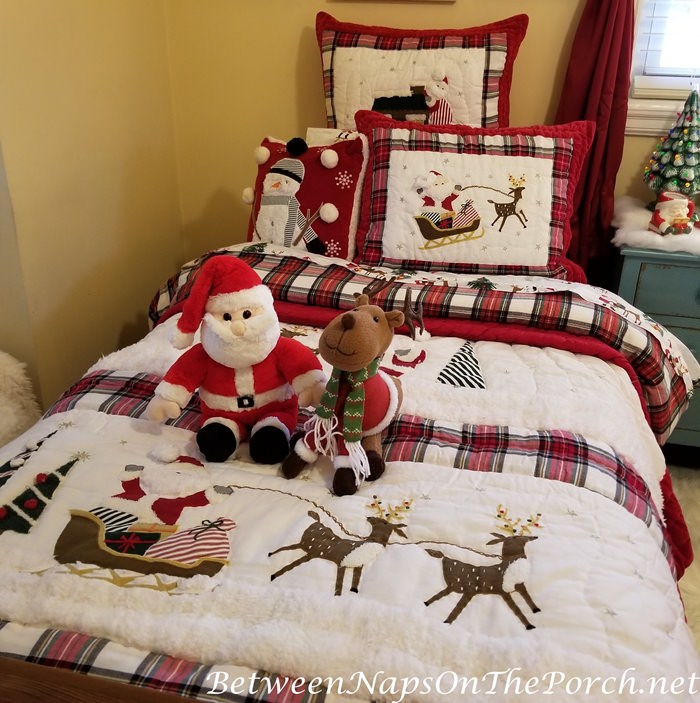 This whimsical quilt depicts Santa flying through the sky, his reindeer leading the way. There are so many fuzzy, soft spots on this quilt from Santa's beard, the reindeer's fuzzy chests, to the multiple, wide, sections of fuzzy softness running the width of the quilt.
You'll find the quilt currently on sale here: Santa/Reindeer Quilt. I love the car bringing home the tree!
I'm in love with the plaid, flannel duvet that was designed to go with this bedding. It's incredibly soft! Unfortunately, I don't think it's still available, at least not in the twin size.
I also love that all the bedding is certified organic. There's absolutely no chemical feel or smell, just a lot of soft cottony goodness!
After a few tries, I finally figured out a way to arrange the pillows where all the fun images can be seen. I placed the regular "sleeping" pillow on the bed, allowing it to rest at a slight slant on the headboard. I placed the Euro sham pillow on top of the slanted pillow, then the standard sham pillow and the snowman pillow fit nicely in front. I like how the Euro sham almost acts as a headboard for the bed.
In this whimsical scene, Santa and one of his reindeer have emerged from the bedding in the form of a soft, plush toy.
I am so pleased with the quality of these. You'll find them available here: Santa Plush Toy AND Reindeer Plush Toy.
Here's a little close-up of the scene across the lower part of the bedding. Sooo cute!
Both of the shams are edged in a soft red/green/white flannel and a velvety-soft, red fabric. This bedding is wonderful, a sensory delight for all ages!
The coordinating sheets are absolutely adorable! They are currently on sale here: Whimsical Santa/Reindeer Sheets.
The scene on the Euro Sham may be my favorite! It depicts Santa just about to go down the chimney of an adorable cottage. I love the little stars embroidered on all the pieces of this Christmas bedding. So many cute details!
The snowman/snowball pillow is currently on sale here: Snowman/Snowball Pillow.
The navy blue curtains were changed out for red ones and the chest between the boys' beds saw a little Christmas makeover with a new lamp. The lamp I purchased (visible on the chest) wasn't quite as large as I had envisioned, so I just ordered a new one that should be here in a few days.
This is the lamp that's currently on their chest. It's really cute, just not quite as large as I'd like it to be. If you need a bedside lamp, you'll find it available here: White and Gold Lamp. I thought the gold made it feel a bit Christmasy.
This is the lamp I just ordered yesterday. I'll share an updated photo once it arrives. I love its "snowball" design. You'll find it on sale here: Snowball Bubble Lamp. I wouldn't mind picking up one of these for my home, maybe to use on the screened porch or in my upstairs family room.
The top of the chest got a little makeover, as well. There's a blanket of white snow across the top of the chest, along with the little Christmas tree that was always in my son's room at Christmastime when he was growing up. You'll find a similar tree available here: Ceramic Lit Christmas Tree.
Each of my grandsons got a new Christmas-themed mug. I love how the mugs are designed so Santa holds a cookie.
When I was thinking of accessories for decorating the chest, I had to include a Department 56, A Christmas Story house. This home, featured so prominently in the movie, is actually located right here in Ohio. I found this cute lit house here: A Christmas Story House.
You may remember when I toured the home during a past visit to Ohio and shared it all in a series of posts. There is so much to see when you go for the tour including the house itself, a museum which houses actual items from the film and a gift shop where you can buy some hilarious souvenirs including the infamous Bunny suit Ralphie gets as a gift during the movie.
(You'll find a link to a tour of the exterior of the home, with links to an inside tour, in this previous post: Tour A Christmas Story House. For access to all the posts about this home on one page, go here: Posts about A Christmas Story House in Cleveland, Ohio.)
The house is located in Cleveland and is definitely worth the trip to see it if you're a fan of the movie. I don't recommend going right now since the lines are insane starting from around Thanksgiving until Christmastime. I toured it during the summer and was able to walk right in, no waiting. It was awesome!
Evening was approaching as I took my pictures for this post. In this photo, the 4 x 6, white, faux-fur rug I added between the beds is visible. It is scrumptious to walk on and the boys love it! (Rug is available here: White Fur Rug and here: White Fur Rug. I ordered both and they were exactly the same.)
If you happen to be 3 years old, it's the perfect size for making snow fur angels. 😉 (See this previous post for an explanation about fur angels. The Art of Making Fur Angels.)
Here's how the room looks in the evening at bedtime.
The lit tree and Christmas Story house are perfect nightlights this time of year.
Hope this bedroom makeover brings you sweet dreams as you snuggle into bed tonight and await Santa's visit in just a few days. Merry Christmas to you and your loved ones!
Looking forward to all the wonderful Before and Afters linked for this week's Met Monday!
Pssst: Did you know Between Naps On The Porch is on Instagram? You'll find me on Instagram here: Between Naps On The Porch.
Like to know when a new blog post is up and available to read? Subscribe for email updates, it's free and your email will never be shared.
Subscribe here: Subscribe for free post updates via email here: Subscribe.
Metamorphosis Monday
Metamorphosis Monday is a party that's all about Before and Afters. If you are participating in Met Monday, please link up using the "permalink" to your MM post and not your general blog address. To get your permalink, click on your post name, then just copy and paste the address that shows up in the address bar at the top of your blog, into the "url" box for InLinkz when prompted.
In order to link up, you'll need to include a link in your MM post back to the party so the other participants will have an opportunity to receive visits from your wonderful blog readers.
This party has ended, click button below for the links to all who participated.
*If a post is sponsored or a product was provided at no charge, it will be stated in post. Some links may be affiliate links and as an Amazon Associate, I may earn from qualifying purchases. *