Oh, my gosh, I have some exciting news to share! Three Between Naps On The Porch friends are joining me on the Ireland trip planned for the end of August! So excited!
Teresa joined me on a previous trip to Holland and Belgium. We had a blast and became fast friends. We've stayed in touch and are always tempting each other with trips we find or hear about.
Teresa booked the Ireland trip, as did Jane, another BNOTP reader who emailed to say she and husband will be going, too! I'm so looking forward to sharing this trip with all of you! If you missed the post about this trip to Ireland, you'll find it here: Luxury Travel to Ireland, Minus the Luxury Price.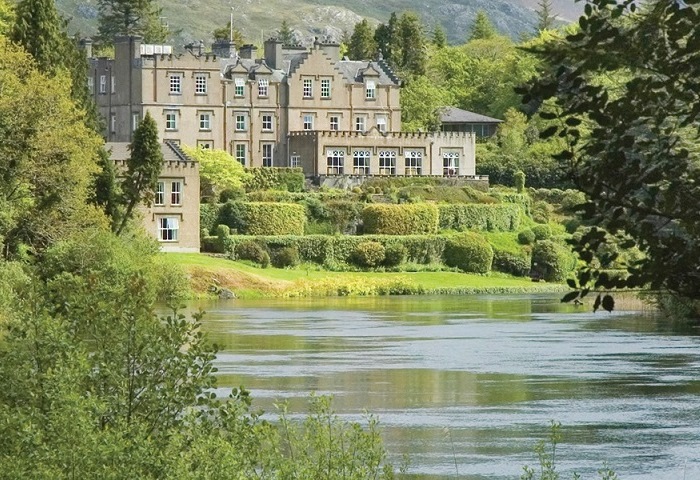 I know it rains a lot in Ireland, so I've been thinking about buying a new raincoat. I almost bought another one of these, just in a different color. I have this jacket in this pretty aqua color and love it. It takes up almost no space in a suitcase and is perfect for layering over shirts and sweaters. (This jacket is available here: Waterproof Rain Jacket.)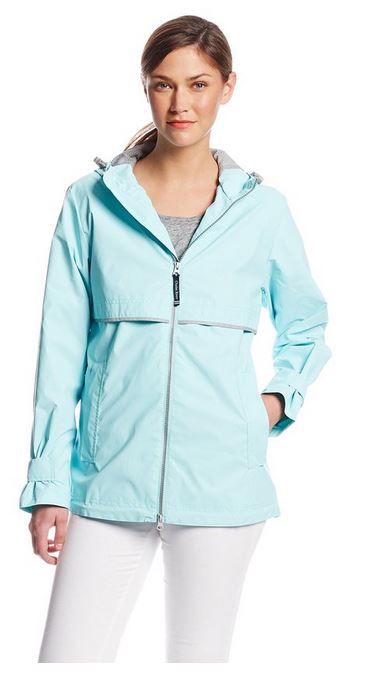 Because it has a hood, it saved me from drowning during many a rainstorm in Italy. This jacket will definitely go with me to Ireland, but I thought I'd try something new for this trip, as well. (The villa below is Bramasole, the home of Frances Mayes.)
Last night I ordered this Barbour rain jacket. It also has a hood and it's currently on sale. I've seen it all over Blogland and Instagram in a classic, canary-yellow color, but that color is currently sold out in my size. Truth be told, yellow isn't the best color for me. My pale skin doesn't always look that great with yellow, but I was thinking I might be able to pull it off since I'd be wearing colorful shirts/tops underneath.
Then I saw it in this Beachcomber Blue color and loved it! It's currently on sale here: Blue Barbour Jacket. I will be wearing a lot of dark blue leggings and white denim jeans in Ireland, so I think this will work nicely. It also comes in navy, another great color that goes with everything.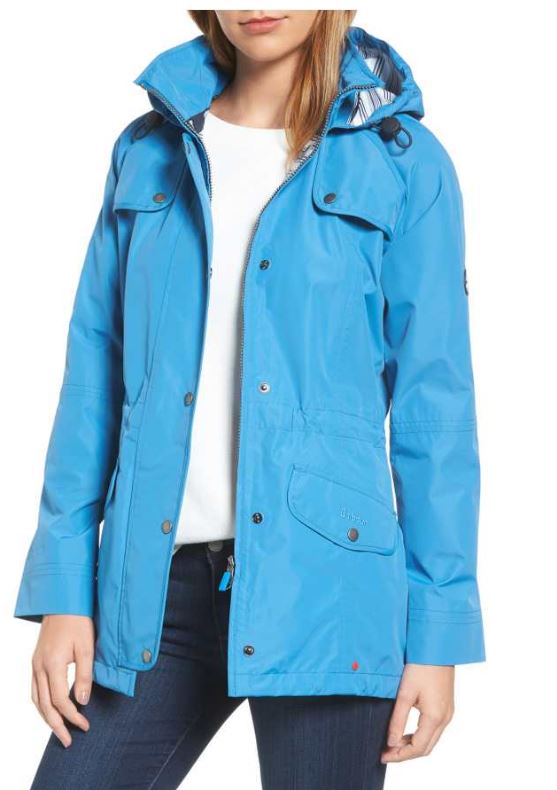 Another Barber coat with a hood that I considered was this one. It comes in three colors and is a bit longer. I love that bit of plaid peeking out. It's available here: Barbour Coat. My Barbour Beadnell Waxed Coat is similar in style, which reminds me, I need to order a hood for it.
My favorite travel hat is on sale for 20% off here: Packable Sunhat. It will definitely accompany me on my upcoming trip for those sunny days I'm optimistically expecting. lol It's available in three colors, see them all here: Sunhat.
The Adidas sneakers I blogged about recently HERE are currently on sale. You'll find them here: Adidas Stan Smith Sneakers.
Two items I ordered recently arrived and I'm super happy with both, although one I'm exchanging for a smaller size. I'm so glad I went ahead and ordered this charming wicker bag. The round shape is so cute and I love how balanced it feels when you carry it.
It's more spacious inside than I expected. I don't carry a lot in my bags, but there's still plenty of room left for keys, sunglasses, phone, etc… Cute design! This bag is still available here: Round Wicker Bag.
My cotton Fisherman sweater came and I absolutely love it! I ordered a medium (one size up from what I normally wear) since some folks indicated in the reviews that it ran small. I should have stayed with my normal size because this one is a bit too big. I've ordered it again and once it arrives and I can verify that it's the correct size, I'll send this one back. But isn't it beautiful! I love it!
I especially love how it looks paired with a plaid shirt. I discovered today that I only own one plaid, long-sleeve shirt. I need to correct that deficiency and will definitely be looking to add a few more this fall/winter. This sweater is available here: Fisherman Sweater.
Question: When you wear a shirt underneath a sweater, do you let the collar hang out over the top of the sweater like I have shown above? Or, do you keep the collar tucked inside the sweater like we see in the picture below? Are you an innie or an outie? lol
Talbots has a big sale going on right now: 40% off all sale items and 50% off when you buy two. I'm eyeing this shirt, love the color and I have a thing for polka-dot shirts. You'll find this shirt here: Polka-dot Shirt on sale.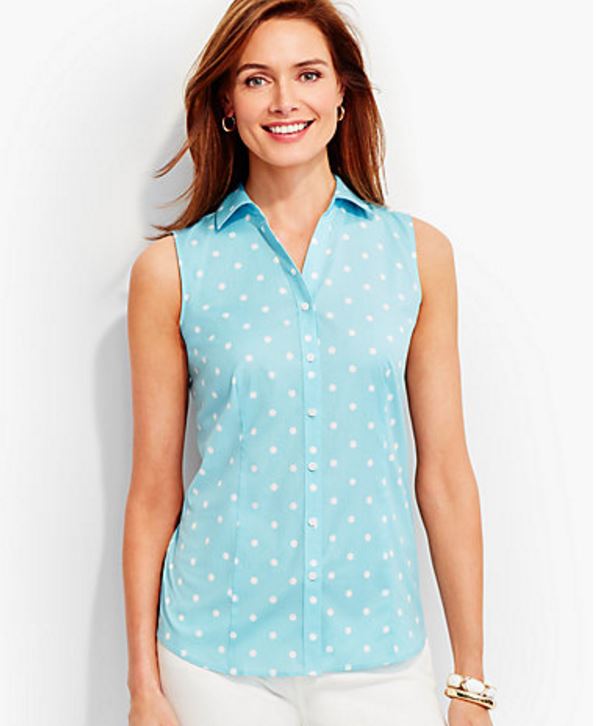 Hope you score some great deals this weekend! I can't believe it's already July! Slow down summer, you're going by way too fast!
Pssst: I post almost daily to Instagram. Follow Between Naps on the Porch on Instagram here: Between Naps On The Porch.
*If a post is sponsored or a product was provided at no charge, it will be stated in post. Some links may be affiliate links and as an Amazon Associate, I may earn from qualifying purchases. *