Last Friday I shared a few faves and promised to share the rest this week, so here they are!
This Has Been A Life Changer
Recently in a post I shared a photo of a fern on my deck. There were leaves on the deck that day and normally I would have taken the time to use my electric blower and blow them away, but my yard guy was coming that afternoon and they usually blow off the decks while here. So, I didn't want to waste time doing something I knew they would be doing that day.
A few readers noticed the leaves and mentioned there were some good blowers out there. I had shopped online about a year ago for a blower because I absolutely hate using my electric blower. It's super heavy, very loud and the cord is constantly getting in the way.
I'm not sure why, but I never got around to buying one last year, I guess because the yard guys blow off the decks every couple of weeks. But there are times when I'm having friends over that I really do wish I had a better blower for clearing off the decks.
So, about a week ago I went online and took a look again. I searched for a cordless DeWalt leaf blower (since I have several of their tools already and like them) and came across this one below. You may remember from some of my DIY projects in that past (like THIS one, THIS one and THIS one), whenever I need a new tool, I always buy DeWalt if I can. They always have great reviews and by sticking with one brand, I can use the same battery/batteries across all my tools.
The reviews online were great on this blower, so I ordered it. I didn't have to order a battery since I already had three DeWalt batteries, two smaller ones that I often use for my DeWalt flashlight and drill, and a larger battery that I like to use for my circular saw.
I absolutely LOVE this blower! I had a battery charged up and ready to go the day it arrived. I cleared off both decks and blew some leaves out of the garage in no time.
I love that there's no annoying cord to drag around, makes the process so much faster! Oh I how I hated that about my electric blower, dealing with that long, long cord and having to drag it around everywhere. Leaves were forever getting caught in the cord which drove me crazy. Also, this blower is so much lighter and much quieter than my old electric blower!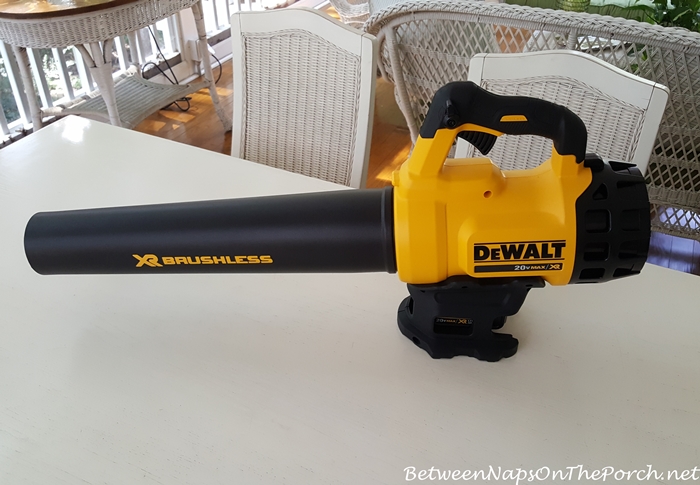 I placed my larger DeWalt battery in the battery thingy and it was still going strong after I cleared off the two decks and blew out the garage. I didn't charge it afterwards because I want to see how many times I can do that before it has to be charged again.
If you're looking for a great blower, I can definitely recommend this one. You can read the reviews where I purchased mine here: DeWalt Blower. If you don't already have the battery, you'll find it with a battery here: DeWalt Blower with Battery
In the Dark!
Recently our power in the neighborhood went completely out and stayed out for several hours. At first, I thought it would just be out for a short while and lit several of my scented candles. That was a mistake! Since they were all scented, they became way overpowering pretty quickly.
I blew out some of the candles and finally recalled that I had purchased a lantern a year or so ago. I luckily remembered where I had stored it and it worked perfectly for the 3-4 hours I was without power.
The next day when I had power again, I went online and ordered some more. Next time the power goes out, I'd like to have more than one lantern on hand.
The lanterns I ordered are a bit different but they had awesome reviews and were a great price. I ordered one set for myself and another set for my son and dil. Looks like the price has come down even further than when I bought them. I really like these lanterns and like how they collapse for storage. You'll find them here: Lanterns
Recently I received a question from a few readers about the tartan dishware I use in table settings at Christmas and throughout the fall and winter. I looked and they are back in stock again. You'll find the chargers here: Tartan Chargers
I purchased the tartan dinner and salad plates the first year they were available, then bought the chargers the second year.
You'll find the dinner plates here: Tartan Dinner Plates and the salad plates here: Tartan Salad Plates
I've also been getting some questions about my winter tartan bedding. You'll find more information about how I decided to go with tartan for the winter in this previous post: Dressing the Bed in Tartan, Ralph Lauren Inspired
The duvet, sheets, pillows, etc are available here: Tartan Bedding. To read about the making of the dust ruffle, check out this previous post: No More Faking It
I've gotten several questions about the "Road Trip Santa" pillow I purchased last year. That pillow came from Pottery Barn but so far it's not on their website for this year. Will let you know if I see it back in the stores again this year.
I'm pretty crazy about this pumpkin pillow that's currently on sale here: Pumpkin Pillow I'm getting so excited about Halloween and Christmas, I can hardly stand it!
Okay, I think that covers what I've been buying lately and hopefully answers any additional questions I received. If I missed one, just let me know in the comments below.
I'll leave you with these floral rainboots I'm crushing on, are these not adorable?! These would be so cute for fall, winter or spring. They are available here: Rain Boots.
*If a post is sponsored or a product was provided at no charge, it will be stated in post. Some links may be affiliate links and as an Amazon Associate, I may earn from qualifying purchases. *