I've been meaning to create this post for months but I couldn't because all the puzzles in the whole world were sold out the minute it appeared we were all going to be staying home a lot. Okay, that's a slight exaggeration, but barely.
Honestly, 500, 750, and 1000 piece puzzles (my faves) were as scarce as toilet paper for months and months! I guess a lot of folks love puzzles as much as I do! I was really glad I had several that I hadn't done yet or it would have been a puzzle dearth around here!
Finally, puzzles appear to be back in stock, at least most of them. Today I thought I'd share some of my favorites and others that I would love to do this fall/winter when I'm hunkered down waiting for those first days of spring.
Before I get into the puzzles, if you love puzzling or know someone who does, I can't recommend this puzzle board enough. It is such a back saver! It enables me to work on puzzles late into the night–much longer than I would be able to without it. It's hard on the back when you're bent over a puzzle, but when you can sit upright and work on one, it makes a huge, huge difference!
I have a puzzle board here in my office that I have up fulltime during the fall and winter months. I just scoot my desk chair over whenever I need a break from work or in the evenings if I'm watching a movie or listening to a book on Audible.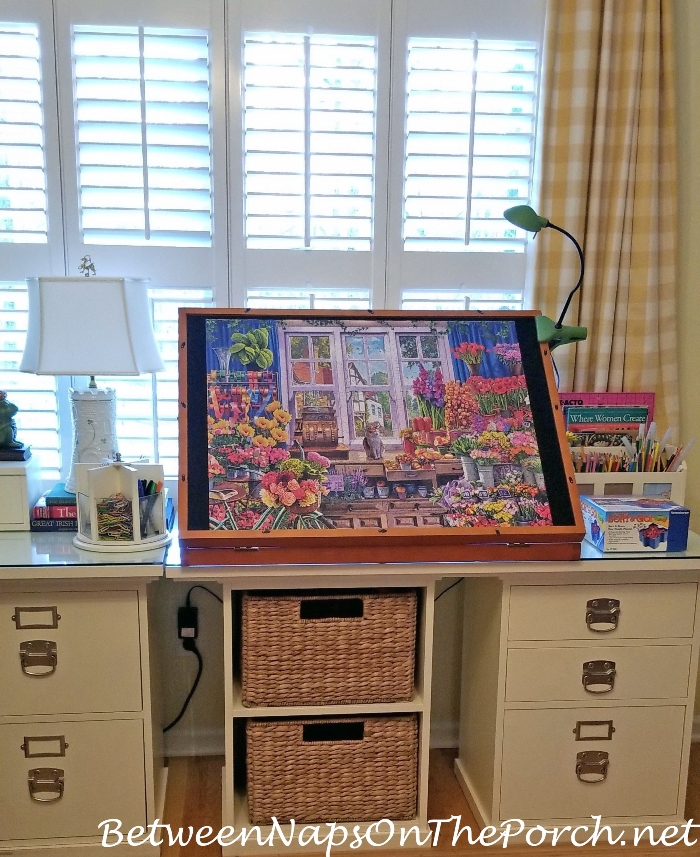 This is the puzzle that's on the board in the photo above. It's still available here: Flower Shoppe.
I love this board so much, I purchased one to keep at my son/DIL's home for when I'm visiting there during the fall/winter. I noticed when I was there recently, my grandsons had it out and were working a puzzle on it. They love it as much as I do! My daughter-in-love puts it on the floor for them and they love it.
If you plan on working some puzzles this fall/winter or need a great gift for someone who enjoys puzzles, you'll find this one available here: Puzzle Board. The puzzle you see on the board below is still available here: Cats and Books.
This is my favorite light for attaching to the top. I bought it when I was visiting with my grandchildren. It's great for when your board is in a place where you can't easily plug a light in. They are battery operated and rechargeable, so while one is in use, I'm usually charging the other one. It turns on with just a touch of the base. It's great for evening time when you need a little more light on your puzzle. You'll find this light available here: Rechargeable Clip-on Light.
Update: This is the light I'm now using on my puzzle board at home where I have easy access to an electrical outlet. It's available here: Clip-on Light. It turns on the same way–by just touching the base. Love that!
If you don't currently use sorting trays, I very much recommend them. They really help with sorting out the colors/parts of a puzzle, as well as keeping up with all those puzzle pieces. These two below are my favorite sorting trays–the ones I use every time I do a puzzle. This set is available here: Sorting Trays.
Another favorite…this set is available here: Sorting Trays.
Favorite Puzzles
I have so many favorite puzzles to share! I'll share a few here in the body of this post, then link to others that I've done or would love to collect at the end of the post.
I completed this one last year and loved it! I was so sad when it was completed–it was like a good book that I didn't want to end! It really tells a story if you look closely. Definitely a puzzle for anyone who loves reading, cats, scrapbooking, and cozy cabins. It even has a touch of genealogy in the background as we can see she's working on that on her computer. It's available here: Cozy Cabin Puzzle.
I just ordered this one today. I would love to do it this winter when it's freezing out–a reminder that winter won't last forever. It's available here: Beach Escape.
I did this puzzle a few years back and loved it so much, I actually preserved it in case I wanted to frame it later.
By the way, if you're looking for a super-easy way to preserve a puzzle without using messy glues and ruining the appearance of the puzzle, I highly recommend this method here: Puzzle Savers.
You can see exactly how I save the puzzles I want to preserve (and possibly frame) in this previous post: Best Way to Preserve a Puzzle for Framing Without Using Messy Glue.
It's super fast and easy to save a puzzle. I wrote that post several years back and the puzzles I preserved back then have held together and look the same today as they did the day I preserved them. That system really works! I just took this photo of the puzzle above a few minutes ago and you can see how beautifully it has held together. I need to frame it and hang it for Christmas!
This is one of my favorite puzzles ever! I did this one a few years back. It's of the Governor's Palace in Colonial Williamsburg at Christmastime. I think I'll pull this one back out and do it again this winter. Such a beautiful, dreamy scene! Unfortunately, I don't think it's available now, but I found a few available here: Governor's Party.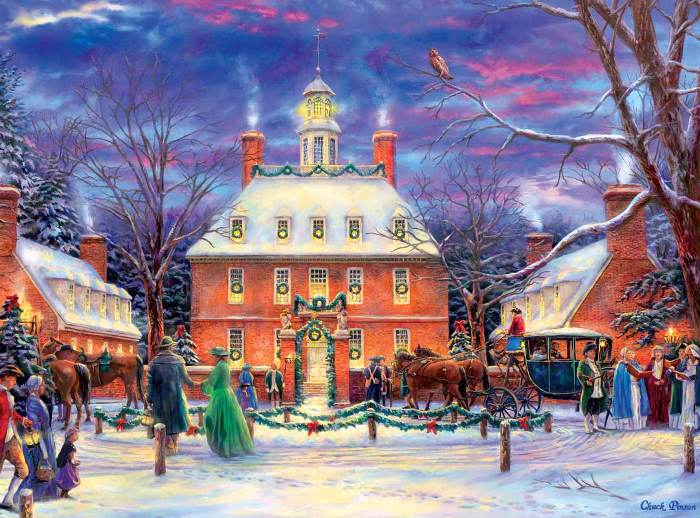 I've done this one of Cinque Terre and loved it. It was challenging, but in a good way! You'll find it available here: Cinque Terre, Italy.
My favorite puzzles are those with a lot of bright, vivid colors! Would love to do this one! It's available here: Tropical Fish Puzzle.
I just ordered this one today–such an amazing scene! I love the pirate ship, the sea life, the waterfall, the gorgeous sunset, and that beautiful moon. It looks like the harvest moon we just had recently. I can't wait to get it and start work on it! You'll find it available here: Pirate Ship Sea Life Puzzle.
I did this one a couple of years back and it's still a favorite! I would LOVE to shop in a bookstore like this! I would literally be in there every day, if for no other reason than to pet all the cats. lol Do you see them all? There's one asleep on the steps and one up high on a shelf. Seems like there's a third one somewhere in this puzzle, but I don't see him at the moment. Oh, and there's a little mouse in the picture, too. I won't spoil it and tell you where he is, but you'll find him when you do the puzzle. 🙂 I need to do this puzzle again.
You'll find this puzzle available here: Booklover's Paradise Puzzle. I'm not sure why they have it priced as high as they do. I found it for a better price here: Booklover's Paradise.
I don't have this puzzle but would love to do it! I remember when I visited San Fran many years ago and saw the Painted Ladies in person. This one is def going on my wish list. You'll find it available here: Painted Ladies of San Francisco.
If you would like a fun Halloween one for children, I ordered this 100-pc puzzle for my grandsons last year and they still love putting it together. They do it throughout the year, not just for Halloween. It's still available here: Halloween Puzzle for Kids.
Here's another one that I would love to do. I've still never been to Paris and can't wait to go one day. You'll find this puzzle available here: Paris Cafe and Carousel.
Another one I would love to do…this gorgeous Mediterranean scene! You'll find it available here: Mediterranean Oceanside View.
This one is for the puzzle lovers who also love cats! You'll find it available here: Cat Lovers Puzzle.
I love this puzzle so much, look at the little chickadees and bluebirds in the trees! Love all the details like the glowing lantern, the tackle box, and the geese flying overhead. You'll find this one available here: Lake House View.
Love all the color in this one! Truly an animal paradise! You'll find it available here: Jungle Puzzle.
This is the 3rd one that I ordered today, such a dreamy scene! So many things to love from the cute seaside cottage to the lighthouse to that gorgeous sunset! There's even a kitty in this one, see him there alongside the cottage? You'll find this puzzle available here: Cottage by the Sea.
Update: Forgot to include this amazing puzzle! I would love to do this one with my son, daughter-in-love and grandchildren this Christmas. It's a 3-D Jigsaw Puzzle with pieces that click together to create the castle. I love how it has characters from Disney movies all around the perimeter of the castle. The reviews look great, too! You can see it in more detail here: 3-D Disney Castle.
Here are some of the others I currently have on my Wish List. It's a big wish list, but something tells me it's going to be a long winter.
Click on any picture link below to access that puzzle. Any of these below would make a great Christmas present.
Happy Puzzling!
*If a post is sponsored or a product was provided at no charge, it will be stated in post. Some links may be affiliate links and as an Amazon Associate, I may earn from qualifying purchases. *