My living room is hiding a secret. It's just a little secret, nothing earth shattering.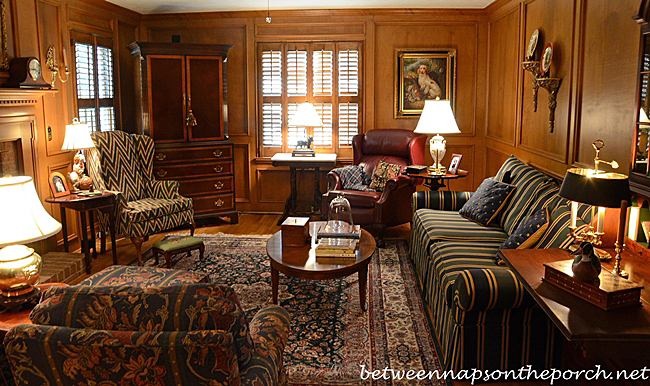 See that area behind the seating group, the one with the built-in cabinetry and bookshelves? The secret is underneath the tall lamp I have there. Can you guess what it is?
It's this! Did you guess you would find a sink under there? The sink still works, I ran a little water in it again today just to make sure. Apparently when my home was built in 1983, this was the way some home bar areas were being designed. A few of my neighbors have this same bar setup, but some have actual small rooms you can step into that face out into their family room.
I never use the bar and just keep the lid closed down since I prefer to use the shelf space for family photos and such. If the next owner of my home does want to use it as a bar, they could store bottles inside the cabinet underneath the sink, bottle openers and corks inside the drawers and glasses on the shelves above.
Last year, for a New Year's Day party, I did use this area as a bar for the first time ever. I served wine and a champagne punch I made for the occasion. I had just finished dipping the rims of the champagne glasses into the Gran Marnier and nonpareils when I took this picture. That's what's in the little bowls.
I love the festive look of the nonpareils for a New Year's party or birthday celebration.
I served the champagne punch from a tall beverage server that normally lives here on the sideboard in the dining room. (Tablescape can be viewed here: Christmas Table Setting: Sparkle With a Touch of Whimsy)
That's it on the right in the picture below. This was my sneaky attempt to draw my guests into the living room and out of the kitchen where we always seem to gather for cold-weather parties. (Recipe for Champagne Punch can be found here: Champagne Punch, Perfect for a Christmas or New Year's Party)
For spring, summer and fall parties, I don't usually have that problem. Folks willingly head for the porch during those times.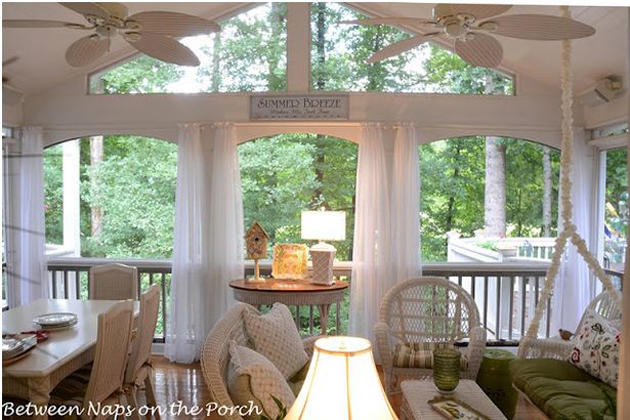 When it comes to home bars arrangements, I love how creative folks can get. Actor, decorator and author, Bryan Batt, turned this beautiful antique armoire into a bar, complete with a sink. If you don't care for alcoholic drinks, this bar and the others shared in this post would work great for serving beverages of any type, either when entertaining or year around.
I love how he included a sink, very clever if you can place your armoire where it can be connected into your plumbing.
Since so many folks are using flat screen TVs mounted on the wall, armoires can be found for bargains at flea markets and thrift stores.
You may remember when we toured this darling French Cottage here: French Cottage With A Dream Kitchen. I really liked the built-in bar they created. I may be wrong, but I bet that was a coat closet in another life.
Looks like they took an old china hutch and added a sink for this bar. It's located just inside the front door where you can greet your guests with a hug and a cold, refreshing drink. You would need it right now after coming inside from our 95 degree weather!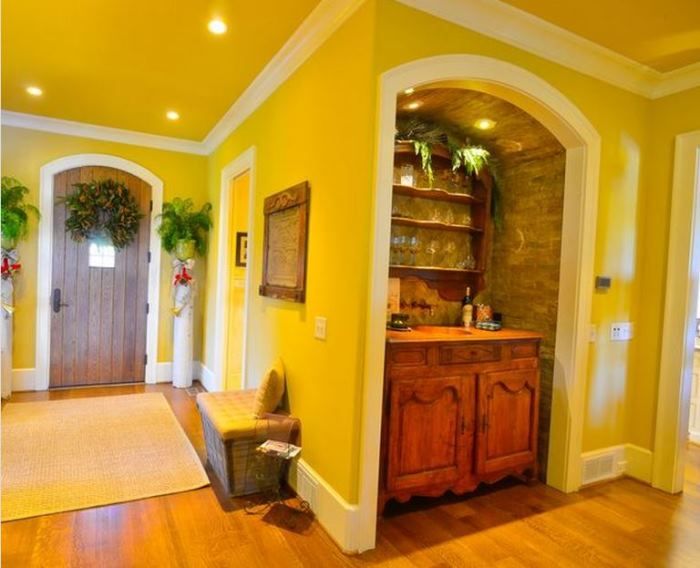 Eddie Ross is always on the look out for vintage brass pieces. He lucked out and found a fabulous old bar cart while antiquing.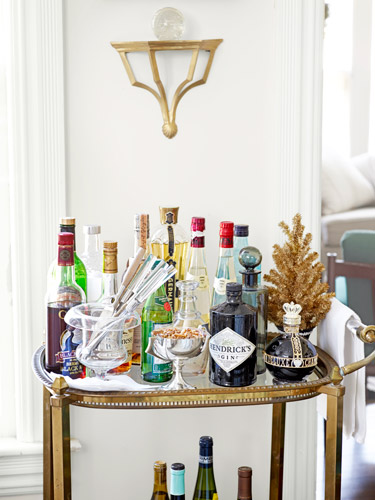 You don't have to spend a ton to set up a little bar. Any cart found while thrifting can be made over with paint.
If you have a tray, you can create an impromptu bar just about anywhere as they did in this outdoor space at the Southern Living Idea House last year in Bluffton, South Carolina. (Take a tour of the home in this post: Tour the Beautiful 2014 Southern Living Idea House)
Mary Carol moved from a large home into a wonderful and much smaller lake cottage. When she did, she created a handy little bar area in her newly renovated kitchen. If you have an area in your kitchen similar to this, this may work for you either while entertaining or year around if you can spare the lower cabinet shelf and countertop space. (Tour Mary Carol's darling lake cottage in this post: Designer Mary Carol Garrity Has a New Cottage Home!)
I saved one of the most creative bar ideas for last. Even those old vintage TV cabinets can be put to new use!
These bar design ideas could be used for serving beverages while entertaining or for every day use. You'll find additional ideas for creative bar designs on this Pinterest board I created a while back: Bar Carts & Set Ups For Entertaining
What do you think about the repurposing of the armoires? I still love having my living room TV inside an armoire so I can make it disappear when I wish, but I do love the idea of turning them into a cleverly hidden bar.
*If a post is sponsored or a product was provided at no charge, it will be stated in post. Some links may be affiliate links and as an Amazon Associate, I may earn from qualifying purchases. *