Welcome to the 728th Tablescape Thursday!
I'm running behind today–the painter is back again today and that always puts me a bit behind. Last night I was in the mood for a blue and white table setting. I just recently ordered napkins that I thought would be pretty with my Churchhill Blue Willow dinnerware, one of the dinnerware sets I use on a daily basis.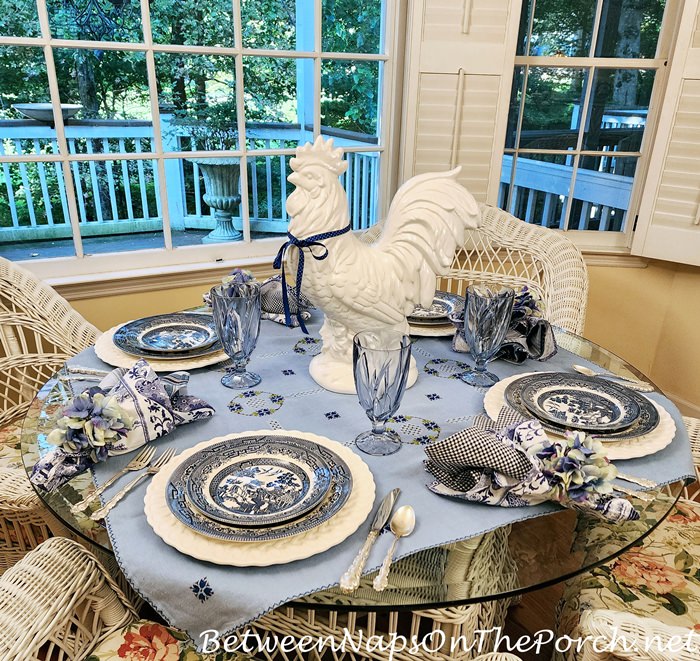 I know this photo was taken at kind of a weird angle but I included it because it most accurately shows the colors of everything on the table, including the tablecloth, the china, the glasses, and Mr. Rooster. Mr. Rooster was a find in Cracker Barrel a couple of years back. He lives in this spot full-time and loves soaking up the sunshine that pours in through the bay window on our sunny days.
Many years ago I received an email from Allison, a lovely BNOTP reader. She offered to send me a table square and some napkins that she was no longer using. This beautiful handstitched table square was among the beautiful pieces I received. I don't think I've used it in a table setting before. I had this table all set but it still felt like it needed something. That's when I remembered this beautiful table square and I love how it looks in this blue and white setting. Thanks so much to Allison for thinking of me and sending it my way! ♥
I found these Blue Willow napkins (top napkin) quite a few years back–not sure if I've ever used them on a table, I think I may have. Last night when I was finishing this table, I couldn't make up my mind about which napkins to pair with the Blue Willow napkins, so I decided to use both so you could see two different looks. Which combination do you like best below? At first, I thought I preferred the tiny checked pattern (paired with the Blue Willow napkin) on the left, but as I looked at the photos for this post, I started liking the plaid napkin (paired with the Blue Willow napkin) on the right better.
The pretty blue glassware in this table is Noritake, Breeze Clear. I love its wonderful swirl design.
The Churchill Blue Willow china was collected over several months as part of a promotion Publix was having. Each time you shopped in Publix, if you spent a certain amount of $ in groceries (seems like it was $35) you could purchase a place setting for $2.50 each. Each place setting only included a dinner plate and a cup and saucer if I'm remembering correctly. I think I had to purchase the salad plates separately, but I could be remembering that wrong. Anyway, I bought A LOT of groceries over the span of a couple of months because I was afraid the promotion would end before I had enough place settings. I managed to collect 12 place settings and a bunch of the serving pieces like platters, bowls, sugar/creamer, etc… Did anyone else collect Churchill Blue Willow from Publix back in the day? This would have been around 20+ years ago now. Wish grocery stores still did promotions like that!
I hope someone will recognize the flatware pattern. Update: The flatware has Oneida Community on the back. I found this beautiful patinaed silverplate flatware on eBay many, many years ago. The hydrangea napkin rings are from Pier 1, back in the day. Here's how the checked napkin looks in this setting…
And here's how the blue, white, and black plaid napkin looks in this setting. I love how its colors mimic the exact colors in my Blue Willow china. The plaid napkins were a recent purchase and are still available here: Plaid Napkin in Blue, White and Black.)
Does anyone recognize the flatware pattern? I need to look back at some older posts to jog my memory. The charger plates were from Horchow online back in 2008.
It didn't quite work out but if I had shifted the tablecloth around a few inches, I think the glasses could have ended up perfectly centered in these beautiful floral circles on the tablecloth. (I moved this glass over to show how it looks on the circle of flowers.) I may try that today to see if it will work. I think it will throw off having the corners of the tablecloth hanging down in front of each chair as I have them positioned now, but it would be interesting to see if the floral circles were designed into the tablecloth to work that way…creating a place for the glasses.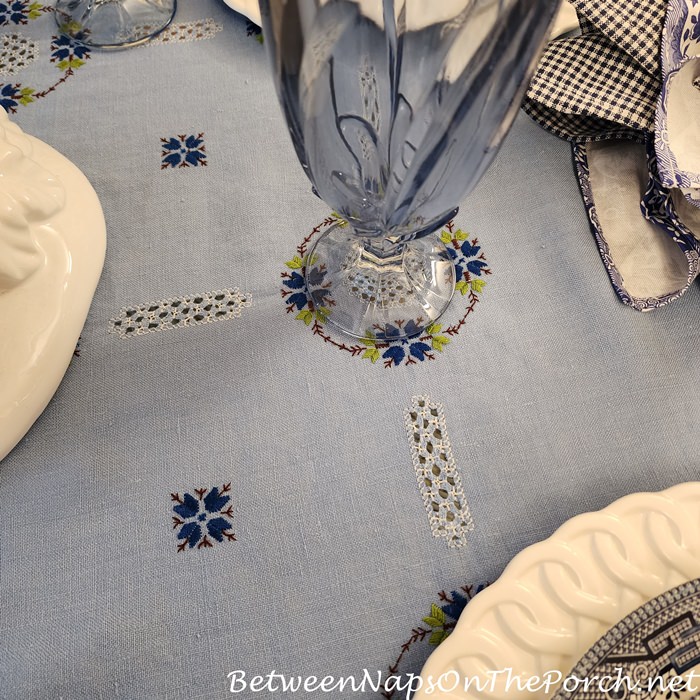 Hope you enjoyed this blue and white table setting. Looking forward to all the beautiful table settings linked for this week's Tablescape Thursday!
Did you know Between Naps On The Porch is on Instagram? You'll find me on Instagram here: Between Naps On The Porch.
Like to know when a new blog post is up and available to read? Subscribe for email updates, it's free and your email will never be shared. Subscribe for free post updates via email here: Subscribe for Post Updates.
Tablescape Thursday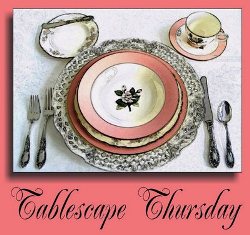 If you are participating in Tablescape Thursday, please be sure to add your permalink below, and not your general blog address. To get your permalink, click on your post name, then copy and paste the address showing in the address bar, into the "url" box when you link up. You'll need to include a link in your post back to the party to link up and participate. That's so visitors to your blog will be able to find the party and the other Tablescape Thursday participants. Please link up table-setting related posts only for Tablescape Thursday.
This party has ended, click button below for the links to all who participated.
*If a post is sponsored or a product was provided at no charge, it will be stated in post. Some links may be affiliate links and as an Amazon Associate, I may earn from qualifying purchases. *