Welcome to the 711th Metamorphosis Monday! Happy Monday! I hope your week is off to a fabulous start! A week or so ago I shared the arrival of a Fortnum and Mason Hamper I had purchased, along with the goodies that I chose to go inside. I ended up creating my own bespoke hamper to get the size hamper and the contents I really wanted.
When I first placed my order for one of their hampers, I decided to go with the "Large size" hamper with an idea of how it could be used in the future. Of course, these hampers can always be reused to hold items for a trip, but I had something else in mind.
I've often thought about placing a small table alongside this chair here in my upstairs living room/bonus room. It definitely wasn't an urgent need but the spot just seemed to be calling for a little table–a place to set a book or a drink when reading.
I was hoping a large Fortnum & Mason hamper would work out to be about the right size and height and it is!
I briefly thought about having a piece of glass cut to go on top, similar to what I did with these old bound newspapers given to me by my sister over 30 years ago.
Ultimately, I decided against that since the book table and the hamper are only a few feet away from each other. Instead, I decided to order a large tray to go on top.
I chose one that was somewhat rustic and a size that I thought would fill almost the whole space on top of the hamper.
I specifically wanted it to have black handles thinking that would look nice with the black F & M logo on the side of the hamper. (Tray is available here: Wood Tray.)
Unfortunately, the tray that arrived had a really noticeable defect in the finish right on top. It looked as if it had been chipped or damaged during the manufacturing process and then they just tried to cover it up with stain.
So, I decided to return it for two reasons: 1. The booboo on top that I knew would drive me nuts, and 2. I wasn't sure I liked how much of the top of the hamper the tray covered up. I've decided to look for a similar rustic style tray with black handles, but in a round shape so more of the top of the hamper will be visible. Also, I think a round tray will contrast nicely against the rectangular shape of the top.
Another fun idea I got was to add "feet" to the four corners of the hamper. I just have them propped underneath for this photo. I like how the feet raise the hamper up a bit and give it a more "finished" look. What do you think of the feet?
If I end up using the wood feet, I was thinking I could use velcro on the hamper and on the feet to hold them on or perhaps try attaching them with the hardware/screws that came with the feet. They could probably even be super-glued on, although I don't think I'd want to put glue on my F & M hamper. (Wood feet are available here: Wood Feet.)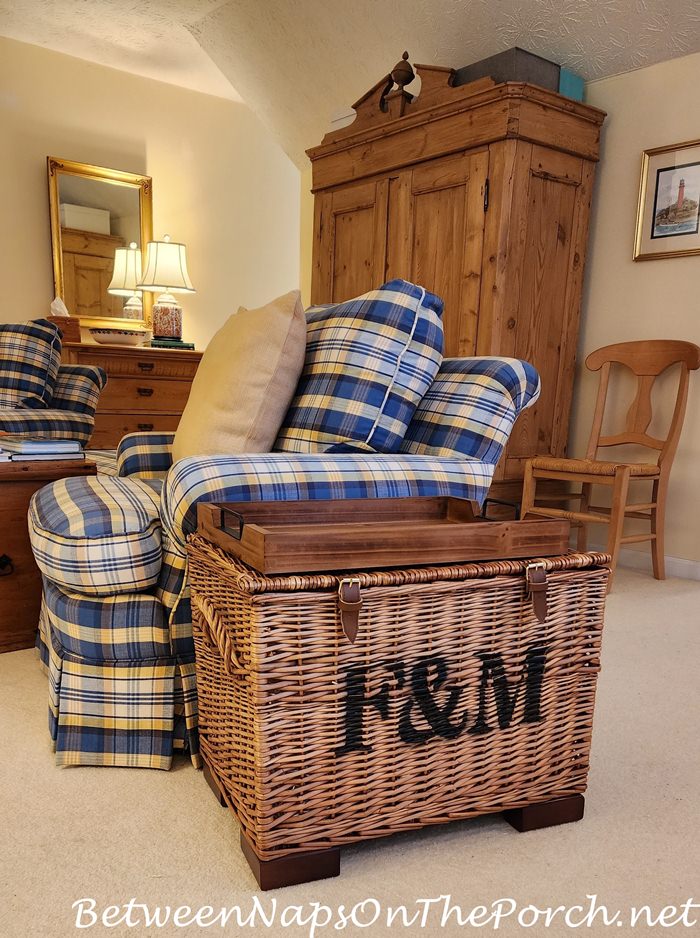 One thing I want to point out is if you end up ordering a large Fortnum & Mason hamper and wish to use it as a side table, it's possible to close up the leather straps without actually hooking them thru the lid. That's how I have them in the photo below. Then the hamper could be used to store extra throws, books, knitting, pillows, etc… inside. Those things would be super easy to access by just temporarily sitting the tray aside. I don't think I'd do that if a piece of glass was being used on top–I think it would be too much trouble and too heavy to move on a regular basis. But with a tray on top, it would be a quick and easy way to access the contents. I LOVE the idea of storing throws and other goodies inside. (Hampers can be ordered here: Fortnum and Mason Hamper.)
I've been looking at round trays online and I found some really cute ones.
This is one of the round trays I'm considering for the top of the hamper. Its nautical motif would work well in my upstairs living room since it already has touches of nautical decor. It comes in two sizes and the 12-inch size should be perfect for holding a drink. It's available with and without handles. Of course, without handles would make it easier to place a book on top, but I love the look with the handles. This tray is available here: Wood Tray.
Here's another really cute one from the same shop. I especially love the handles on this one! It's available here: Round tray with Rustic Handles.
I really like the trays that have black metal hardware/accents. I think that will look great with the F & M logo on the front of the hamper. This tray is available here: Round Tray with Black Handles.)
So, those are a few of the trays I'm considering for the top of my hamper. What do you think, did you have a favorite? Did you like the hamper with the wood feet underneath, or without feet?
If you would like to see my previous post where I shared what I chose to go inside my Fortnum & Mason hamper, you'll find that post here: It's Here–My Fortnum & Mason Bespoke Hamper Has Arrived!.
Looking forward to all the wonderful Before and Afters linked for this week's Met Monday!
Pssst: Did you know Between Naps On The Porch is on Instagram? You'll find me on Instagram here: Between Naps On The Porch.
Like to know when a new blog post is up and available to read? Subscribe for email updates, it's free and your email will never be shared. Subscribe for free post updates via email here: Subscribe.
Metamorphosis Monday
Metamorphosis Monday is a party that's all about Before and Afters. Please link up your Before and After projects like DIY projects, room makeovers, craft projects even recipes. Please do not link up Table Settings, save those for our Tablescape Thursday party on Thursday. If you are participating in Met Monday, you'll need to link your post to the party using the "permalink" to your MM post and not your general blog address. To get your permalink, click on the name of your post, then copy and paste the address that shows in the address bar at the top of your blog, into the "url" box for InLinkz when prompted. NOTE: Please do not link up more than 3 posts from your blog. In order to link up, you'll need to include a link in your post back to the party so visitors to your blog can find the other party participants. When linking up to the party, give the InLinkz system time to find the link in your post to avoid having your link held for moderation/approval. Thanks!
This party has ended, click button below for the links to all who participated.
*If a post is sponsored or a product was provided at no charge, it will be stated in post. Some links may be affiliate links and as an Amazon Associate, I may earn from qualifying purchases. *