I've always been drawn to classic design in clothing. I do find it fun to mix in the occasional "trend" piece, but over the years it's always been those classic tried-and-true pieces that I return to again and again.
As mentioned in a previous post, I'm currently reading the book, Classic Style by Kate Schelter. (Book is available here: Classic Style.) It has recharged my love for the never-let-you-down, iconic styles. But even better, it has introduced me to some classics that I never even knew existed.
See that white tennis shoe with the green the accent on the front of the book?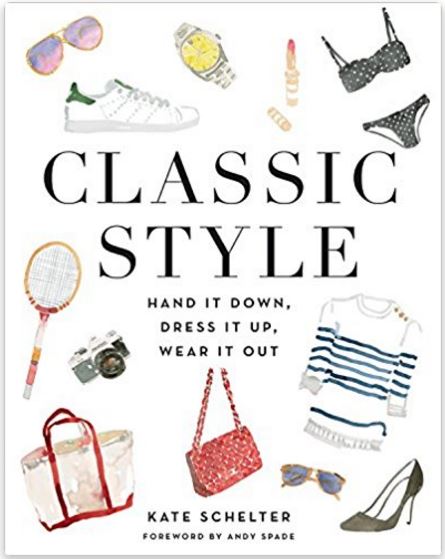 That's the Adidas "Stan Smith" sneaker. Ever heard of it? I had not. I really liked the picture of it inside the book so I Googled to read more about it. In THIS article at Business Insider, the shoe is described as "legendary" and "one of the most important sneakers in the world." I am a total sucker for anything with a good story behind it, which is one of the reasons I love classic styles. There's almost always a really great history or story behind iconic fashion pieces.
It turns out the Adidas "Stan Smith" sneaker was named after Stanley Roger Smith, a famous tennis player. He was ranked No. 1 in the world at one time. He and his tennis partner, Bob Lutz, won many major titles all around the world. You can read more about his accomplishments at Wikipedia.
The Adidas Stan Smith shoe was extremely popular back in the day and it's seen a huge resurgence in the last few years, including with a lot of celebrities.
I purchased a different pair of Adidas several months ago and found them incredibly comfortable while trekking all over Morocco this past March. Those are still available here: Adidas Sneaker.
So, I decided to see if the Stan Smith sneakers were still available since I had enjoyed the other style so much. They are, and they are currently on sale–even better! They are 20% off, HERE.
When I was trying them on before purchasing them, the sales associate who was helping me told me that he has been wearing this exact same shoe for years and loves it. I feel like I'm the last person on the earth to discover them! I've been wearing them all day and they are super comfortable!
The reviews online said to size down a full size and that's what I did. Normally I wear a size 7, so I purchased them in a size 6 and they fit perfectly, not too snug which is just how I like them. So if you do buy a pair, I recommend sizing down at least 1/2 size and you may want to go down a whole size like I did.
They are also available in all white, but I decided to go with the traditional style with the green accents as shown in the book, Classic Style. Here's how they look in all white. Both styles are available here: Adidas Stan Smith Sneaker. This shoe is understated and a classic! You'll also find them in a lot other fun styles here: Sneakers. I have a feeling this won't be my last pair. Love these!
Great Shirt Sale
Talbots is having a sale right now, 30% off all their blouses and shirts. I had purchased this linen top a few weeks ago in this a pretty tan/oatmeal color. Today I took advantage of the sale to get it in white, too. It comes in a bunch of colors.
You'll find this shirt and the sale here: Linen Shirt. I love this style shirt because being linen, it's really cool. When you need extra sun protection, you just unbutton the little tab and roll the sleeves down. I have several shirts with this style sleeve. It's my favorite for travel since it's so versatile.
I also purchased a pair of these adorable striped Superga sneakers. I passed them by last summer and was glad to see they are back. These are available in several colors including the cute stripes, here: Superga Sneakers.
I was surprised to learn that Superga is the sneaker Kate Middleton wears! You can buy them in white like Kate's here: Sneakers.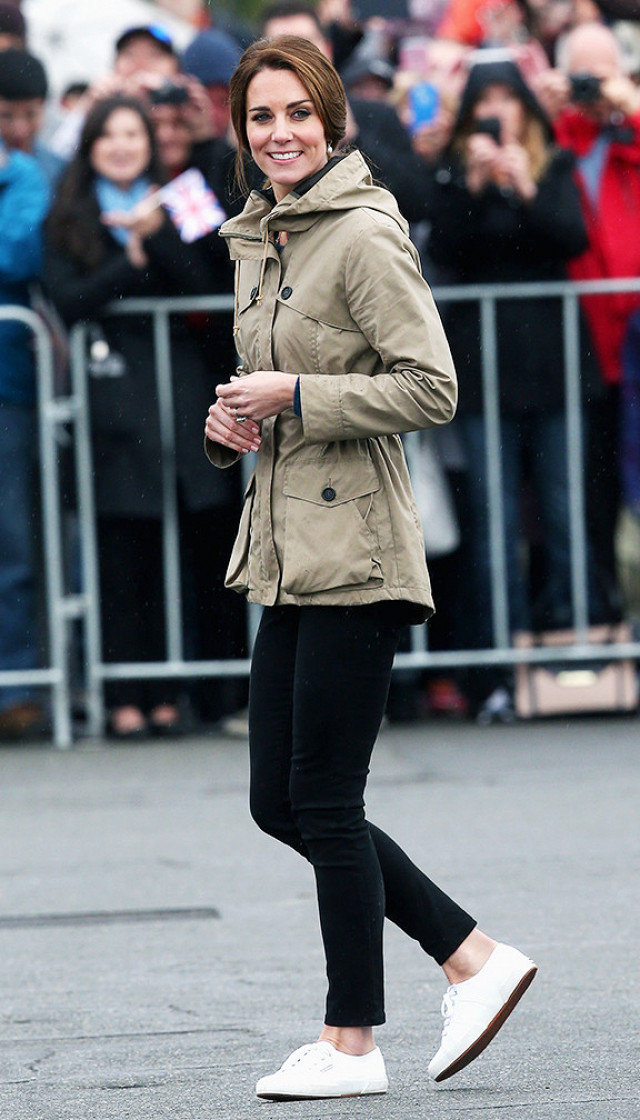 Love These Salad Kits!
I need to do a "favorites" post and share some of my recent finds that I'm loving. Before I close out this post, I snapped a quick pic of some ready-made salads that I'm loving. I'm a lazy cook when it comes to cooking for myself, so I'm always looking for something that's healthy, easy and fast.
I buy these salad kits in the Wal-Mart Market near my home and they are awesome! They are basically gourmet salads, but without all the work of having to buy 10 ingredients to get the gourmet taste. Besides the salad greens, inside each bag is a packet containing ingredients like tiny bread crumbs, cranberries, walnuts, pecans, sunflower seeds, salad dressing, etc… depending on the type salad you buy.
What I normally do is I dump about 1/3 to 1/2 the bag out into a big bowl, add a few of the other ingredients, then add either chicken or tuna for protein.
I never pour the dressing on the salad because I don't want all those extra calories. I pour the dressing into a small bowl, then I dip my fork barely into the dressing to get just a tiny bit on the fork, then scoop up a bite of salad. So I get a hint of the dressing which is really all I need. The dressing is the part where you get a lot of hidden calories, so when watching your weight it's good to eat as little of that as possible.
Also, I don't always add all the nuts, cranberries, etc… because the salad itself has so many great ingredients. But you may wish to use them all–just personal preference on that.
Anyway, these are soooo good! I love them for lunch and/or dinner. I just bought the "Thai Style" salad a couple of nights ago, so I haven't tried it yet. But the other two I've been eating non-stop now for a few months and love them!
Just wanted to share these with you in case you find them helpful!
Happy Weekend to you!
*If a post is sponsored or a product was provided at no charge, it will be stated in post. Some links may be affiliate links and as an Amazon Associate, I may earn from qualifying purchases. *