Things are looking very purplie around here, Dahlia purple to be exact. I've finished painting the potting bench, now I just to need to assemble it. I'll start work on that this evening.
Today I've been shopping for the supplies I need for another little project, one I think you're going to really like. You would think the potting bench project was enough to having going on at one time, right? lol This one is somewhat related and too cute to not try.
I know the little tutorial I'm sharing today is going to seem very random, but I promise it's going to come in handy very soon. So just tuck this info away and when you need it, this post will be here.
How To Find the Center of a Ceramic or Terra Cotta Saucer
Have you ever needed to find the exact center of a circle? I'm going to be drilling a hole into the center of a saucer for a little DIY project, so I went searching online for the best way to find the center of a round circle.
All the directions I found online sounded time-consuming and complicated, involving drawing various lines or chords, using a carpenter's square, and marking up my saucer. I thought about it a bit and came up with a method that was much easier for my needs.
To begin, I cut off a small piece of wrapping paper. Any paper will do but it needs to fairly strong like wrapping paper.
Next I started pressing the paper into the saucer. I was finding this a pain to do at first, but finally realized it was because I had way too much paper.
So I cut the paper down to a smaller, more manageable piece and this process went much better.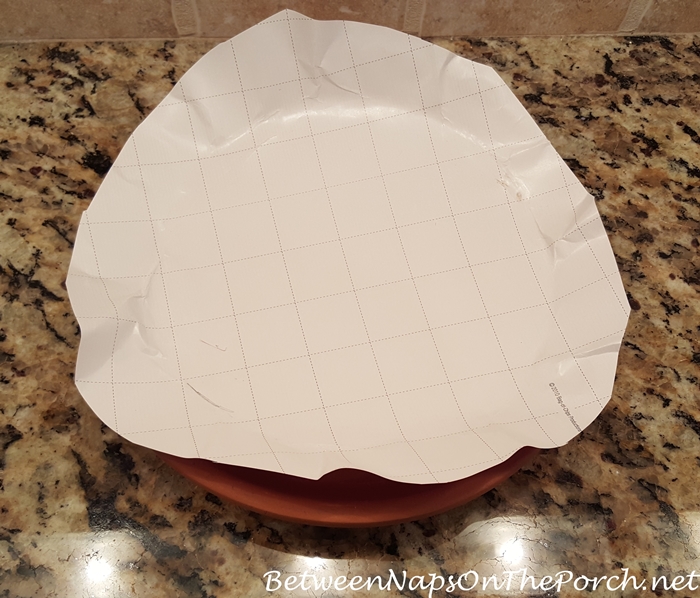 After I had pressed the paper down into the saucer and run my fingers around and around the inside edge several times, I took a dull pencil and traced out the inner edge of the paper.
Don't use a sharp-pointed pencil for this part because it would be very easy to pierce the paper accidentally. A dull pencil works much better. Also, I wouldn't use a Sharpie or marker because if the paper tears, you could get permanent marks on your saucer. Again, a dull pencil works best for this because if the pencil should accidentally pierce the paper, pencil marks are easy to erase.
Next, cut out your round circle of paper.
Fold the paper circle in half.
Then fold it in half, once again.
Open it up and place it back inside your saucer. I couldn't hold mine down and take this photo, but once I pressed it down, it fully and evenly filled out the space.
Next, I took a pencil with a sharp, pointed tip, and holding the paper in place, I pressed down on the center of the paper with the pointed tip of the pencil and drew a dot in the center where all the folds came together.
You could stick a pin through the center where the folds meet, scratching the saucer underneath, but I just pressed firmly with the sharp point of the pencil, circling around and around until the sharp point wore through the paper.
Once it poked though the center, I created a dot on the saucer underneath. (Again, I couldn't hold the paper down and take the photo, but hopefully you get the idea.)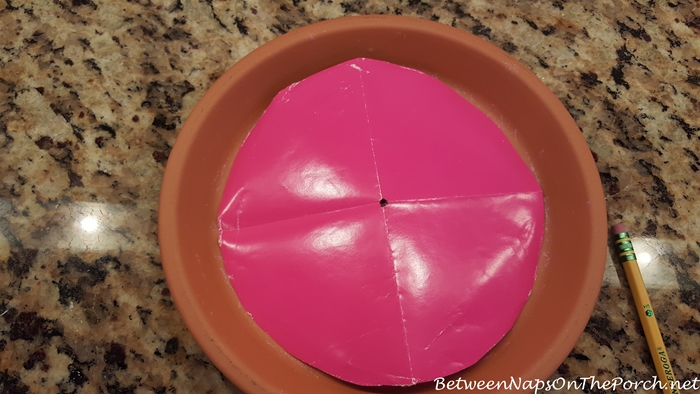 There it is, the center of my clay saucer! You may want to save your templates in case you want to reuse them again.
I can't wait to share this little project with you if all goes well. Hope to do that very soon! In the meantime, file this little tip away because I think you're going to want to use it sometime soon. 🙂
*If a post is sponsored or a product was provided at no charge, it will be stated in post. Some links may be affiliate links and as an Amazon Associate, I may earn from qualifying purchases. *