It has been ages since I've been antiquing. I used to go all the time. I miss it, it's such a fun, relaxing way to spend a few hours.
Yesterday I stopped by Flourish Antiques which is located inside the Marietta Antique Mall. I had three lamps that needed small repairs. One lamp was kinda wobbly and needed tightening up and the other two were doing that weird thing where you have to turn the switch slightly pass where it normally needs to be in order to turn it on. David, the owner of Flourish, was able to make the repairs while I waited, so I spent that time browsing and taking photos of the many treasures I found inside the booths in the mall.
When my favorite haunt, A Classy Flea, closed a couple of years ago, I remember a lot of the dealers there said they were moving to the Marietta Antique Mall. Others moved to the Queen of Hearts, another local antique mall. This was my first time visiting so I was really interested to see what I'd find. I expected the booths to be kinda empty with everything that's been happening the last few months. I'm sure the dealers have probably had a tough time finding pieces for their booths with everything being shut down and people keeping their homes closed to visitors.
David's has a booth filled with some of the custom lamps he's made. It was just outside the entrance to his lamp repair shop. If you live in Metro Atlanta and would love a custom lamp made from a vase, figurine or collectible, David is your guy! He is very creative and has a wonderful eye for putting together beautiful one-of-a-kind lamps.
The lamp above and those in the two photos below are just a few examples of some of the lamps he's created.
The prices I saw on the antiques during my walk through all the booths were amazing. If I read the tag correctly, this table including a leaf and 6 chairs is $375!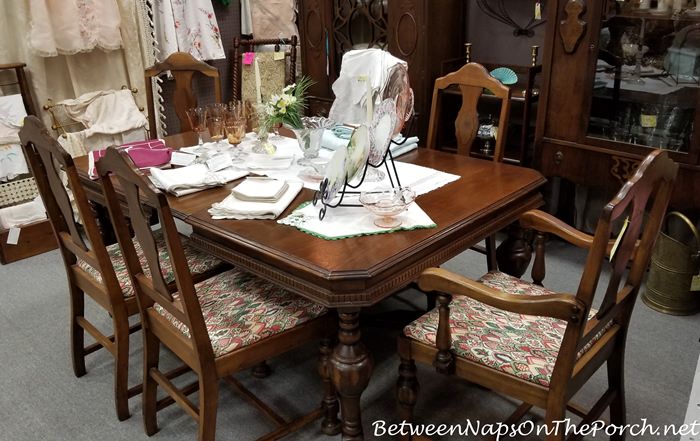 Wow!
This cabinet was marked on sale down to $250. I saw several Layaway signs throughout the antique mall so apparently some of the dealers will allow you to pay for pieces over time.
This antique chest was $325.
A beautiful chandelier: $450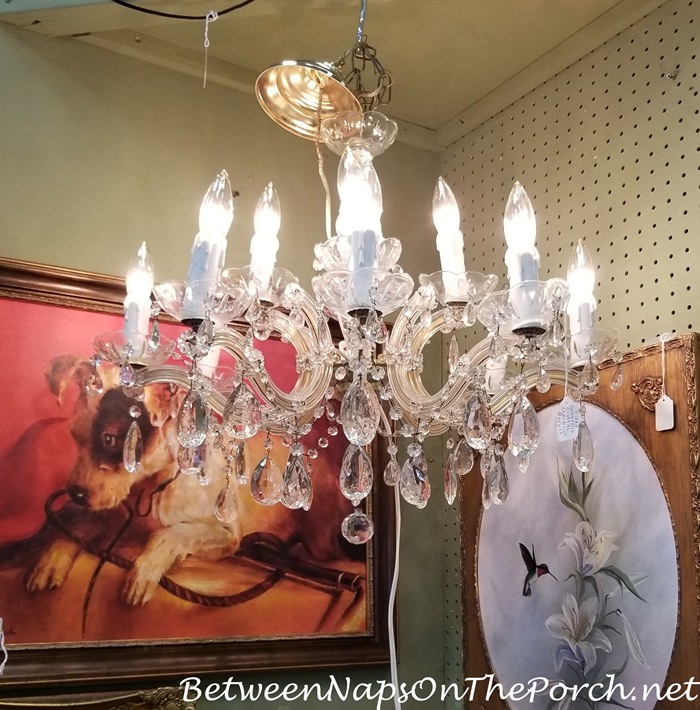 These turquoise lamps wouldn't work with the colors in my home but I thought they were really pretty! They were $25 each. Makes me wish I had a beach house!
This gorgeous walnut buffet was on sale for $325! I wish I had a place for it in my home!
This was the CorningWare pattern that was popular when I got married back in the late 70s. I still have all of mine, can't bear to part with it.
I can tell that whoever owned this took care of it and didn't stick in a dishwasher because the pattern is still nice and dark. If I cooked more, I would definitely want some of these beautiful vintage pieces.
Another beautiful sideboard. $695.
This cherry chest was marked down from $295 to $195.
I saw a lot of light fixtures and pretty chandeliers during my visit.
This beautiful mahogany china cabinet was on sale for $250. I hope whoever buys these beautiful pieces will not paint over them.
A beautiful, antique Victorian bed. A sign on the bed said, "Full size but with converter rails can be a Queen."
You don't find beautiful pieces like this being made today! It was priced at $595.
Pretty secretary! I think it was $450.
There was a clock section, too.
This chest has a tag on it saying, "Beautiful Walnut Georgian bracket foot, four-drawer chest made in 1791 for Ms. Baker, England. It was priced at $1,200.
I think this beautiful stepback cupboard would be stunning filled with books in a study or library. I couldn't believe the amazing price: $330! I wish I had room for this piece!
Hope you enjoyed going antiquing with me. We need to do this again real soon, I've really missed it!
*If a post is sponsored or a product was provided at no charge, it will be stated in post. Some links may be affiliate links and as an Amazon Associate, I may earn from qualifying purchases. *