Welcome to the 195th Metamorphosis Monday!
Right after I added a front porch onto my home around 4 years ago, I bought some faux topiaries from a local store here in Atlanta. I would have loved real topiaries on the porch, but I knew I'd never remember to keep them watered and they probably wouldn't survive in the shade of the porch.
The faux topiaries turned out to be an expensive mistake. They were very poorly made and extremely top-heavy. The slightest wind sent them flying into the yard where I would find them rolling around when I returned home from work each day. Though I'd only had them a few days, the store where they were purchased refused to let me return them, eventually saying they were for indoor use only despite all their catalog pictures showing them outside and on porches.
After numerous calls to managers who never returned a single call, I tried to make the best out of the situation. I pulled the topiaries out of the lightweight styrofoam I found inside the urn, scraped all the styrofoam out, mixed up some concrete and re-potted the topiaries into the concrete, using moss to hide the unsightly concrete.
Eventually, the topiaries faded and no longer looked even semi-real. Last year I pulled the topiaries back out of the concrete and disposed of them. I saved the concrete-filled urns because I had an idea, something I've been wanting to do for ages. I didn't get around to it last year but I didn't want to let another fall or Halloween pass me by without trying my little idea out. The heavy urns are serving a new purpose now.
Welcome friends! I'm so glad you are here!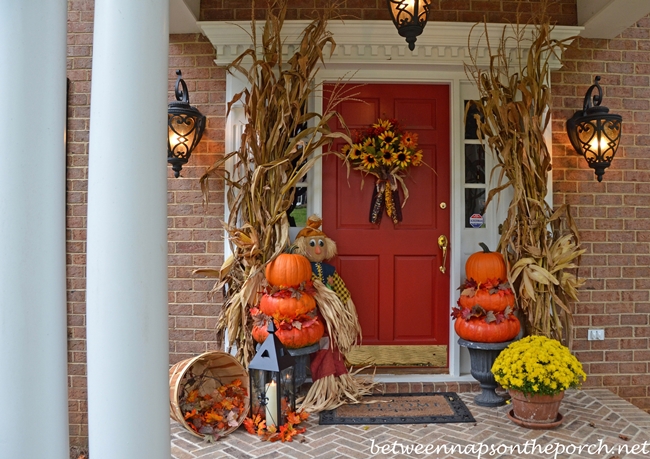 I thought about buying faux pumpkins to make pumpkin topiaries but all the ones I found were the wrong shape and they looked a bit too faux, if you know what I mean. It's hard to find realistic-looking faux pumpkins that are big enough to turn into topiaries.
So I headed over to Harry's where I purchased corn stalks for the porch last year. (Sorry about the awful pic…it was getting dark and I snapped this with my cell phone.) They didn't have any corn stalks for sale, but they did have some big, squatty-shaped pumpkins called Heirloom pumpkins. They are the ones you see underneath the Harry's sign. The Heirlooms looked just right for building topiaries atop my old concrete-filled urns.
Update: Catherine R. just told me that they are called corn shocks…neat, huh? So glad there are some folks out there who know these terms and can help this city girl out. When I go shopping for them next year, I'll feel like a pro calling them corn shocks. Don't you love learning new things…one of the best parts about blogging! 🙂
The next day, still in search of corn shocks, I drove over to another Farmer's Market down the road called Rick's Farmers Market. They had lots and I bought two. While there I snapped a couple of pics of their topiary displays to share with you. I was sort of wishing I hadn't bought the ones at Harry's after seeing these. I loved the variety in color. I'm keeping Rick's in mind for next year. Aren't these wonderful?
This is only the second year I've used corn stalks on the porch. I couldn't get over how much corn was still on these. The ones I bought last year from Harry's didn't have any corn.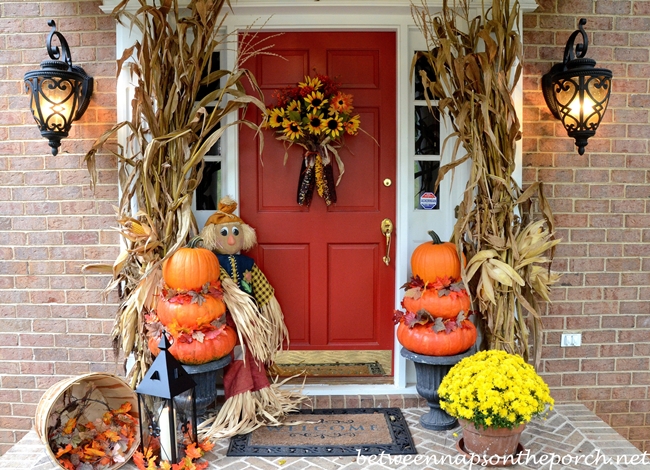 Do you see it hanging down there on the right. The left corn shock has bunches, too. I asked the folks at Rick's if there had been a drought and these just never got picked or something. They said no, it was most likely just some corn that had come in late. I love seeing the corn. It adds so much interest, way better than plain ole shocks.
I think this may be the only picture where you can see all three lanterns on the porch, including the hanging one. I found those at Home Depot Expo when I was having the porch built. Sadly, all the Expos are gone now. The lanterns are by Quoizel…from their French Quarter line. Wonder if they still make them…umm. Update: Yup, just checked…they are still making them. Cool!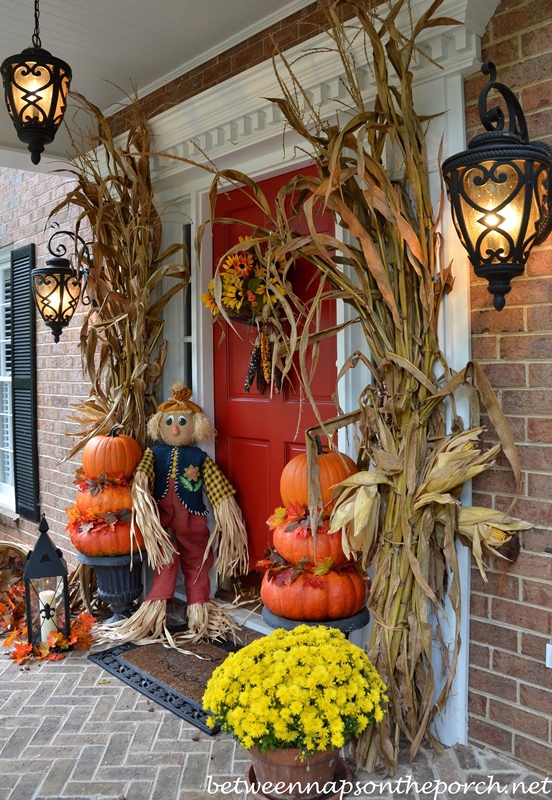 Here's a little close-up of some of the corn. I keep half expecting to come out the front door and find a chipmunk or squirrel up here chowing down.
I shared how to make this Indian-corn floral arrangement here: A Fall Door Arrangement You Can Make in 5 Minutes. It was so easy and so inexpensive to make! I've had Mr. Scarecrow for years. He always makes an appearance around this time of year.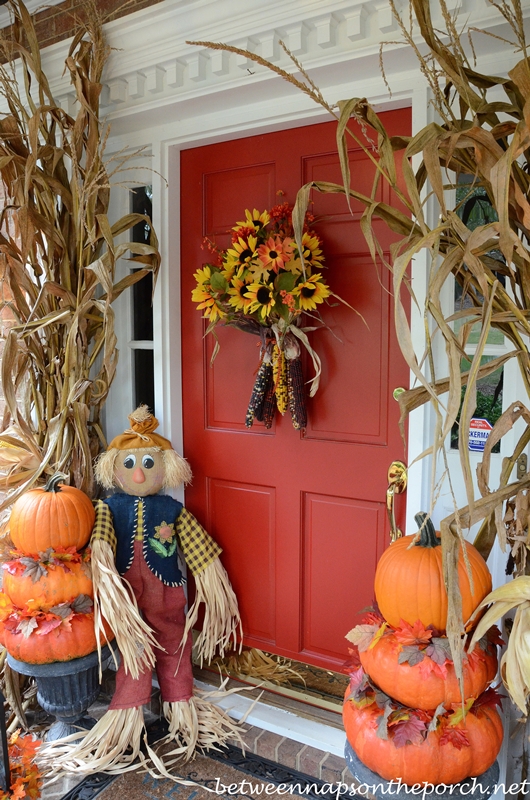 He's even been known to show up when there was some corn in need of protection on the porch. (Tablescape can be viewed here: Summertime Dining on the Porch) He's been slacking off lately though because the porch is covered in crows right now.
I'm planning on leaving everything in place until after Thanksgiving. I think this works well for fall and Halloween. When I take it down, it will be to put Christmas decorations up. It just dawned on me…why didn't I put a crow on the top of that pumpkin on the right or on the corn. I'll do that tomorrow and add a pic to this post.
It was easy to create the pumpkin topiaries with the flat Heirloom pumpkins. I just stacked them one on top of the other. They are very heavy and feel nice and stable since the bottom pumpkins are so flat.
I tucked leaf garland I've had for many years in between the pumpkins for a more finished look. You could use greenery or straw. Even sitting them atop vine wreaths would look great.
I'm starting to really enjoy fall now. The air is so crisp and there's the occasional scent of a wood fire. Time to make some hot apple cider and pull out some of those books I've been meaning to read. Happy Fall, dear friends!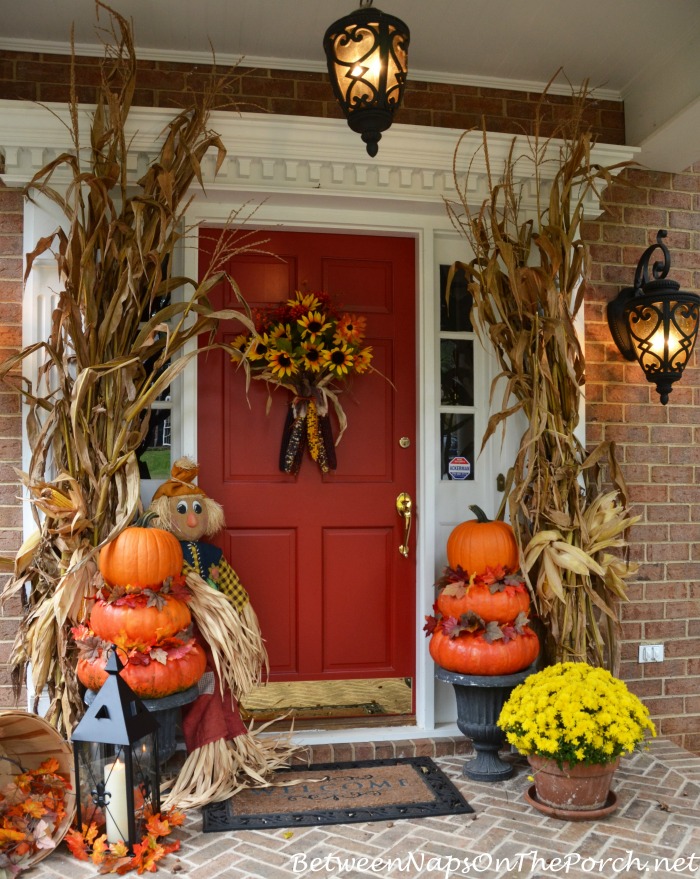 Looking forward to the wonderful "Before and "Afters" for this Metamorphosis Monday!
Metamorphosis Monday: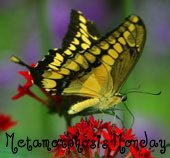 If you are participating in Metamorphosis Monday you will need to link up the "permalink" to your MM post and not your general blog address. To get your permalink, click on your post name, then just copy and paste the address that shows up in the address bar at the top of your blog, into the "url" box for InLinkz.
In order to link up, you'll need to include a link in your MM post back to the party.
If you'd like to include the MM button in your post, just copy and paste the Met Monday button to your computer and unload it as you do your other photos to your post. Or, click on the "Other" category at the top of the blog and on Metamorphosis Monday. You'll find the html code for the button there.
PLEASE DO NOT type in all caps…it spreads the links waaaay out.
PLEASE DO link up Before and After posts that are home, gardening, crafting, painting, sewing, cooking, DIY related. Do not link up if you're doing so to promote a website or product.
PLEASE DO be respectful of the BNOTP readers, visitors and those who participate in Met Monday by not linking posts inappropriate for the party.
Let's try something fun today! Please visit the person who linked before you and after you…that way everyone will get some visits. Hope you'll visit more, of course.


*If a post is sponsored or a product was provided at no charge, it will be stated in post. Some links may be affiliate links and as an Amazon Associate, I may earn from qualifying purchases. *