I'm so ready for summer! We had an early spring here in Georgia, everything is blooming including the Bradford Pears and the Tulip Magnolias. The daffodils bloomed a few weeks back and are starting to wane now. If you're living where it's still cold and snowy, stay tuned because I have some goodies that will interest you in this post, too.
Last summer I blogged about some cute sneakers I had purchased in THIS post. I really enjoyed wearing these last summer.
If you wear smaller sizes, you'll find the navy/white gingham sneakers for a great price here: Blue Gingham Sneaker. I also found them here for the same awesome price in both navy/white and red/white gingham here: Sneakers.
Thanks to Vikki for sharing this awesome sale on the same sneakers in Gray and white gingham. I've never seen them in this color combo before, but love it! These are available here: Superga Sneaker.
Driving Moccasins: Do you own a pair?
For the past few years I've been intrigued by driving moccasins. I had never even heard of them until I began watching British Fashion Vloggers on YouTube. Do you own a pair of driving moccasins?
I'm totally smitten with these, they would be so comfortable for those long drives I make to Ohio several times a years. Notice how they are designed for touring–do you see the protective part that goes up the back of the moccasin to protect the back of the shoe on those longer driving trips?
Love the design of this shoe and the adorable sail boat motif! It's available on sale here: Driving Moccasin.
Love this design/color, too and they are also on sale here: Pink Driving Moccasins.
If you're still in the midst of winter where you live, or just want a great deal on some adorable plaid flats for next winter, these are on sale half price here: Plaid Flats.
One of my favorite things to wear during the springtime until it gets really hot here are cardigan sets. They look great with dressy slacks or with jeans. I always get so many compliments when I pair them with a crisp white shirt underneath…for some reason people love that look!
I love to wear them with my jeans. This cardigan caught my eye, I really love the scalloped front and scalloped sleeves. So cute! You'll find it available on sale here: Scalloped Cardigan. The matching shell is available here: Shell.
This floral one is adorable for spring! It's on sale here: Cardigan.
This beachy sweater is a perfect transition piece for going from winter to spring. The crabs are embroidered and the anchors are beaded…love that! It's on sale here: Anchor-Crab Sweater.
Puzzle Love
Yesterday I shared a picture on Instagram HERE of a puzzle I've been working on that I was truly sad to finish. You know that feeling that you get when you're coming to the end of a really good book, how you wish it would never end? That's how I felt about this puzzle!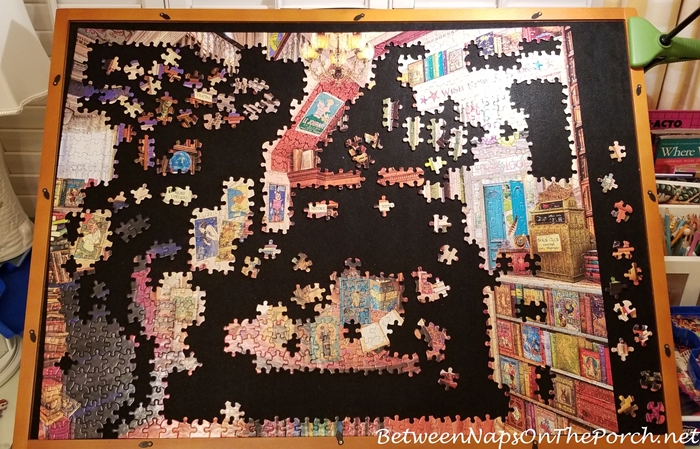 Update:
I've upgraded my puzzle board to this one and love working a puzzle against the blue background—easier on the eyes. You'll find this puzzle board available here: Puzzle Board.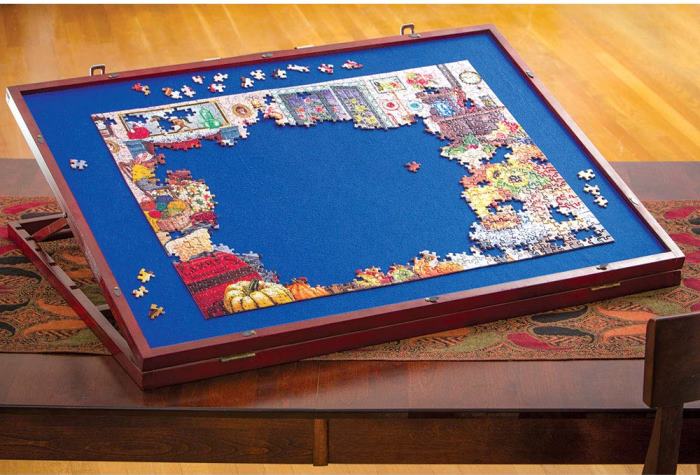 Here's the photo on the box showing how it looks once completed. I wish this adorable book shop actually existed in real life–I wonder if it does?
Even if it was hours away, I would get in my car and drive there just to experience it. I love everything about it…
…including the sleeping kitty at the foot of the stairs. 🙂 There's another kitty hidden away in the puzzle…he was a delightful surprise when I came across him. There's also a very brave mouse who's hiding among the books. You would have to be brave to share the book shoppe with two cats! lol This has to be one of my most favorite puzzles ever!
If you love doing puzzles, you'll find this one available here:Book Shoppe Puzzle. Let me know if you spot the mouse if you do this one. 🙂
Update: If you would like this puzzle in wood, it's available here: Wood Puzzle.
So, I've found that the only cure for feeling sad when a great book ends, is starting another great book. Well, if it works for books, I decided it must work for puzzles, too. This is the one I have on my puzzle board now. I love the kitty, the bicycle, the view through the window and of course, all those wonderful flowers! It the perfect puzzle for spring. It's available here: Flower Shoppe Puzzle
If you need a way to sort your puzzle pieces, these are the little trays I use. I love their whimsical puzzle shape. They are available here: Puzzle Trays.
Have a wonderful weekend, dear Friends!
*If a post is sponsored or a product was provided at no charge, it will be stated in post. Some links may be affiliate links and as an Amazon Associate, I may earn from qualifying purchases. *