Welcome to the 683rd Metamorphosis Monday!
My timing is always off for our Metamorphosis Monday party. I seem to always have a Before/After to share about two days after the party. lol If you missed it earlier in the week, I shared an update for the small passageway between my kitchen and living room here: I Listened to You and Went Back for Them.
I have a small Before/After in the works, I'm finally getting around to having this Giclee print/painting framed. I dropped it by Michaels about a week ago, so it should be ready before too long. Thankfully, I had a lot less trouble choosing a frame for it than I did the last time I had something framed. I'm looking forward to sharing it with you once it's ready.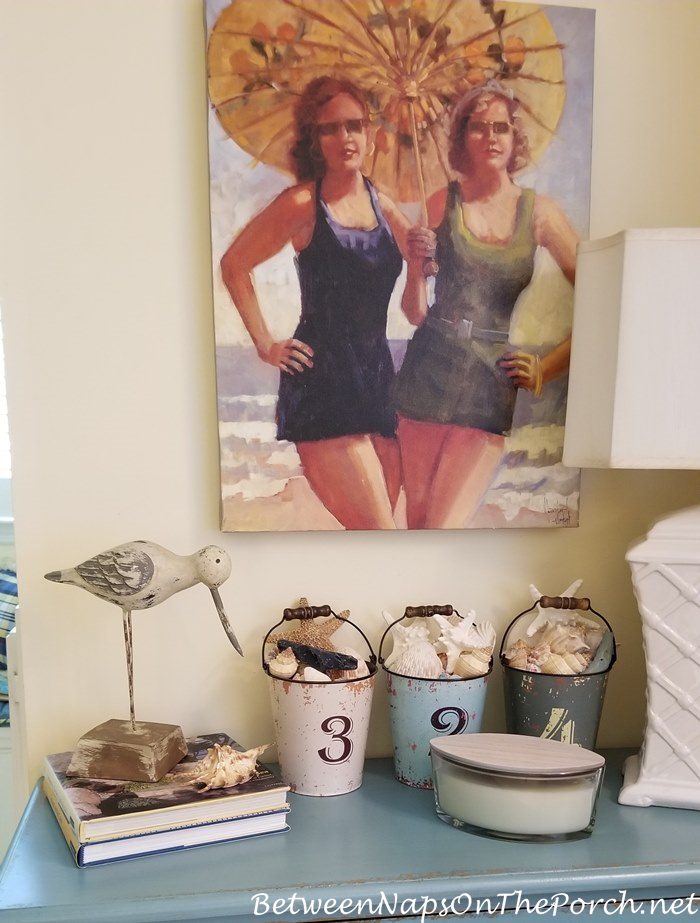 In the meantime, I have been obsessing over wicker and straw bags for spring/summer. Nothing says it's spring-like pulling out my wicker and bamboo bags!
My favorite Bamboo bag for summer is this adorable Cult Gaia-inspired bamboo bag in the picture above and below. I like this bag so much, I've purchased it in two sizes. I actually like it a lot better than the more expensive Cult Gaia bag because it comes with an insert that hides your belongings inside and keeps the small items from falling through the little gaps. Unfortunately, it looks like there's only one left available. Hopefully, they will get more in. You can see the one they still have left here: Bamboo Bag.
Another one of my favorite places to shop for wicker bags each spring is J. McLaughlin. That's where the two wicker bags in the center of this photo came from.
Those don't appear to be available this year but I did find this cutie on their website. Wherever they get their bags, I love how they always seem to have bamboo handles. It reminds me of Gucci and their iconic bamboo handle design. This cute bag is available here: Wicker Bag with Bamboo Handle.
I've been eyeing this bag for a while, the price is so reasonable.
I love this picture. Love the hat, too! You'll find this bag available here: Wicker Bag for Summer.
In search of some very affordable straw bags for summer, I came across this one. This straw bag is handbag size, not tote size and it can be found here: Straw Bag. I love the addition of the ribbon/scarf. I'm totally going to copy that for one of my bags this summer!
If you're headed to the beach this summer and need a large straw tote, check out this one: Larger Straw Bag in 2 Colors. There are even more to choose from here: Straw Bags.
I love this woven tote for summer! Beautiful design and it's from one of my favorite places to shop here: Straw Tote Bag.
Kate Spade always has a great offering in the wicker bag category each spring. This one is giving me Prada vibes…really cute! I like the gingham/plaid insert peeking out the top. I especially like how it closes up to secure the items inside. It's available here: Kate Spade Wicker Bag with Gingham Insert.
Ralph Lauren has a cute straw bag out for spring.
Here's how it looks for size reference. I love the size of the handles, they look substantial. I also really like the tassel detail! It's available here: Straw Tote.
Here's one more Ralph Lauren straw tote that's out for this spring-summer–find it here: Ralph Lauren Tote with Leather Strap and Handles.
I love how colorful this one is, something you don't see that often in straw or woven bags. It's available here: Colorful Straw Bag.
This one screams tropical beach vacation, doesn't it? Love the flamingo design! It's available here: Flamingo Tote Bag.
You don't often find straw bags that can be worn crossbody. I love a great crossbody bag for running errands or shopping. This one is by Ralph Lauren so it should be a great bag. It's available here: Straw Crossbody Bag.
If you want to go with a designer bag, Dior has a new offering this year. I love their iconic oblique insert peeking out the top. Beautiful bag!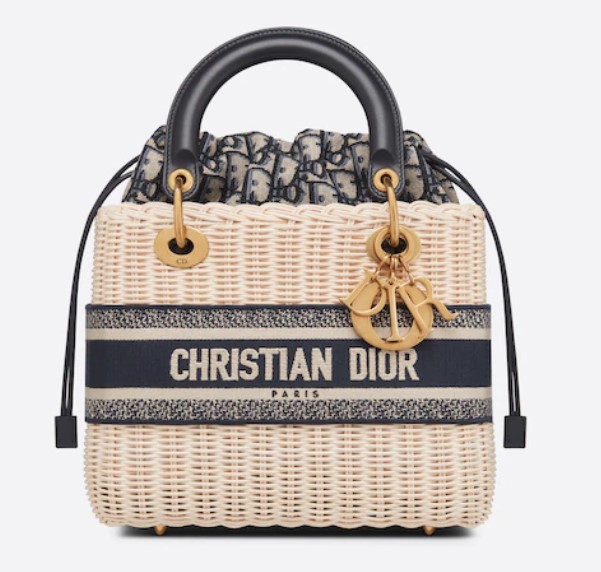 This bag is definitely on the pricey side, but it's the only Dior bag I've ever come across that comes with one of their embroidered wide straps. The straps normally sell for $1,100 or $1,200 alone, so that's a definite plus. This bag would be really cute worn with a sundress, shorts, or jeans as pictured below. You'll find it available here: Dior Wicker Bag.
Here's one more designer option if you prefer black bags. Prada normally produces this bag in white each spring, as well. I don't see the white available right now so not sure if it's delayed or just not available for this year. You'll find it in black here: Prada Wicker Bag.
This wicker bag reminds me so much of the creel bags that are used in fishing, but with a twist. Cute, cute, cute! You'll find it available here: Wicker and Leather Crossbody Bag, Can be Monogrammed.
Designers love to have fun with the designs of their summer wicker bags! This bag is great for those of us who like a smaller handbag. I love the fun shape! It's available here: Small Wicker Bag.
One more designer offering is the Loewe Straw Bag. This bag has become a staple for Loewe, they seem to bring it back every summer. It has been super popular! You'll find it available here: Loewe Straw Bag.
I can't wait until the calendar officially changes over to spring so I can bring out my wicker bags and start wearing them again. Heck, I may not even wait that long because our temps are going to be in the 70s again this week, even hitting the 80s by next weekend! Spring appears to be arriving early in Georgia this year!
Looking forward to all the wonderful Before and Afters linked for this week's Met Monday!
Pssst: Did you know Between Naps On The Porch is on Instagram? You'll find me on Instagram here: Between Naps On The Porch.
Like to know when a new blog post is up and available to read? Subscribe for email updates, it's free and your email will never be shared.
Subscribe for free post updates via email here: Subscribe.
Metamorphosis Monday
Metamorphosis Monday is a party that's all about Before and Afters. Please link up your Before and After projects like DIY projects, room makeovers, craft projects even recipes. Any Before and After is great! Please do not link up Table Settings, save those for our Tablescape Thursday party on Thursday.
If you are participating in Met Monday, please link up using the "permalink" to your MM post and not your general blog address. To get your permalink, click on your post name, then just copy and paste the address that shows up in the address bar at the top of your blog, into the "url" box for InLinkz when prompted.
In order to link up, you'll need to include a link in your MM post back to the party so the other participants will have an opportunity to receive visits from your wonderful blog readers.
This party has ended, click button below for the links to all who participated.
*If a post is sponsored or a product was provided at no charge, it will be stated in post. Some links may be affiliate links and as an Amazon Associate, I may earn from qualifying purchases. *