If you subscribe to the Between Naps on the Porch newsletter, Postcards from the Porch, you know I always highlight a couple of books I'm reading that week at the end of each newsletter. Sometimes the books are recent finds, other times they are books I've had for a years and have pulled back off the shelf to enjoy again.
A few months ago I ordered the book, Forgotten Bookmarks, a book Amazon recommended to me based on my previous purchases. You may remember seeing it in a newsletter since it's one of those books I like to revisit from time to time. I love books, love everything about them. I love the way they feel, love turning the pages but most of all I love the people and places I meet between those pages.
Forgotten Bookmarks is such a neat concept, a great idea for a book. The author, Michael Popek grew up in the world of books. His parents were booksellers, selling books online and eventually opening their own brick and mortar store. After time spent away at college, Michael returned back home to help with the family business.
After becoming the manager for his family's brick and mortar store, Michael states in the book, "My most important task as manager was buying and sorting books. This particular task had quite a learning curve, but I was happy to dive into the mountain of unsorted books to see what I could find. What I found is that I love the the fact that I could come across nearly anything: a moldy copy of Ulysses, a Victorian-era scrapbook filled with trade cards, a first edition of Steinbeck. This treasure hunt still remains my favorite part of bookselling and led directly to my fascination with forgotten bookmarks." (You'll find Michael Popek's online site here: Forgotten Bookmarks)
In his book, Forgotten Bookmarks, Michael shares some of the fascinating treasures he's found left behind in books over the years. You won't believe some of the things he found, some were romantic, some were scary, some were illegal!
Recently, I had my own experience with forgotten bookmarks. Here's how it all started, my recent journey into the secret lives found between the pages.
Knowing one of my fave designers, Mario Buatta was greatly influenced by the English decorator, John Fowler, I took a look on Amazon to see if I could find the book Mario mentioned in the video embedded in this previous post: Mario Buatta: Fifty Years of American Interior Decoration. I found a book I was pretty sure was the one he had mentioned. Once it arrived I knew it was the right book because the end papers were covered with the fabric pattern he had mentioned in the video.
Most of the books I buy on Amazon are used. I always look for those listed in "Like New" or "Very Good" condition with great seller feedback. The book, John Fowler, Prince of Decorators, per the sticker inside the front flap, was originally priced at $65. If you buy it new from Amazon right now, it is currently listed at $50.09. I found a copy listed in "very good" condition for just $7.90. Yay!
When the book arrived last week, I couldn't wait to read it. When I opened it, I was surprised to find it filled with quite a few "forgotten bookmarks." I loved the little glimpse I got into the life of the previous owner of my book and I couldn't resist sharing it with you.
In this post, I've included six of the "forgotten bookmarks" I found inside. It is amazing how much you can learn about a person by reading through their "to do" list. I felt a kindred spirit with my book's previous owner because we enjoy so many of the same things and some days my to-do list looks very similar. I start out with good intentions but don't always get to those less-desirable chores. 🙂
I wonder what "seal beans" meant? Do you think she has one of those "seal-a-meal" thingies and maybe she bought a bunch of fresh beans to put up for later? Did you ever have one of those? My sister and I both did and I did use it for several years.

Okay, we already know we would like this person if we met her because she likes to hit the garage sales and is a bit of a DIYer. She's also a stickler for doing things correctly since there's a trip to the library planned to make sure she hangs the blinds correctly. I wonder if this list was made before we all started looking everything up online. Nowadays, you could probably find directions right online for hanging blinds.
She likes to cook and definitely likes to be prepared, cutting up the ingredients in advance and freezing them for later. Wonder if she purchased the tomatoes and peppers at a Farmer's Market or grew them herself? Wonder what kind of Teddy was getting washed on Sunday? Since it's capitalized, I'm wondering if it's a pet named Teddy or maybe a Teddy Bear. What do you think?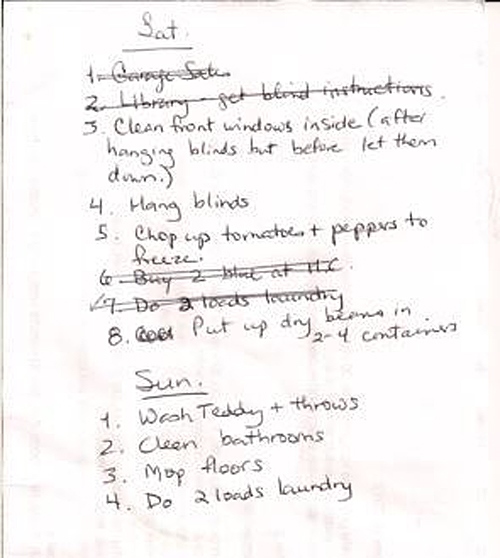 I'm a big list maker from way back. I can't function without a list. Think she was getting ready for a party or for weekend guests? There's some intense cleaning planned, the kind you don't always do on a weekly basis. We know she loves plants/gardening because she needs a pot for a fern. And I think we may have a tablescaper here because she's planning on buying lanterns for the kitchen table. 🙂
Yep, definitely a DIYer with plans for putting up a hand towel holder (see list above) and she's buying Liquid Nails in Wally World. I used Liquid Nails for the first time when I made a Pottery Barn knock-off wood flag for the 4th of July and it worked great.
She also knows how to relax after all that DIY work, a nice long soak in the tub with soothing bath salts.
She likes to decorate, too. Something tells me she and I have lot in common. Besides buying the same book about John Fowler, a love for English Country design, enjoying fresh vegetables, cooking, gardening, decorating and the occasional DIY project, she likes Seagrass baskets, too. Ummm, wonder if she found some similar to those I bought for my home office here: Buffalo Check Curtains for the Office. Think we should check out Sherwin Williams SW-7058, Magnetic Gray paint? 🙂
She also worries about the same things we all do, fighting the battle of the cellulite!
Do you ever buy previously-owned books? Ever found any "forgotten bookmarks" between the pages, giving you a little glimpse into the life of the person who loved the book before you?

*If a post is sponsored or a product was provided at no charge, it will be stated in post. Some links may be affiliate links and as an Amazon Associate, I may earn from qualifying purchases. *