Each week when I take Max to Georgia Veterinary Specialist, we wait in the "cat" waiting room until it's time for him to go back for his chemo treatment. The walls in that area are decorated with some great kitty cat art. Yesterday, I snapped some pics with my cell phone to share it with you. I saved my favorite for last.
Pete the Cat looked vaguely familiar to me, but I wasn't sure why. It turns out he's a local favorite (now a world wide favorite) and graces the walls of a number of area businesses. The artist who paints Pete is James Dean and he lives here in the Atlanta area.
I love Dean's take on the famous poster, Tournee du chat Noir by Steinlen. Pete is enjoying a cup of coffee, of course. 🙂 I think my favorite part is his whiskers. They make me laugh.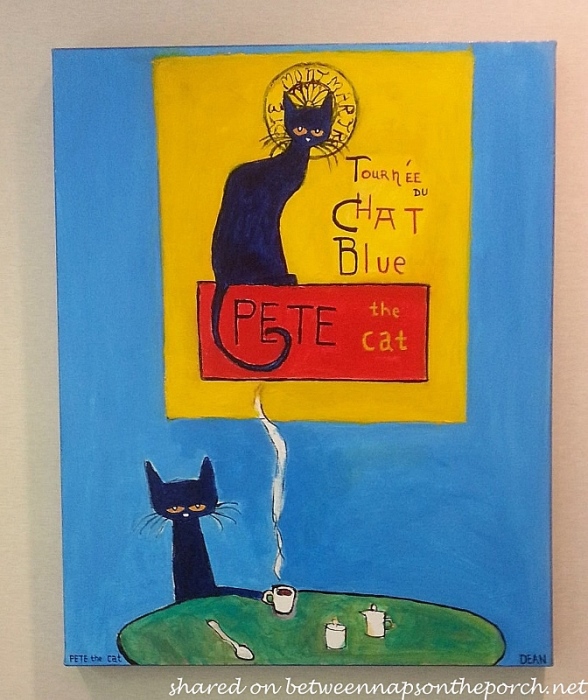 A few years back James was approached by Eric Litwin, who writes children's songs and is a storyteller. Eric had written a children's story and song about Pete and shared it with James. James loved it and the two collaborated and created the book, Pete the Cat: I Love My White Shoes. The book ended up No. 8 on the New York Times Best Seller List for picture books!
You can read the whole story of how it all happened in this article: Atlanta's "Pete the Cat" Makes Literary, Artistic Strides (Chrome didn't want to open the article but it opens fine in another browser.)
James often paints Pete a little on the mischievous side, a little edgy. I love that! Pete is whisker-less in this painting, maybe he's just holding them back against his face, embarrassed to be caught in the act of playing in the flowers. 😉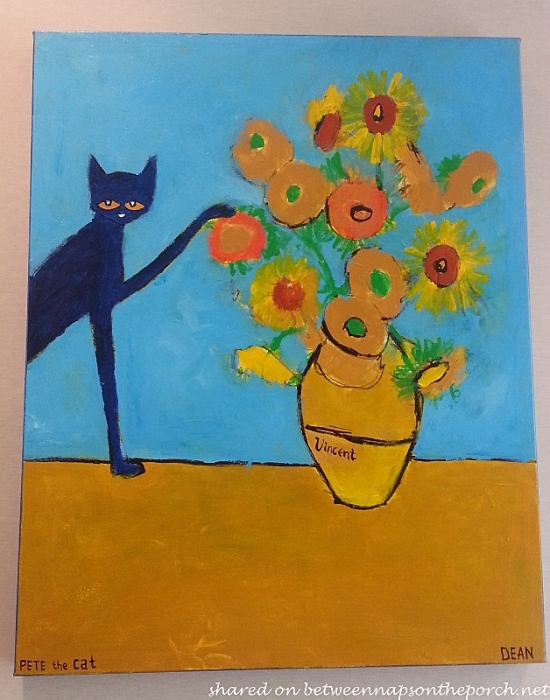 Below is my favorite of all the paintings in the kitty waiting area at GVS. I'm dubbing it, "Road Trip." I love the way the headlights on the van look like eyes.
Where do you think they're going? Beach? Nascar race? Jimmy Buffet concert?
I can't wait to hear where you think they're headed! 🙂 Pete has his own Facebook page here, in case you want to keep up with his latest adventures. Their actual website is down temporarily because they are in the process of moving to Savannah.
Pssst: A few weeks ago I shared the wonderful sculpture that's just outside the front door of GVS in this post: The Rescue . If you missed it, check it out. You're going to love it!
*If a post is sponsored or a product was provided at no charge, it will be stated in post. Some links may be affiliate links and as an Amazon Associate, I may earn from qualifying purchases. *