Back just before Christmas, I succumbed to temptation and ordered this awesome Home Alone LEGO house. The house in the movie, Home Alone is one of my favorite movie houses of all time, so I just couldn't pass up on this fabulous LEGO build. (Take a tour of the home as seen in the movie in this previous post: Tour the Home Alone Movie House.)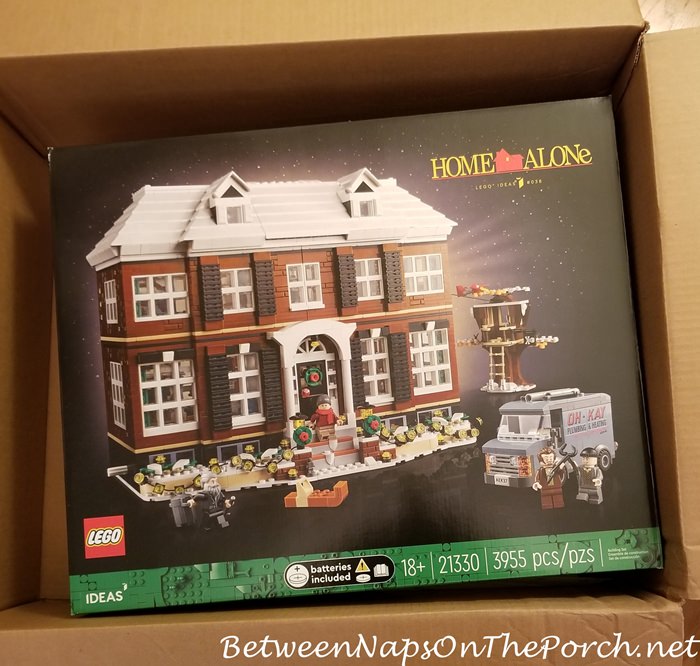 It was a pretty big undertaking with 3,955 pieces but sooo much fun!
Here's how it looked once completed. By the way, if you were one of the folks who wanted to purchase this set but didn't get it before it sold out, I noticed it's back in stock now at the LEGO website. I can't recommend it highly enough! This set was designed for adults and I enjoyed the process of putting it together so much! I hope Lego will create more movie house builds–we need a Christmas Vacation LEGO set!
Once complete, the house opens up so you can play with all the fun features and props we all remember from the movie. If you want to see more of this home and read more about all the "Easter Eggs" included in this build, check out my previous post here: Home Alone LEGO House.
Unlike the puzzles I sometimes enjoy doing more than once, I don't have any plans to take it back apart. Since I want to keep it available for my grandsons to play with whenever they visit–I needed a way to store and display it so it would stay clean and dust-free.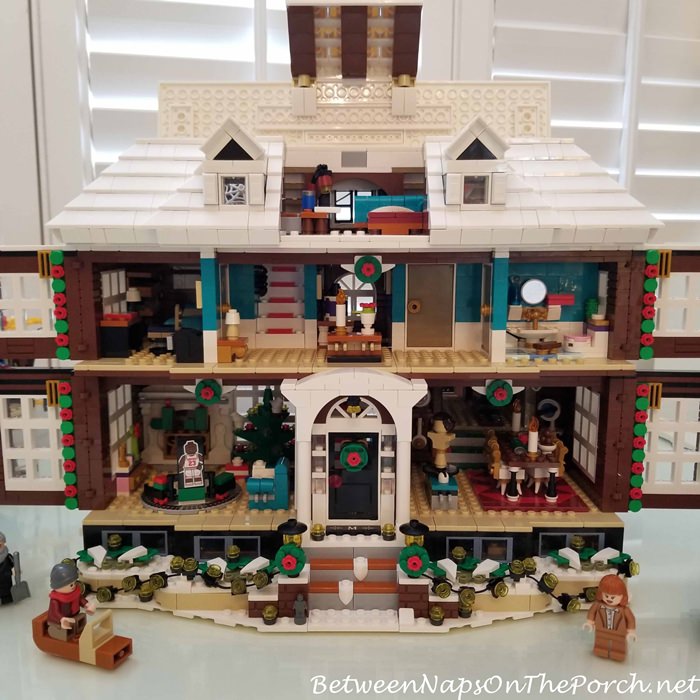 I ended up ordering a display case for this Home Alone build from Wicked Brick. Wicked Brick is somehow affiliated with LEGO and they design display cases that are specifically made for displaying LEGO builds. The display case took about a month longer to arrive than had been originally predicted, probably due to the huge demand they had at Christmastime, but it arrived yesterday and I couldn't wait to put it together.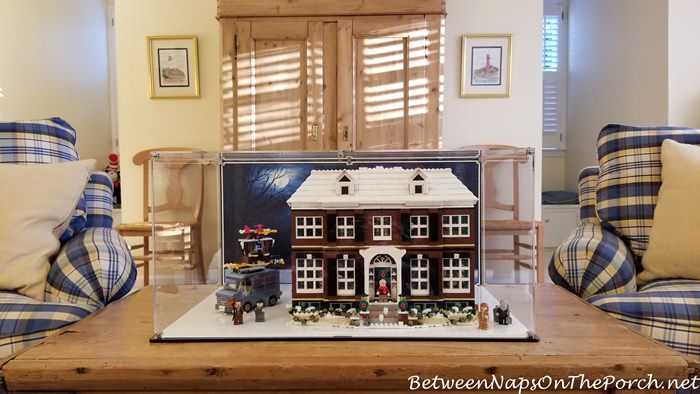 I knew it was going to be pretty big and it is! It measures 24 inches wide, 15-3/4 inches deep, and it's 12 inches tall.
I was kinda hoping it would fit on this chest here in the upstairs living room/bonus room, but it's too big. It completely crowds out the lamp and just doesn't work here. Also, it's so tall, it hides a lot of the mirror which I do not like.
So I moved the orange tray and books I normally keep here on the trunk over to the chest seen there in the background. (That's the same chest in the photo above, it just had a different lamp on it when that photo was taken a few years back.)
Not sure where this house/case will go to live permanently, but for now this is the best place I have to display it.
In case you ordered this Home Alone LEGO build and were thinking of ordering a display case to keep it from gathering dust, I wanted to share a few details about this case.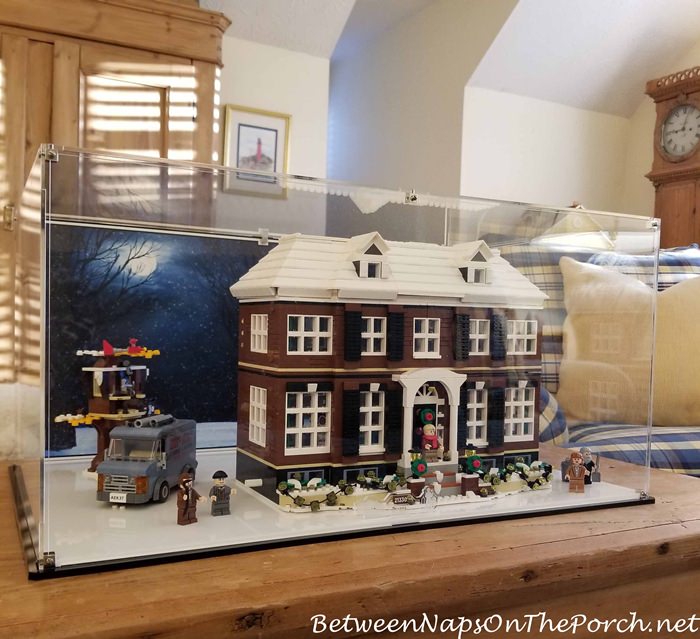 First off, the instructions for building it are not the greatest. If I ever buy another Wicked Brick case for a future LEGO build, it will be a million times easier now that I've assembled one, but if you've never put one together, I found the instructions to be severely lacking. They are generic instructions, so not designed specifically for the Home Alone display case. None of the individual pieces (sides, front, back, top) are labeled as such, and the photos in the instructions make it appear as if all the sections are square and the same size. They are not!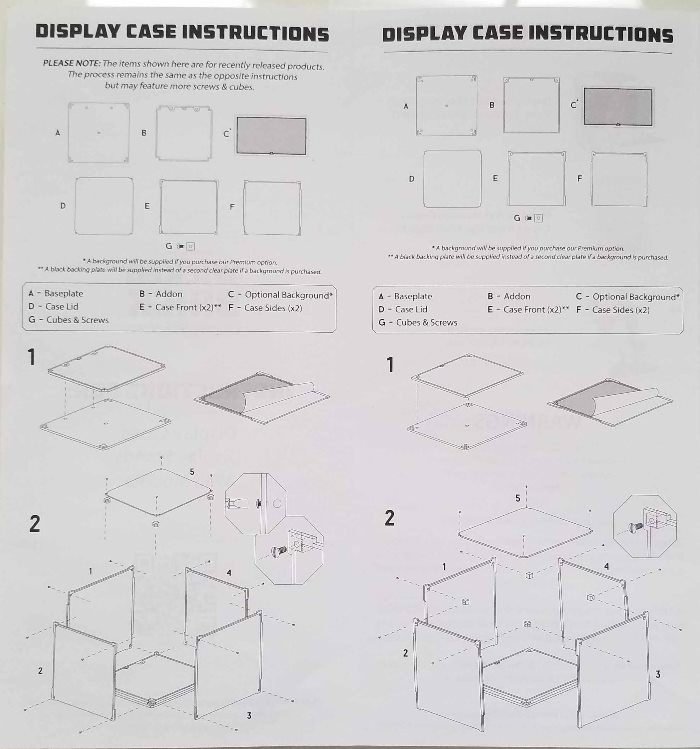 So since the pieces themselves aren't labeled and you can't go by the shape, the only way to figure out which part is which is by looking at the details of each piece, like the teeny, tiny notches, and logically knowing that the side pieces are going to be smaller than the front and the back. The instructions don't indicate which side of each piece faces up or down and which side is front-facing and which will be back-facing. Again, you have to noodle that out on your own. It's one of those builds where you just have to sorta dive in and figure it out as you go.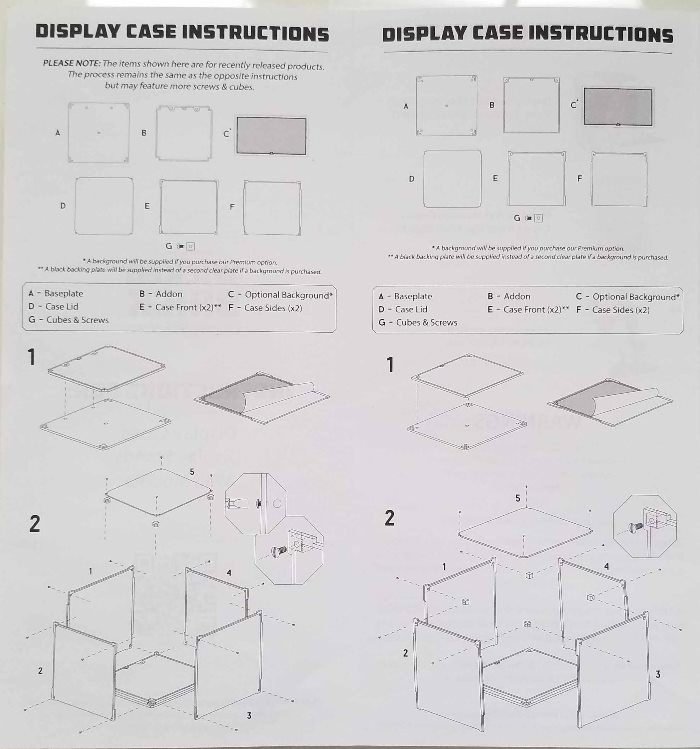 Besides the instructions being so vague, I didn't realize when I ordered this case with a "Moonlight Sky" background that the background would come as a massive 2-foot by 1-foot sticker that I'd be responsible for applying to the back panel. I'm a bit of a perfectionist and it gave me tremendous anxiety getting it on their perfectly straight. It wasn't easy and I ended up pulling it back up and realigning it way too many times than I'd like to admit, but I finally managed to get it onto the back nice and straight.
Unfortunately, there are a handful of small to medium size bubbles underneath that I could never work out no matter how hard I tried. I'm hoping they will magically disappear with time the way they do for those clear, plastic-like covers they make to cover the glass surface of cell phones, but I'm doubting that will happen since it's not the same kind of material. Fortunately, they aren't too noticeable unless you look for them from a side view.
Here's how the corner sections look once they are joined together. Hopefully, I did it right. This is one of the top corners.
And this is one of the bottom corners.
One negative to ordering the case with the "Moonlight Sky" backdrop is this is how it looks from the back. If you don't order it with a backdrop, the back of the case will be clear just like the front. I knew it would look this way before I ordered it and I don't mind because I don't plan to permanently display it where it can be seen from the back.
Honestly, the back of the house isn't that pretty to see anyway, not like the front. Plus, you can view the back of the home through the clear sides and top of the case quite well.
Anytime someone wishes to see more of the back or actually play with the house, the whole case easily lifts up and away, leaving the house in place on the bottom display piece for playing and enjoying. So if you order one of these cases and plan to display it on a table where it can be seen from all sides, you may wish to go with the standard display case which has a clear back just like the front.
I do love it with the "Moonlight" backdrop, though. It's supposed to remind you of the hilarious scenes that take place after dark in the movie. One more important thing to note: be sure and have a micro-fiber cloth on hand when building this display case because the acrylic surface is a huge dust/lint/fingerprint magnet. Micro-fiber cloths are amazing for wiping it clean, although the various pieces will try to grab more lint/dust as you continue the build. Just give it a good wipe down, once done.
I would definitely order another Wicked Brick display case in the future and I know I would find it much easier to assemble now that I've done it once. Once you understand the concept of how they are designed, it would be pretty easy to build another one in the future. I'd probably even go with another backdrop for a future build/case, although I would still dread having to apply it. Wish they would send it with the background already applied–that would be awesome!
Did you order this Home Alone LEGO set? If so, how are you displaying it? I would love to see photos of how others are displaying their LEGO builds!
*If a post is sponsored or a product was provided at no charge, it will be stated in post. Some links may be affiliate links and as an Amazon Associate, I may earn from qualifying purchases. *