Welcome to the 624th Tablescape Thursday!
Recently I received a lovely email from Anne who had a few questions about the charger plates I so often use in table settings. Anne wrote:
I enjoy your blogs very much because you have so many different subjects. I have bought things you have suggested, enjoyed your home and family. Thanks for sharing.

Where do you find chargers? Are some of them plastic? I know lots are from Pier 1 😞. All I can find are plastic. I want white ceramic ones, you have several. Love the shell ones you made. A lot of work but worth it.

Thanks for your help and your blogs.
Anne
Anne, thanks so much for your question. You sparked the idea for this post! Three years ago I created a post where I shared my entire charger plate collection.
To answer one of Anne's questions, I don't have any plastic chargers. The "giraffe" print chargers below are not ceramic, but not really plastic. Everything else is ceramic, glass or a natural material like rattan or grapevine.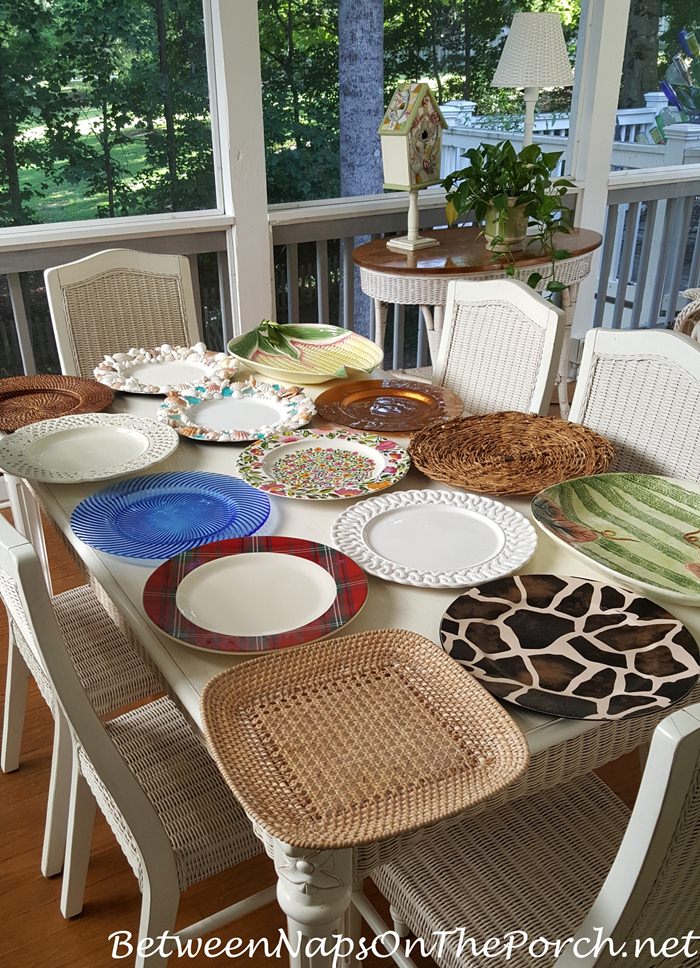 The shells chargers were created atop inexpensive, plastic chargers, but they are made of real shells so I consider them more of a natural material. (See how those were made here: DIY Shell Chargers for Beach-Inspired Dining.)
In that previous post sharing my charger plate collection, I shared close-ups of each charger, where I purchased it, and photos of the charger in use in a table setting.
If you missed that previous post and would like more information about any of the chargers in the photos above and below, you'll find that post here: 17 Charger Plate Ideas for Your Next Dinner Party.
Since I have a wide variety of chargers that usually covers my needs when setting a table, I have to really, really love a charger design to make the decision to purchase it. It has to add a new element, fill a specific need, or spark a lot of new ideas for future table settings before it comes home with me.
So what new chargers have made the cut over the last three years since that previous 2017 post?
I've really enjoyed using these bark-edged chargers I purchased in fall 2017.
They've made an appearance in several fall table settings. They look great in a fall table paired with blue and orange. (View this table setting in full here: Blue Willow & Floral Pumpkin Centerpiece for an Autumn Table.)
Here's another fall table where they added a cozy, woodsy feel to the table. (Table setting can be viewed in full here: Dining in a Country Lodge, An Autumn-Inspired Table Setting.)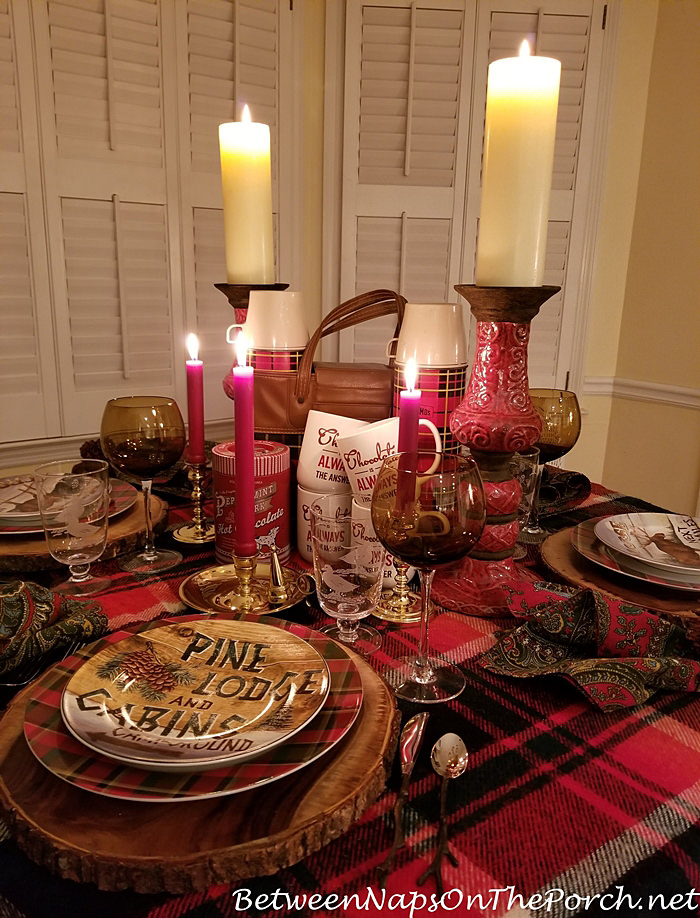 They've also made an appearance in several Christmas table settings. (View this table in full here: A Christmas Table Setting for Cat Lovers.)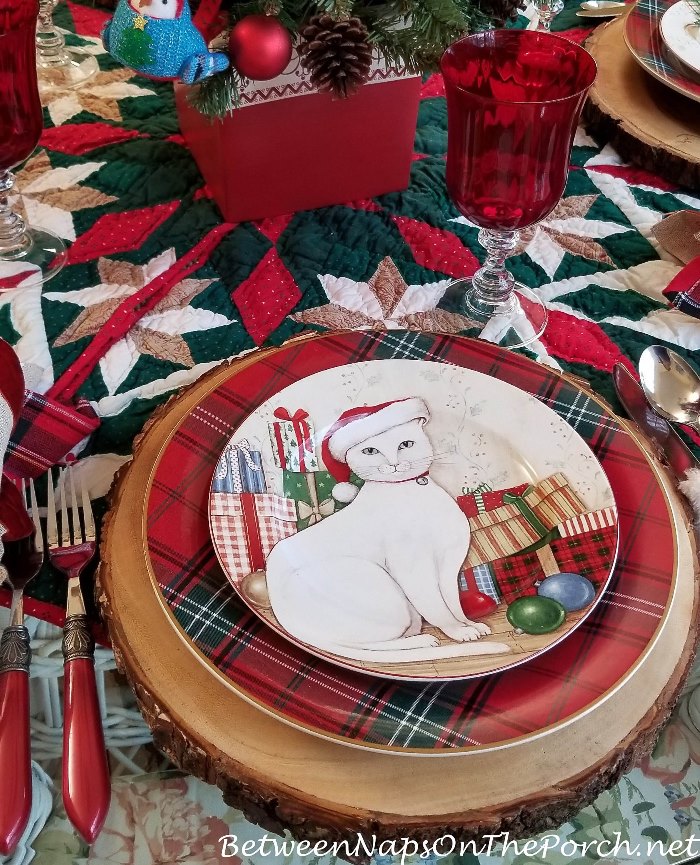 When I first purchased them, I knew they would be great for fall and winter, but I was really surprised to find how much I like using them in the spring, as well! Love how they worked in this spring/Easter setting. Table setting can be viewed in detail here: Dining in Mr. McGregor's Garden: A Spring Table Setting with Peter Rabbit.
They even work in the summertime for a 4th of July table! (View this table in full here: Chasing Away the Gloom with a Festive 4th of July Celebration.)
If you are interested in adding bark-edged chargers to your tablescaping arsenal, you'll find these available where I purchased mine here: Bark-edged Chargers.
The only other chargers I've added in the past two years are these beautiful, porcelain, pinecone berry chargers. The quality of these is excellent and I couldn't resist this beautiful pattern. I love that the pattern is fall-winter themed and not Christmas themed. That makes them perfect to use throughout the fall and winter.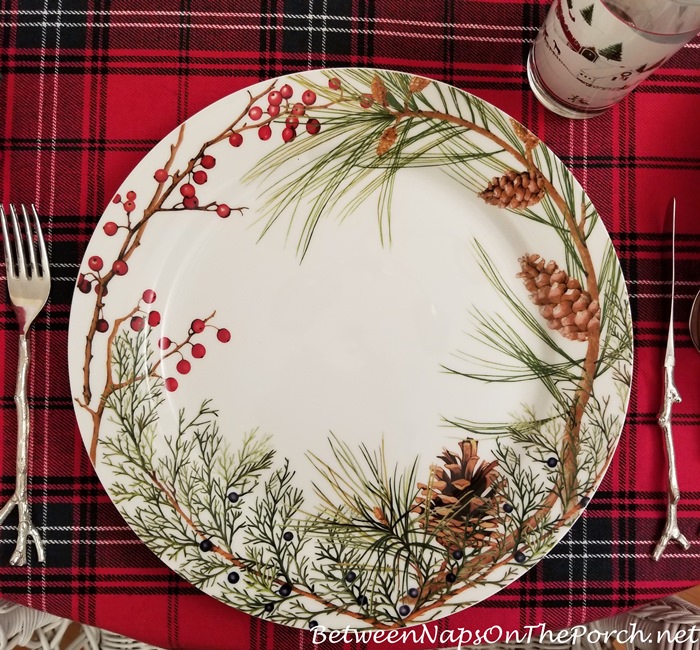 Here's how they looked in a winter table setting this past January. (View more of this table in detail here: A Snowy, Winter themed Tablescape in Tartan.)
A lot of this pattern is still available and currently on sale. I'm eyeing some of the salad plates…love a great sale! You'll find it on sale here: Winter Berry Pine Cone Dinnerware.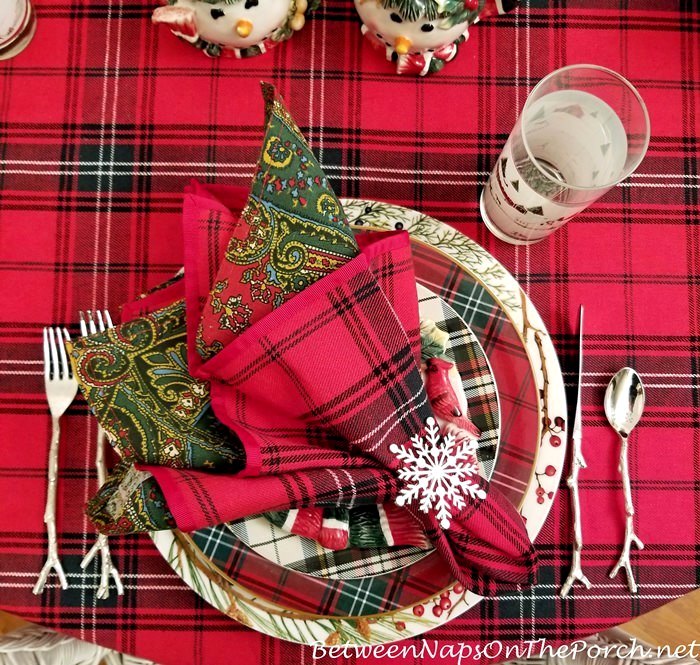 Are you starting to find thoughts of fall creeping in? We've had a few cool mornings this month so there are definitely hints of autumn in the air.
Update: Just spotted this and I love it! It's currently on sale, 20% off! It reminds me of the beautiful brown and white transferware I so often see used by James T Farmer! You'll find it available here: Dinnerware for Thanksgiving and Fall.
Looking forward to all the wonderful table settings linked for this week's Tablescape Thursday!
Did you know Between Naps On The Porch is on Instagram? You'll find me on Instagram here: Between Naps On The Porch.
Like to know when a new blog post is up and available to read? Subscribe for email updates, it's free and your email will never be shared. Subscribe for free post updates via email here: Subscribe for Post Updates.
Tablescape Thursday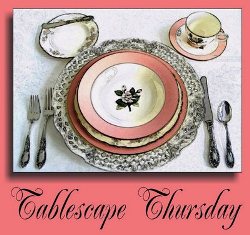 If you are participating in Tablescape Thursday, please be sure to add your permalink below, and not your general blog address. To get your permalink, click on your post name, then copy and paste the address showing in the address bar, into the "url" box when you link up. You'll need to include a link in your post back to the party to link up and participate.
That's so visitors to your blog will be able to find the party and the other Tablescape Thursday participants. Requiring a link back also prevents businesses and scammers from linking up to sell their products. (Yep, that really happens, unfortunately.) If you see a post that's not table setting related, let me know and I'll remove it.
Please, don't add your post name/blog name ALL IN CAPS…it tends to create big spaces between the rows of links.
Please link up table setting or table setting related posts only for Tablescape Thursday.

This party has ended, click button below for the links to all who participated.
*If a post is sponsored or a product was provided at no charge, it will be stated in post. Some links may be affiliate links and as an Amazon Associate, I may earn from qualifying purchases. *