Do you ever open the deli or crisper drawers in your refrigerator with plans to make a yummy sandwich only to find a yucky mess awaiting you? Maybe on your last visit to the market, you purchased a bag of kale for a green smoothie or some fresh tomatoes in anticipation of a making a healthy salad.
But now, as you peer down into the crisper drawer, you discover the kale has decided to transform itself into a liquid goo and osmosis itself magically right through the walls of the plastic bag that once contained it. It's now a slimy science experiment in the bottom of the crisper drawer. So instead of that sandwich you had in mind, you spend the next 20 minutes cleaning. Yep, happens to me way too often.
Several times over the past year or so while shopping in Marshalls, I've seen these little plastic bins. I'm an admitted organization freak, nothing makes me happier than finding new ways to make anything and everything in my life run just a little bit smoother. A few days ago I opened up my crisper drawer to find gooshey spinach remains collected in the corner of the drawer. Done! Over it! Time to fix this once and for all.
I measured my deli and crisper drawers, jotted the numbers down on a sticky note and headed for Marshalls. As luck (or bad luck) would have it, my drawers were about the exact same size as two of the larger bins. I knew it would be a tight fit so I purchased 4 large bins and two small bins thinking if the large ones worked, I'd put two in each drawer, side-by-side. If the large bins turned out to be too big, I'd use a large and a small bin in each drawer.
I ended up doing both. Apparently the crisper drawer is a teensy bit smaller than the deli drawer. I don't buy a lot of deli meats or cheese on a regular basis, so I always end up using that drawer for storing other stuff.
Here's how the top drawer looked with two of the large bins in place. In the future when I buy kale in hard, plastic containers like this, I'll probably just store it on a shelf in the refrigerator. I've never had an issue with one of those leaking. But anytime I purchase spinach or kale in a bag, that's when it's definitely going into a bin. How does that stuff find its way out of a plastic bag?!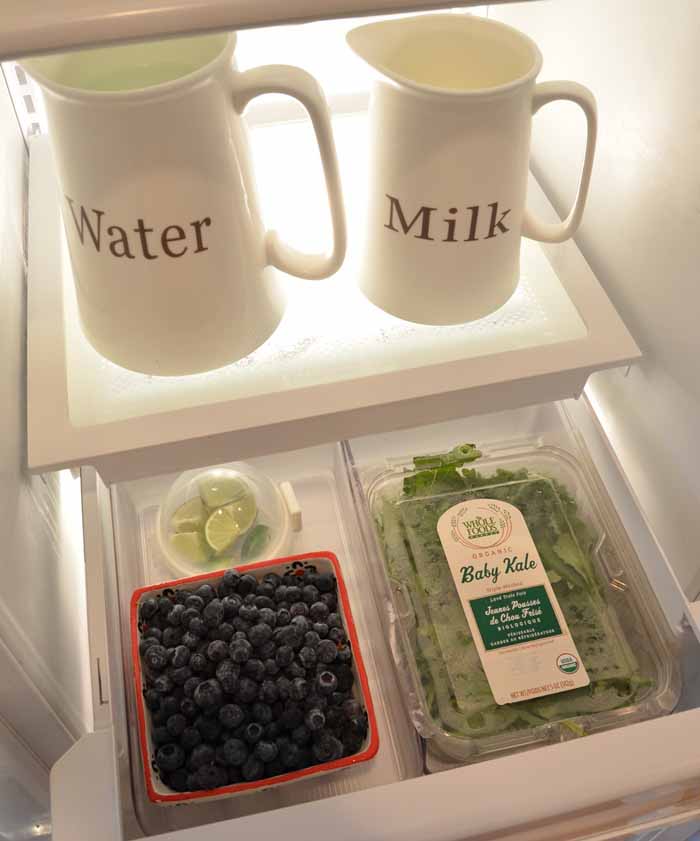 The bottom crisper drawer (shown below) was a teensy bit smaller than the top one. I could just barely wedge two of the large bins in and that was only by off setting them so one was further back in the drawer than the other one. I decided to not push it and risk cracking the bins or the drawer, so I took them back out and went with one large bin and one small bin in the bottom drawer.
Carrots, apples and cucumbers are other sneaky vegetables that cannot be trusted to mind themselves and not "leak" if left unattended. So I've corralled them all safely inside bins to hopefully avoid future cleanup sessions. That's mint stuck down between the two drawers. I've never had it leak, so I think it's safe there.
The bins I purchased at Marshalls were $6.99 each for the large and $5.99 each for the small. In the picture it shows them being used on a shelf and you'll notice the front wall is shorter or kind of shallow. I actually liked that because I thought it would help make getting things out a little easier. Whenever I've had something start to get messy in the fridge, it's never been enough that it would overflow the front edge of the bin. In the future, it should be a lot easier to lift out and clean the bins than trying to wrangle the big, ornery refrigerator drawers out and back into the fridge.
I probably should have done this before I went shopping, but today I was looking online on Amazon to see what they had. This drawer (Fridge Storage Bin) is the perfect width but I think it's about a half-inch too long for my drawers. I have a counter depth refrigerator so the shelves and drawers are a little shorter in depth than in a standard refrigerator. I'm tempted to order one to see. I could always use the bins I bought in my pantry if this one did fit.
This set looks very similar to what I purchased: 4-Piece Fridge Storage Bins
I watched the video at the links above and captured this freeze frame. Notice the containers they have for storing the milk and orange juice. Interesting, huh?
I've just lately started pouring my milk into this little pitcher I found in HomeGoods. I drink a lot of milk, absolutely love it! I like pouring it from the pitcher instead of a big milk jug. If you have onions or any smelly foods in your fridge, you wouldn't want to do this since the milk might pick up the smell/flavors.
I also filled up a pitcher with filtered water from my fridge each morning. My goal is to drink all the water by the end of the day. I'm terrible about remembering to drink water so this helps me remember throughout the day when I open the refrigerator door.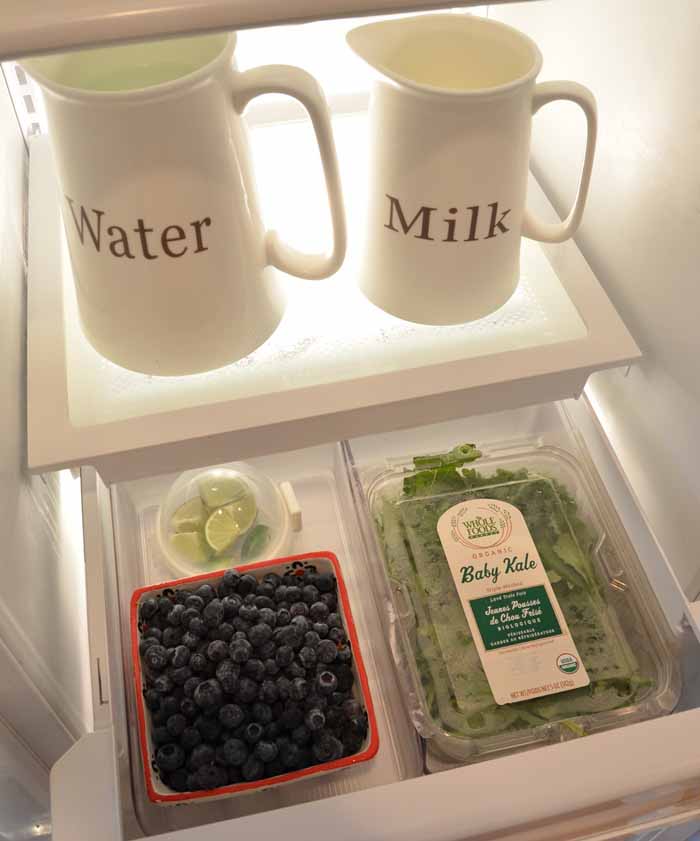 Do you use any plastic bins for storing veggies in your fridge? How about glass jars or pitchers for milk or juice? Love to hear your tips and ideas for avoiding clean up sessions and unwanted science experiments in the fridge!
Here are a few more ideas for storage around the house. (Click on the post titles to open that post.)
Ikea Expedit Hack (Making It Fit)
Build a Cubby Organizer, Pottery Barn Knock-off
Marie's Fabulous Gift Wrapping Room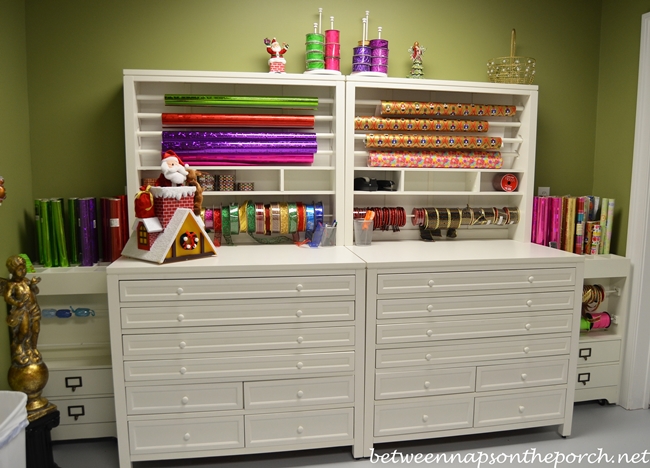 *If a post is sponsored or a product was provided at no charge, it will be stated in post. Some links may be affiliate links and as an Amazon Associate, I may earn from qualifying purchases. *