A few days ago, Sarah, a lovely BNOTP reader, left a comment on a previous spring shopping post where I had shared some bunny plates I came across in Pottery Barn. She had a question about the plates due to something really odd she was seeing on Peter Rabbit bunny plates she had purchased both last year and this year.
Sarah said, "Do you find the Pottery Barn Peter Rabbit stoneware to have bumps on them? Versus a smooth service? Mine are bumpy and can't tell if that's just part of the stoneware or not."
At first, I thought she was talking about these bunny plates below that I purchased a few years back.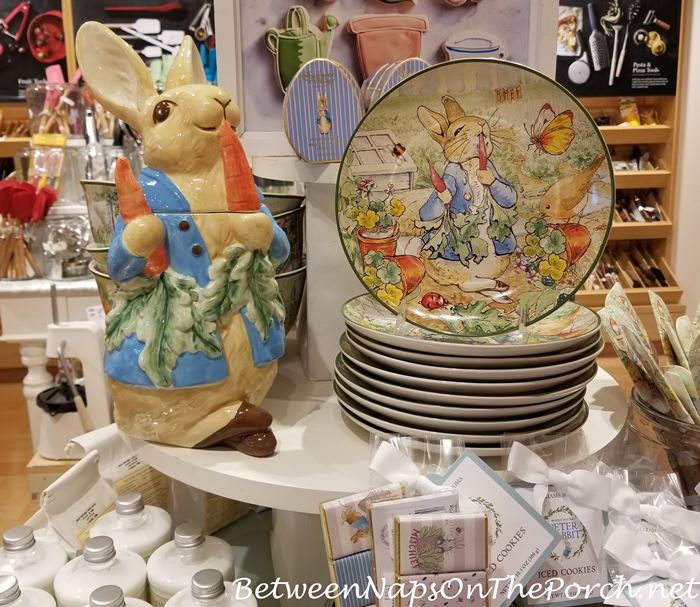 I checked mine and they were very smooth, not as smooth as say, fine china, but overall, nice and smooth.
As we chatted further in the comments, I came to realize Sarah was referring to the bunny plates I had come across in this pattern while out shopping last year toward the end of February. As I looked closely at this picture of a large platter I had taken during that shopping trip, I did indeed see some bumps. As I stared at it, I suddenly realized I could see the raised silhouette of a bunny! Do you see him there in the center of the plate? I don't think I noticed the raised image during that shopping expedition because I never mentioned it in this post where I shared the platter: Shopping the Spring East Dinnerware in Two of My Favorite Stores.
If you're having trouble seeing it, here's a crude picture I shared with Sarah after I emailed the photo to myself, opened the email on my phone, saved it to my phone, then using the stylus attempted to outline what I was seeing on the platter. Actually, now I can see his other leg that I didn't trace in and what appears to be a smaller bunny looking up at him.
I asked Sarah if maybe the bumps she was seeing on her plates were the silhouette of a bunny. She emailed over this photo of a dinner plate in the pattern. Ummm, I not seeing a bunny in those bumps. They remind me of the moguls I used to see while skiing on the slopes in Breckenridge, Colorado!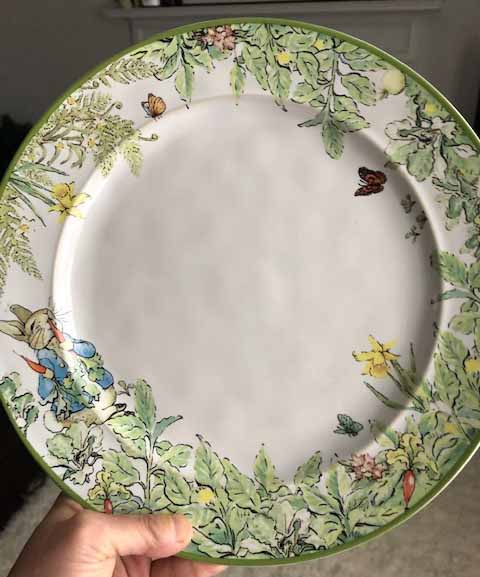 When Sarah ordered her plates last year, they arrived looking like this back then, too. She reordered again this year and once again, they arrived this way. Sarah reached out to Customer Service but they weren't able to help since they had no additional information on the plates. They offered to send her replacement plates.
What do you think? It doesn't seem like it's a defect because they've been made this way two years in a row, and I don't see how something this prominent could be overlooked during production. Do you think those are supposed to be Easter eggs all over the plate? What do you see? Have you ever ordered these plates and did they arrive with egg-shaped bumps all over the surface? Would love to hear your thoughts on these mysterious bumps.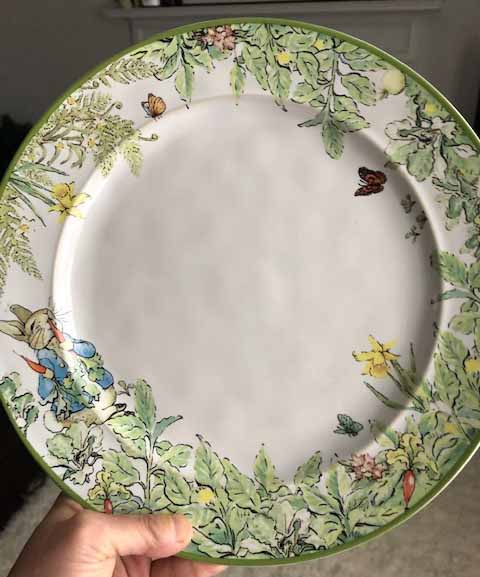 For a bit of spring and Easter tablescaping inspiration, check out these spring tables here: Spring and Easter Table Settings. You'll find this year's offering in this pattern here: Spring and Easter Table Settings.
Update: Just realized I do have the napkins from this pattern, now I want some of the salad plates! (See more of this table setting below here: Spring Table Setting.)
*If a post is sponsored or a product was provided at no charge, it will be stated in post. Some links may be affiliate links and as an Amazon Associate, I may earn from qualifying purchases. *