Welcome to the 493rd Tablescape Thursday!
I just realized today, we get to set the clocks forward this weekend. That means another whole hour of daylight starting this Sunday! Yipee! That makes me so happy! Spring is really almost here! St. Patrick's Day is the following weekend on Saturday, the 17th, so it's time to start thinking about pretty St. Patrick's Day table settings.
And I actually remembered the glasses this week! Ha! Did you notice that I left the glasses off the last time I shared a table? I wasn't even rushed when I created that table setting, finished it way early in the day, so early I didn't even take photos of it until several hours later.
Even after posting that table to the blog, I still hadn't noticed the glasses were missing. It was a sharp-eyed BNOTP reader who noticed. I remember thinking the centerpiece looked a bit open and wondered if I needed to add a bit more to it. I think glassware would have fixed that "openness" I was noticing. lol
Okay, back to today's table–I've been looking forward to using the Belleek vase and the Belleek Kylemore honeypot ever since I ordered those while visiting Belleek Pottery during my trip to Ireland last August (See that tour here: Tour Belleek Pottery.)
The vase has been filled all winter with dried Limelight Hydrangeas, collected from my garden last summer. Looking forward to having fresh ones to enjoy again this summer! If you're thinking of adding a hydrangea to your garden this year, I can't recommend the Limelight Hydrangea enough. It's wonderful and the color transition it goes through is stunning!
You may remember I went on a "Nora-Fleming-Mini" buying streak this past year. I fell in love with the Nora Fleming "Minis" and had a blast collecting them to use with my Nora Fleming serving platter. The pedestal that I'm using today is available here: Pedestal.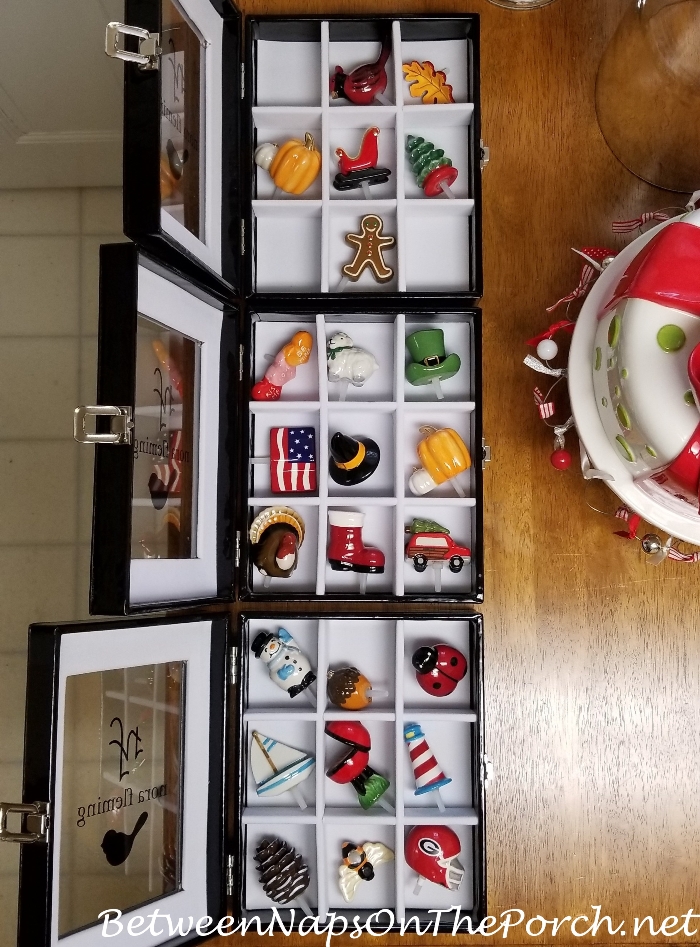 In today's table, I'm sharing two Minis that are perfect for a St. Patrick's Day table. One is this precious little lamb sporting a pretty green bow. If you follow Between Naps On The Porch on Instagram, you may remember the sheep-herding demonstration I posted last summer while I was in Ireland. This little lamb will always bring that memory back to mind.
The other Mini that's perfect for St. Patrick's Day is this adorable Leprechaun hat.
Here's a better view. If you have a Nora Fleming platter or serving dish (they are available HERE) and collect the Minis, you'll find the hat here: Leprechaun Hat and the little lamb here: Baby Lamb. There's also a really cute Shamrock here: Shamrock. I know I'm going to have to add that Shamrock to my collection…arggg. Love these things!
Look! Glasses! I actually remembered this time! lol The tea/water glasses are available HERE. The tall wine glasses were a find in A Classy Flea many years ago.
I kept things simple for this St. Patrick's Day table, using white chargers found years ago online at Horchow, and white dinner plates. The four-leaf clover salad plates are sure to bring us the "luck of the Irish" as we dine at this St. Patrick's Day table.) The four-leaf clover salad plates are from HomeGoods, many years ago.
Can't remember now where I found the shamrock napkins…have had them for several years. It was probably HomeGoods or Marshalls.
The weather has turned quite cold here again. While I was setting this table in the breakfast room, I had lots of visitors coming to the feeders. When I was outside earlier adding mealworms to the little saucer I keep on the deck rail, I noticed a robin in a nearby tree showing great interest. Robins rarely eat from feeders, but I could tell he was interested in what I was pouring into the saucer.
Sure enough, when I went inside and began working on my table, I looked out and saw he had ventured down to the deck. He stayed perched on the post cap for a bit, looking around and occasionally looking over at the worms.
It wasn't too long before he decided to give them a taste-test. They must have passed because he ate quite a few before flying off. I hope he comes back again.
By the way, those deck rails I had painted brown last summer–best thing I've ever done for the deck! I know they are probably filthy by now, but you can't even see it.
Once the temps warm up, I'll take some pics and do a follow-up post, but I can say right now, I'm really happy with my decision to paint the top rail brown. Read more about that project here: Painting Deck Rail Brown.)
Looking forward to all the beautiful tables linked for this week's Tablescape Thursday!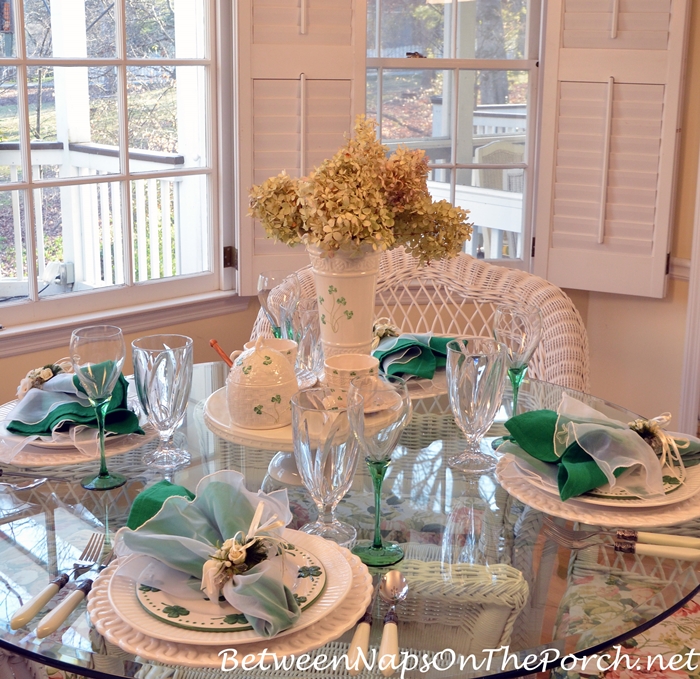 Pssst: I post almost daily to Instagram. Follow Between Naps on the Porch on Instagram here: Between Naps On The Porch. If you enjoyed this post, subscribe for free email updates when a new post is up here: Subscribe for post updates.
Tablescape Thursday
If you are participating in Tablescape Thursday, please be sure to add your permalink below, and not your general blog address.To get your permalink, click on your post name, then copy and paste the address showing in the address bar, into the "url" box when you link up.
You'll need to include a link in your post back to the party to link up and participate. That's so visitors to your blog will be able to find the party and the other Tablescape Thursday participants. Requiring a link back also prevents businesses and scammers from linking up to sell their products. (Yup, that really happens, unfortunately.)
*If a post is sponsored or a product was provided at no charge, it will be stated in post. Some links may be affiliate links and as an Amazon Associate, I may earn from qualifying purchases. *