I love using chargers in a table setting. They add so much to a table, another lovely layer that beautifully highlights the other plates in the place setting.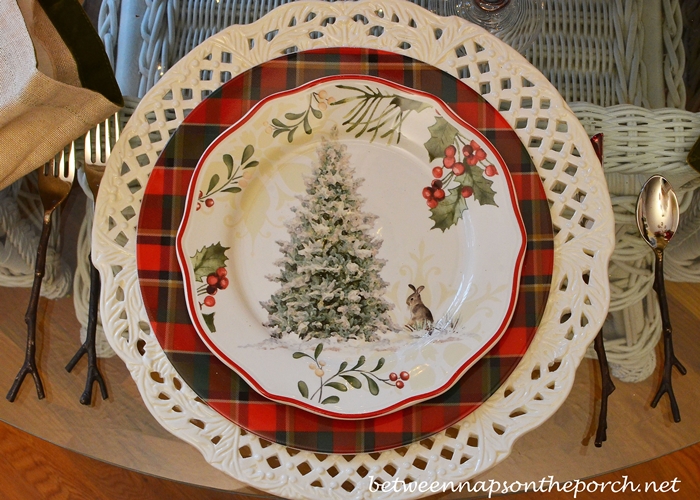 Over the past 10 years I've gradually added to my charger collection whenever I've found them on sale or greatly discounted. I've also enjoyed making them when a design I wanted wasn't available anymore, or was more than I wanted to spend.
(Find a tutorial for making shell chargers here: Shell Chargers. Learn more about each of the chargers below in this previous post: Charger Collection.)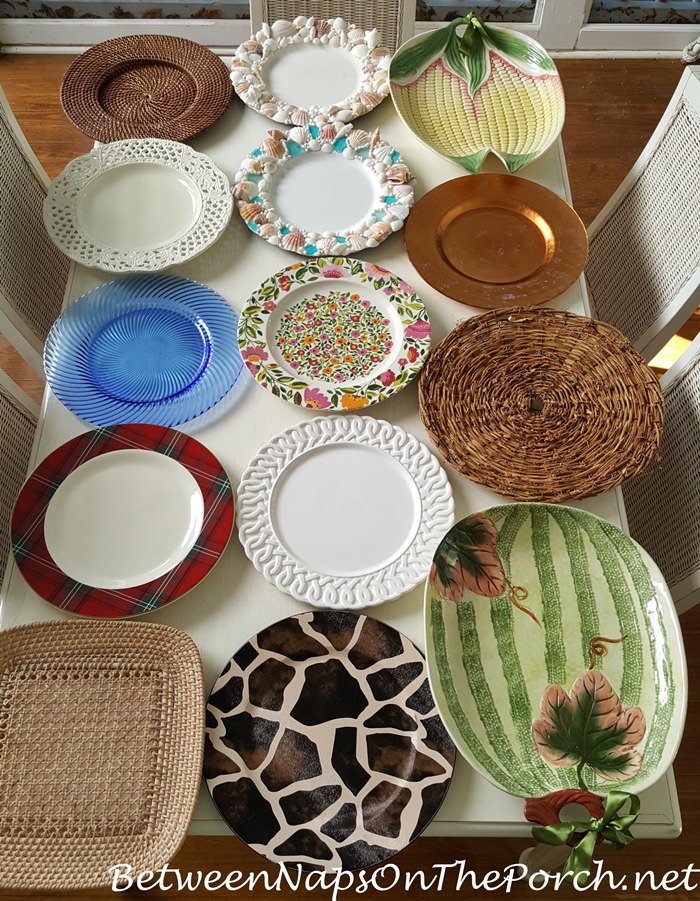 I've been thinking of adding some wood chargers to my collection for a few years now, but whenever I priced them, they were really expensive. For example, these wood chargers that are currently available in Ballard Designs are $129 for just two chargers. That's $64.50 per charger! Yikes!
I'm not crazy about these anyway because they are super thick, measuring 1-3/4 inches high. That's almost two inches thick. I just don't care for how that looks.
Recently I was shopping the fall dinnerware in Pottery Barn and came across these bark-edged chargers. That re-lit the wood charger flame idea all over again. I was super tempted to buy some since they were on sale 30% off. Originally priced at $29.50, 30% off took the price down to around $20.65 per charger. Not too bad and definitely better than $64 per charger! I also liked that they weren't too thick, just 1 inch in thickness. Much better!
I didn't buy any that day, deciding to go home and look online to see what else was available. I also wanted to verify the width of the Pottery Barn Chargers. I don't like it when chargers are not a full 13 inches wide. Less than 13 inches works fine for a "luncheon" size plate, but often looks too small under a full size dinner plate. If a charger is much larger than 13 inches, the plate can look lost on the charger. 13 inches is pretty much the ideal width for most chargers.
During my research online, I discovered that the chargers I had seen in Pottery Barn are 12.5 inches in diameter, a little smaller than I would prefer. These 1/2 inches are killing me lately. lol If it's not doors, it's chargers! 😉 By the way, the door has been replaced and looks so much better. I will share a photo of how it looks in a future post soon.
Here's a photo of one of the Pottery Barn chargers. I'm not sure what type wood this is, the information online just says "Made of wood."
In this photo from the website, here's how the 12.5 inch PB charger looks in a place setting. This is kind of an awkward angle since you can see up under the plate, so look at the sides for a better indication of how much of the charger is showing around the sides. You'll find the PB chargers available here: Wood Charger.
Since I was hoping to find wood chargers that were a full 13 inches in width, I kept looking. Then I came across these below…so pretty! I really loved the look of the wood and they were only $16.99 each. Not bad! That was the best price I had found, yet!
I read the reviews and some folks were saying when they received their chargers, they were different sizes. I noticed in the description online it said they could range in size from 12 to 15 inches. Ummm, that's a pretty big range.
So I got an idea. Since I only wanted 6-8 chargers, I decided to order a dozen thinking that I would hopefully receive at least six that were 13 inches in width. Then I'd just return the extras. (These chargers are available here: Wood Chargers.)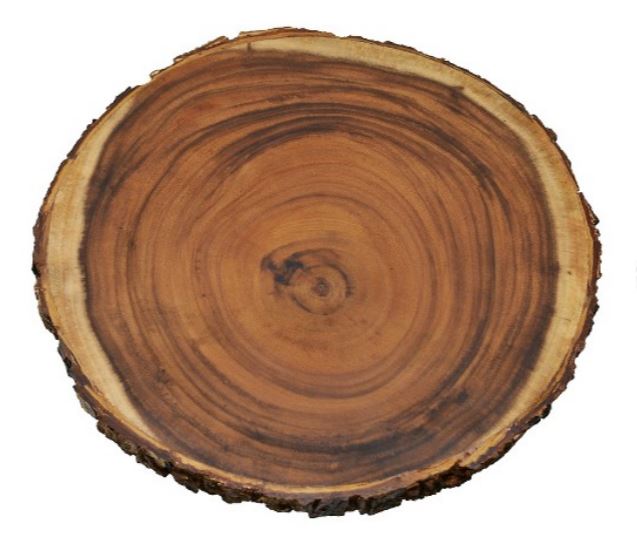 They arrived and they are gorgeous! I love, love, love the wood! It's Acacia wood from the Acacia tree. I also love how they are all slightly different, each with its own personality.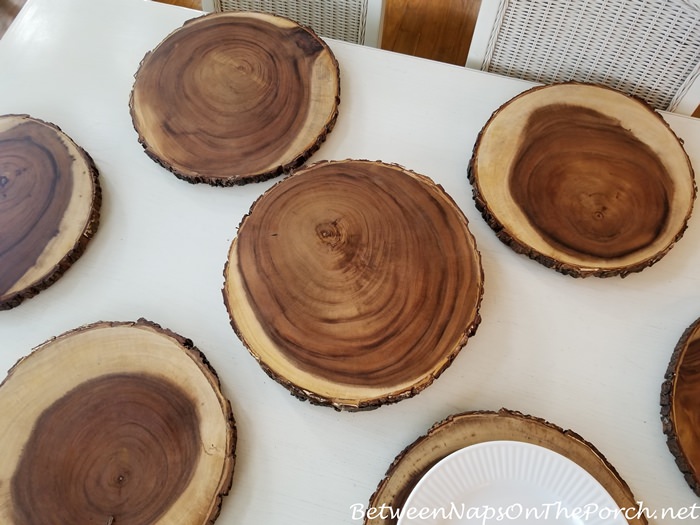 I measured each charger and discovered I had received the following: two 12-inch chargers, eight 13-inch chargers and two 14-inch chargers. I kept all eight of the 13″ chargers and decided to go ahead and keep the two 14″ chargers thinking they would come in handy to place under a serving platter or maybe even in a centerpiece at some point. I returned the two 12″ chargers.
In the photo below, the two larger, 14-inch chargers are stacked on top of each other in the center of the table. This photo is taken with my cell phone which has a wide-angle lens, so it sorta skews the view making the charger on the end look stretched out and larger, but it's 13 inches in size like the others.
Can you tell that the two in the center are about an inch wider than all the others around them? The two stacked in the center are 14-inches wide and all the others are 13-inches in width. Isn't the wood absolutely beautiful!?
I also love that they aren't too thick in height. The online description says they are 1.7 inches in height, but that's incorrect. I have no idea where they got that measurement. I measured mine and they are all right at 1-inch in height, which is perfect!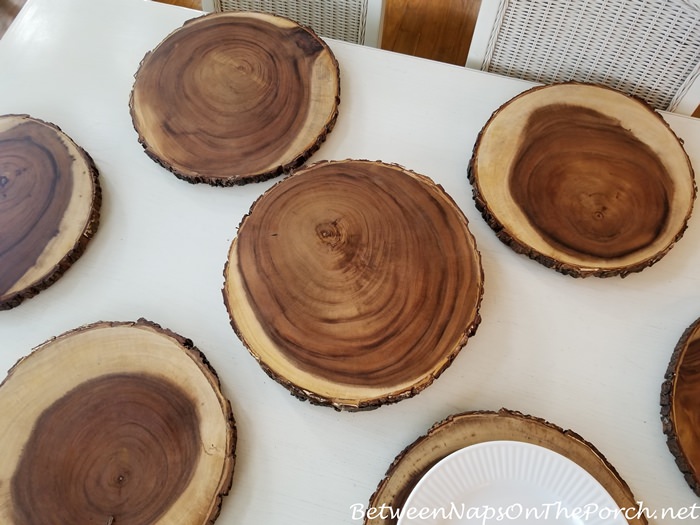 Here's how a 13″ charger looks with a plate on top. Looks just as it should with the right amount of charger showing all the way around the outer edge.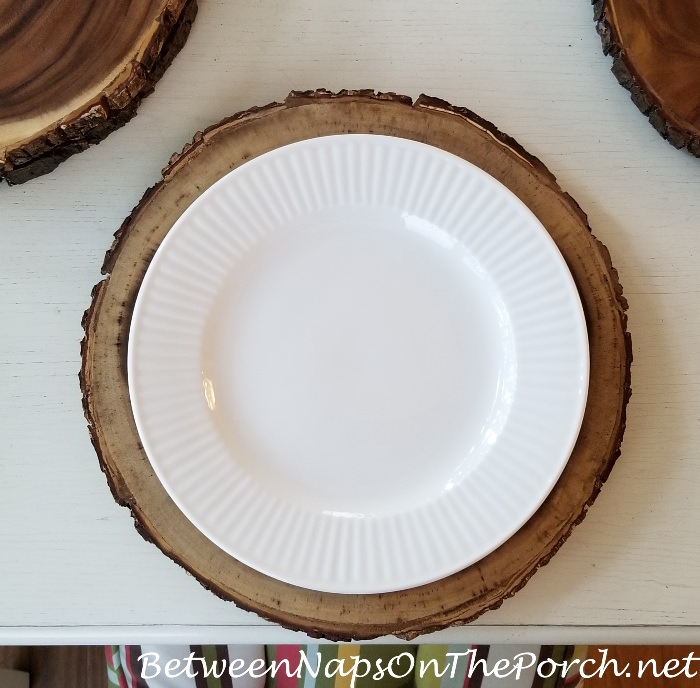 When I was in the store returning the two 12-inch chargers that I didn't keep, out of curiosity I looked t0 see if they had any in stock. This was all they had. Apparently the stores don't stock very many, but thankfully they have plenty available online. If you've been looking for reasonably priced wood chargers, you'll find these available here: Wood Bark Chargers.
If you order any of these and you are picky like me about keeping the size consistent and around 13 inches, order more than you need, then just return the others. If you get a couple of really large ones like I did, you may want to keep those to use as serving trays or to go underneath a large platter. I'm glad a couple of mine were 14-inches for that reason.
I can't wait to create a table setting with these! They will be so beautiful for a woodsy Thanksgiving table or really any fall table setting. I could also see using them for Halloween and Christmas.
Have a wonderful weekend, dear Friends! See you Monday for Metamorphosis Monday!
Pssst: I post almost daily to Instagram. Follow Between Naps on the Porch on Instagram here: Between Naps On The Porch. If you enjoyed this post, subscribe for free email updates when a new post is up here: Subscribe for post updates.
*If a post is sponsored or a product was provided at no charge, it will be stated in post. Some links may be affiliate links and as an Amazon Associate, I may earn from qualifying purchases. *