Welcome to the 548th Metamorphosis Monday!
If you've been following BNOTP for a while, you may remember when I turned my son's old bedroom into my home office. This collage below shows the various parts of the room prior to taking the beds apart and moving everything out of the room. (See how the office turned out in this previous post: Designing and Creating a Home Office.)
My son was in undergraduate school at the University of Georgia when I undertook this project. I saved all the furniture for several reasons: 1. I knew it wouldn't fetch much on the resale market and I hated to let it go for a song AND 2. I thought it might come in handy one day if I ever purchased a mountain cottage or beach house. I didn't have any plans to do that but since I had the space to store it, I decided to hold onto it.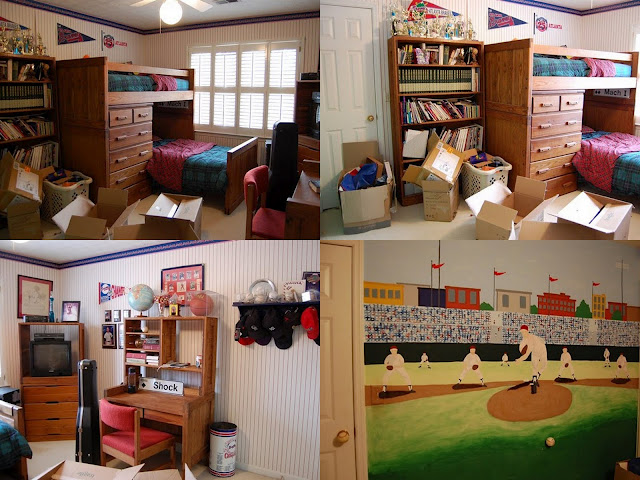 I'm glad I did now since there are two little boys, ages 3 and 5, who are ready for big-boy beds. My grandsons have outgrown their convertible crib-to-toddler beds and are super excited to graduate into the beds their dad had in his room when he was growing up.
I don't currently have a photo of their room, but here's an ancient photo I found of the room before my son and daughter-in-law purchased the home. This is probably the same configuration we'll be placing the beds since the room has slanted ceilings everywhere, making the ceiling too low for bunk beds.
See those indentions on the right and left of the room? Those are good-sized dormer windows…large enough to hold a piece of furniture like a rocking chair or a chest. Each of the upstairs bedrooms has adorable dormer windows on both sides of the rooms. I love dormer windows and the quirky ceilings, but they do make furniture placement a bit of a challenge.
The boys would love to have their dad's old beds set up in the bunk bed configuration, but I'm about 99% sure that will not work due to the design of the room. On the other side of the room (not visible in the photo below) are two closet doors set back into another alcove in the room, as well as the doorway where you enter into the room. So there's a lot going on in this room with all the windows, dormers, doors and alcoves.
I'm going to load up my SUV with the beds, and if possible the chest-of-drawers although I doubt the chest will fit for this trip up. My daughter-in-law and I have been plotting and scheming and after running some bedding ideas by the boys, we think we've come up with a plan. This plan isn't in concrete, though. Designing/decorating a room from 500 miles away is a bit tricky. lol Fortunately, everything I've purchased for this makeover is returnable.
Enough talking, let's look at the fun stuff!
Both my grandsons love dinosaurs, as did their dad. I guess little boys will still love dinosaurs another 30 years from now! So this is the bedding we're going with for their new big-boy room. See those little, white-label looking things on the quilts? Those are actually the names of the dinosaurs. I love how this set is designed!
I went whole-hog and decided to replicate the entire look/feel of this bed. So I purchased everything visible in the photo below (except the two smallest pillows) times two. (Find this bedding available here: Dinosaur Bedding.)
One thing I noticed that kinda bugs me is the sheets no longer have orange dinosaurs on them, they are all blue, green, gray etc… So they've lost that punch of color that tied them to the orange in the quilt.
That's a minor issue but I'm thinking of possibly using an orange lamp in the room, so I would have preferred the sheets still have a few orange dinosaurs on them. I'm going to call Pottery Barn today and ask about that, but I'm sure they'll say the photo was taken a long time ago and those exact sheets are no longer available. Dinosaur sheets are available here: Dinosaur Sheets.
Update: Called PB and they said exactly what I expected: it's an older photo and they don't carry the dino sheets with the orange dinosaurs anymore. Drat!
Here's the haul from yesterday: 2 Dinosaur Quilts, 2 Blue and White Check Duvets, 2 Euro pillows, 2 Euro pillow Inserts, 2 Standard Sham Inserts, 2 Waterproof Mattress Covers and 4 Sets of Dinosaur Sheets–missing the bright orange dinosaur. The two "Standard-size" Dinosaur Shams are on order since they are being "personalized" with the boy's names.
Last night I ordered two inserts for the blue and white, check duvet covers. I purchased those HERE. It will be another packing miracle if I can get the beds and all this stuff into my SUV for the trek north.
I was able to purchase all the bedding from Pottery Barn Kids here: Dinosaur Bedding, at 25% off with the code LEARN at check out. The sale was set to end yesterday, but wouldn't you know, they extended the sale and added on free shipping today. Arggg! If they had offered free shipping yesterday, I would have had all bedding shipped to Ohio instead of bringing it home with me.
If it wasn't so much trouble, I'd return it all and reorder it online with free shipping, but it's a 30-minute drive back to Pottery Barn Kids and I really don't feel like hauling all of the bedding back to the store. Somehow I'll squirrel it all away inside the car. (Remember this Christmas post: The Big Present Puzzle & Making It All Fit?)
More Plans
Please keep an open mind as I share what I'm planning. I'm following my typical M.O. for how I decorate, meaning everything I've purchased thus far is returnable. So if it doesn't work out or we don't like how it looks, no problem, it can all be returned.
So, here's the plan right now: I wanted some kind of table or chest to go between the beds, assuming they can not be assembled in bunk-bed form which is what my grandson would prefer. I'm guessing the beds will need to fit into the room in the same configuration as the beds were in this vintage photo of the room. I wanted the table I chose to do double-duty for storage, so I decided to go with a chest.
I knew it would be difficult to find a chest that coordinated well with my son's existing rustic-style beds/furniture. Plus, I really wanted something to lighten up the look and add a bit of whimsy/fun to the room. So, I decided to look for a painted piece.
Immediately, I came across this chest at Overstock.com. The height looked perfect but the reviews were very confusing. Some of the reviews stated the color shown in the photos at Overstock is accurate.
Other reviews stated the chest they received was a darker, teal color.
Ummm…what to do? I liked both colors and thought the blue would possibly work with the lighter blue in the dinosaur quilt.
I also thought the blue color of the chest would be pretty contrasting with the warm brown color of the beds. But what if I didn't like how it looked once it arrived? What if it didn't work out?
I wasn't sure how easy returns would be with Overstock, so I decided to see if the same chest was available on Amazon where returns are usually hassle-free. And, it was! You'll find the blue chest below available here: Blue Chest.
Interestingly, the photos and reviews at Amazon are very similar! Some reviews say the color of the chest is just as depicted in the photos, while others say the chest is dark teal in color. In any case, when the chest arrives if the color is all wrong, I'll call for a pickup and have it returned. I'm hoping once the beds are in place and the chest is placed between them, we'll love it!
More thoughts/scheming 🙂
I'm toying with the idea of adding an orange lamp to the top of the chest–thought it would look great against the blue of the chest and bring out some of the orange colors from the dinosaur quilts. There are quite a few lamps on Amazon that I'm eyeing, but I think I'll wait and see how the chest looks between the beds first.
Update: I ended up buying several lamps in the store, At Home, taking them all with me to Ohio to see how they worked.
This is the way I prefer to decorate, bit by bit. Every room has a starting place. For this room, it's my son's old bedroom furniture and this dinosaur-themed bedding. Those are our jumping-off points for pulling this room together.
If all goes well, I may have some photos to share by next Metamorphosis Monday. I'll be heading up to Ohio this Friday, beds and dinosaur bedding in tow. Wish me luck! Hope there are no 18-wheelers with exploding tire tread on this trip!
Update: See how the bedding, table and lamps looked in the bedroom makeover in this post: Bedroom Makeover: Dinosaur Themed Bedroom for Two Dinosaur Loving Boys.
Looking forward to all the great Before and Afters for this week's Metamorphosis Monday!
Metamorphosis Monday
Metamorphosis Monday is a party that's all about Before and Afters. If you are participating in Met Monday, please link up using the "permalink" to your MM post and not your general blog address. To get your permalink, click on your post name, then just copy and paste the address that shows up in the address bar at the top of your blog, into the "url" box for InLinkz when prompted.
In order to link up, you'll need to include a link in your MM post back to the party so the other participants will have an opportunity to receive visits from your wonderful blog readers.
Feel free to link up Before and After posts that are home, gardening, decorating, crafting, painting, sewing, cooking, fashion, travel or DIY related. Please do not link up to the party if you're only doing so to promote/sell a product.
To those linking up, if you notice a shop or online store linking up to sell products (yes, unfortunately, that happens) please let me know so I can remove their link and block them from participating in future parties.
This party has ended, click button below for the links to all who participated.
*If a post is sponsored or a product was provided at no charge, it will be stated in post. Some links may be affiliate links and as an Amazon Associate, I may earn from qualifying purchases. *