Welcome to the 405th Metamorphosis Monday!
Imagine you arrive home one evening an hour or so before nightfall. As you pull into your driveway, you glance over and see something rather shocking. Your next-door neighbor is outside in her front yard, merrily vacuuming the lawn while grinning and laughing maniacally.
Do you:
A. Smile, wave, and act like everything is normal
Or
B. Call the authorities
Fortunately, my neighbors chose option A. 😉
You may remember a while back when I blogged about a unique way of removing acorns from the lawn during those years when you have a bumper crop. (See that previous post here: Gardening Challenges and A Wacky Idea That Just May Work.) Some years are definitely worse than others and the oak tree in my front yard was especially prolific this year.
Unfortunately, when the grass gets cut, it never gets up the majority of the acorns. I know it's not good for the grass to just leave the acorns laying there. Plus, it's dangerous. I have slipped so many times trying to walk down the hill along the side of my house over the last few days. It's like trying to walk on a bed of big, fat marbles.
Two years ago, I saw a YouTube video where a guy used a shop vac to vacuum up acorns. Actually, I found two of those videos online, one where a guy was vacuuming them off his driveway and another where a woman was vacuuming them from her lawn.
It was another gorgeous day here today so I got wild hair and decided to give this vacuuming thing a try. I grabbed a really long extension cord from my garage and retrieved the shop vac from the basement where I keep it for vacuuming up sawdust when I'm working on a woodworking project. You can see it there in the background in this photo taken when I was building a cubby organizer. (DIY Cubby Organizer Tutorial can be found here: Build a Cubby Organizer, Pottery Barn Inspired)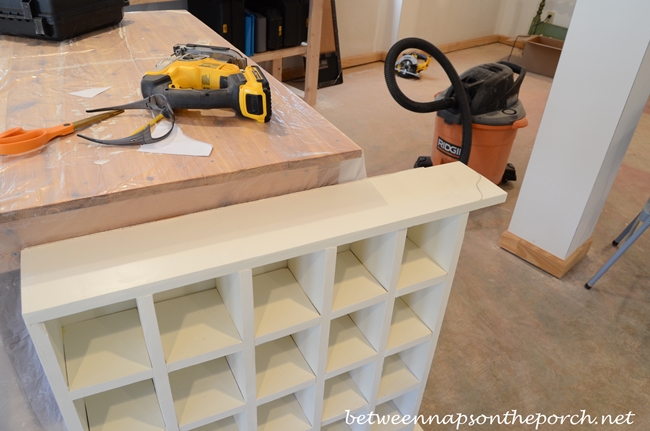 I did a little test vacuuming in this spot on the side of the house and dang, if it didn't work great! See how clear that little area is below? I was amazed! The grass is already going dormant here from lack of water (we need rain badly) so it was pretty easy to vacuum them up.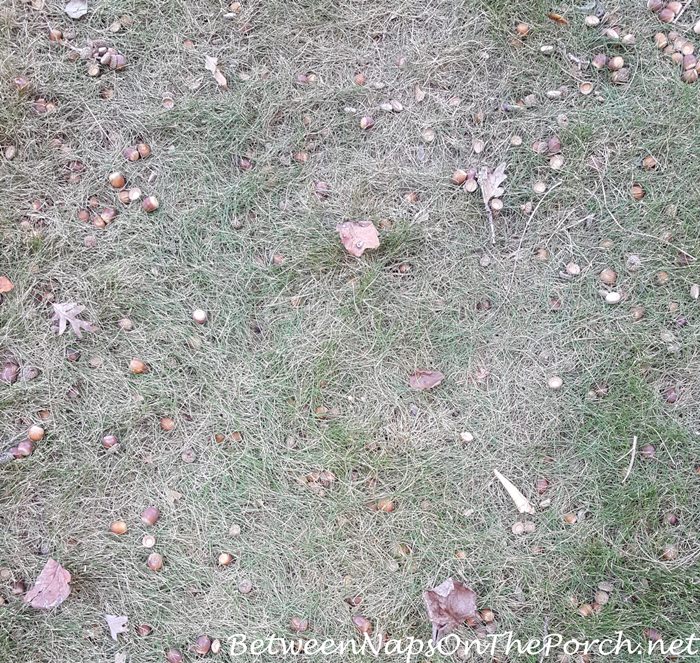 I decided to start up in front of the house where the Trick-or-Treaters who visit tonight will most likely walk as they cross my yard to visit the neighbor's house next door. After vacuuming for a few minutes, I opened up the lid and peered inside. Yep, working great! I dumped the acorns into a big trash bag and kept going.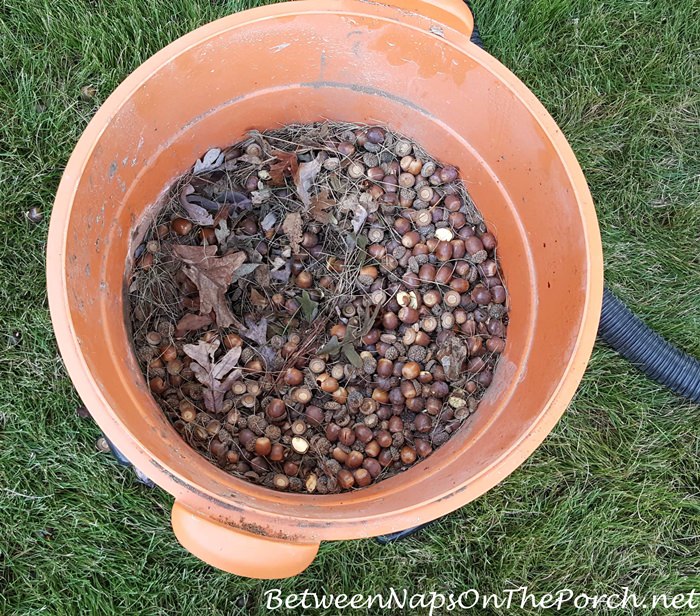 I completely filled up the container during the next vacuuming session. I know it doesn't look full, but it really was. The shop vac has a huge filter attached to the lid and it fits down inside the container when the lid is in place. When I removed the lid, the filter came out with the lid (since it's attached) and the acorns settled down into the container.
I dumped all the acorns into the same trash bag where I had emptied the others. I soon regretted that. It was really heavy and a challenge to drag over to my outdoor trash can. If you try this, I recommend dumping each full container of acorns into a new trash bag. If you don't, you may have trouble lifting the bag to get it into your outdoor can.
I was actually sad when it started getting dark outside and I had to stop. There is something so satisfying about hearing those acorns clang their way up and into the container, not to mention the satisfaction of seeing a smooth, grassy lawn reappear.
Also, I was really enjoying listening to Bill Bryson's book, The Road to Little Dribbling with my Sony, Bluetooth Noise Canceling Headphones. I found myself laughing out loud so many times, thus the "maniacal laughing" while vacuuming the grass. So far, I think this book is funnier and more interesting than, Notes from a Small Island, which was the first of his books that I read and enjoyed.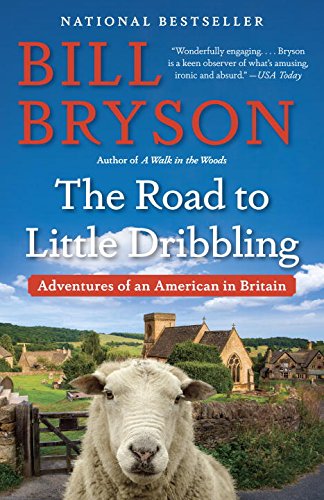 My neighbors came home in the midst of all this vacuuming craziness. Their driveway is just on the other side of the oak tree. As they pulled in, I glanced up just in time to see them wave.
I confidently waved back and then resumed my vacuuming as if it were the most normal thing in the world. Hey, if you're gonna do crazy, ya gotta own it! No telling what they were thinking at the sight of their next-door neighbor out vacuuming the front lawn. Ha!
I couldn't help but laugh as this scene reminded me way too much of Erma Bombeck's book, The Grass Is Always Greener Over the Septic Tank. In Chapter 10 titled, Super Mom, Erma talks about her new neighbor with the always perfect home, perfect children, and perfect life. Erma writes, "The moving van hadn't been gone a minute when we saw her in the yard waxing her garden hose." Think Bree from Desperate Housewives. lol
This was the last batch I sucked up right before calling it quits for the night. I'll get back out there tomorrow, I'm on a roll now! 🙂
Tips for Shop-Vacuuming Up Acorns from Grass, aka, What Worked for Me
If you also have a tremendously prolific oak tree that has blessed you this year with an abundance of acorns, here are some tips I would recommend if you decide to try this. Please note: I can't be responsible if you break your shop vac. Mine handled this very well, but your mileage may vary.
Cut the grass reasonably short before getting started. It's much easier to suck up the acorns when you're not having to deal with tall grass.
Empty the container into a new trash bag each time it fills up. I found the bag was too heavy to carry if I dumped in more than one shop vac container of acorns at the time.
I always keep my grass higher than most folks do because I feel like it tolerates our hot Georgia summers better than if it were cut short. Also, the type of grass I have (Zeon Zoysia) is really dense. The taller grass made vacuuming up the acorns in some areas a little harder. In the really lush, dense areas, I found it easier to sit down on the lawn and use the hose without the wand/floor attachment. The floor wand is just harder to pull through tall, thick grass. It worked great on the areas where the grass was shorter and less dense, though.
This is actually a pretty enjoyable activity if you have a great book or music to which you can listen while vacuuming. I use and can highly recommend THESE headphones that I've had for a couple of years now. They are super comfortable to wear, block out a lot of noise and connect to any Bluetooth-compatible device. I always listen to Audible books that I've downloaded to my phone while vacuuming inside and they worked great for this job, too. It probably goes without saying, but read the instructions that come with any headphones you purchase. Don't ever wear noise-canceling headphones if you're going to be working near a road or someplace where it would be dangerous to block out outside noise. Definitely never wear them while driving.
In case you wondered, there are plenty of acorns left in the islands for the squirrels this winter. I'm also going to dump a bunch of the acorns I vacuumed up into the wooded area of my yard in case deer or some other type of animal wants to eat them this fall/winter.
Up Next: 5 Tips for Waxing the Garden Hose
Kidding! 🙂
Spray & Forget Update
Over the years I've had a hard time keeping the steps on my front porch clean. They would always get moldy and green as seen in this older photo below.
This area on either side of the front door has always been a problem, too. About a year or so ago, I cleaned both areas with a solution of part bleach and part water, then sprayed both areas with a product I'd read about called, Spray & Forget. (I purchased it here: Spray & Forget)
It's been about a year and the steps still look great. I haven't had to clean them once! In the photo below, I had just watered the Green Mountain Boxwood planters and the Chrysanthemum, so that's why the brick is darker in some spots. It's just wet.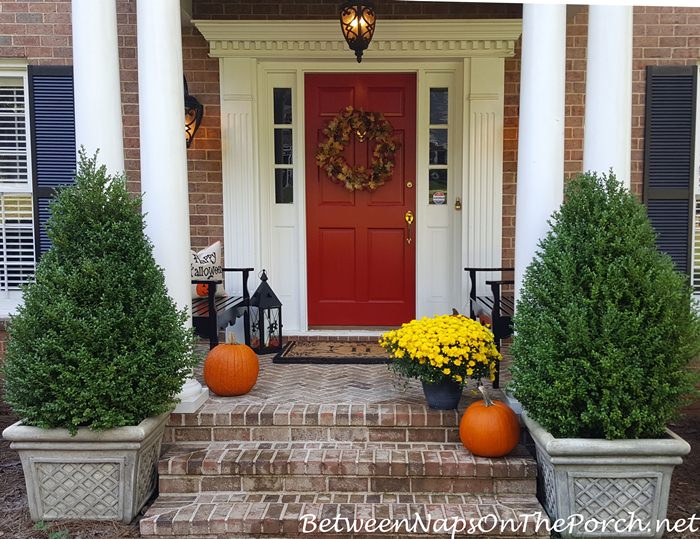 Here's a photo that I took today, love how they are staying so clean! I forgot to take a picture of the wood molding on either side of the door, but it's still nice and clean, too. I'm very pleased with the results and wanted to update you on how it had worked.
If you buy/use this product, be sure to read all the directions and keep pets, animals, etc… away from the area you spray while it's wet. Animals aren't supposed to walk on it while it's wet. Again, read the directions before using it. I'm very pleased with how it has solved the moldy issue problem I was having on the steps each year, which was actually dangerous since it could be slippery.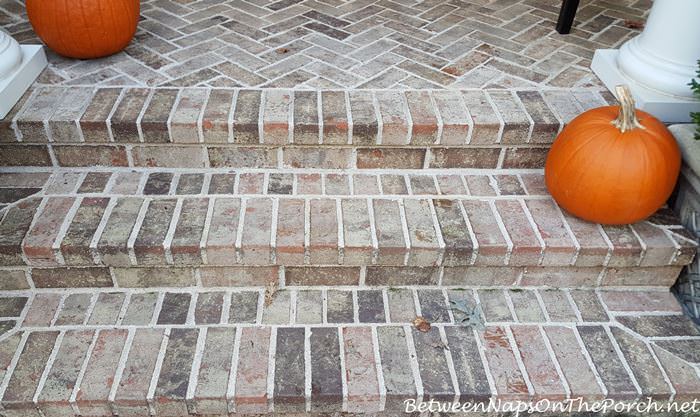 Bulb Planting Time
A packaged appeared on my front porch a few days ago.
I was wondering what it could be until I read the return address.
When I visited Keukenhof Garden in South Holland this past spring, I placed an order for some of their tulip bulbs. I wanted to bring a bit of Holland back home with me.
They had an entire binder full of choices so it was agonizing trying to choose which bulbs/flowers to order. After much angst and deliberation, I chose this collection which includes: 20 Lily-Flowering Mix, 20 Double Mixed, 20 Darwin Hybrid Mixed and 20 Parrot Mixed. Now I just need to decide where I'm going to plant them.
In Georgia, either our summers are too hot or our winters are too mild (not sure which) but tulips never come back the second year. The foliage comes back, just no flowers.
So wherever I plant them, it needs to be in a place where I can easily dig them back up once the foliage turns yellow. They may end up in planters and/or an annual bed I have in front that's been dug so many times, it should be pretty easy to retrieve them when the time comes.
Maybe when I dig them back up, I can stick them in the fridge and replant them again the following year. Need to read up on how that's done. Does anyone know?
Can't wait to share these flowers with you next spring!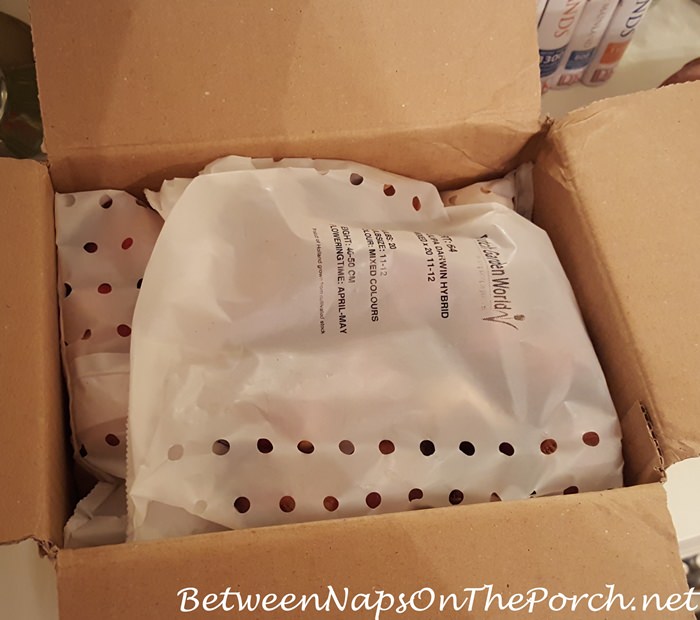 Looking forward to all the fabulous Before and Afters for this Met Monday!
Metamorphosis Monday
Metamorphosis Monday is a party that's all about Before and Afters. If you are participating in Met Monday, please link up using the "permalink" to your MM post and not your general blog address.
To get your permalink, click on your post name, then just copy and paste the address that shows up in the address bar at the top of your blog, into the "url" box for InLinkz.
In order to link up, you'll need to include a link in your MM post back to the party so the other participants will have an opportunity to receive visits from your wonderful blog readers.
Please observe these few rules:
Only link up Before and After posts that are home, gardening, crafting, painting, sewing, cooking or DIY related.
Do not link up to the party if you're doing so to promote a website or sell a product.
Do not link up a post that was just linked up last week since readers would have already seen that post.
*If a post is sponsored or a product was provided at no charge, it will be stated in post. Some links may be affiliate links and as an Amazon Associate, I may earn from qualifying purchases. *