Welcome to the 535th Tablescape Thursday!
As we head into the coldest months of winter here in the U.S., I thought I'd share a few wintery tables from the past. I'll be leaving family to head back home soon, how did the holidays go by so quickly?! I'm sure you're asking the same thing…goes by faster every year, doesn't it?
(Click on any title below to view more of that table setting.)
A Wintery Table Setting For the Birds
Several years back we got a mammoth snow and ice storm here in Metro Atlanta. It was time for Tablescape Thursday and I was starting to think about that week's table when I looked out and spotted the prettiest, white tablecloth on the table on the deck.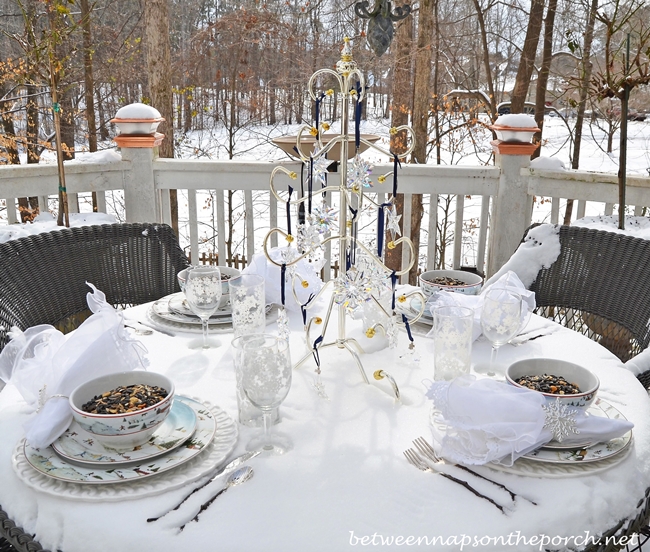 The birds coming to the feeders eyed me with great interest as I filled the bowls with some of their favorite foods. lol Seriously, each time I went inside to bring out another glass or utensil, they swooped by the deck to check it out. Once photos were taken and the table was cleared, in addition to the seed already in the feeders, the birds enjoyed the rest of the seed as I spread it all along the deck rails. I'm sure my feeders are empty right now, need to get those filled as soon as I get back home.
Winter Table with an Edible Snowman Centerpiece
I would love to make this snowman for my grandsons some winter. I need to remember to bring the cake pan with me the next time I visit. This fun cake was easy to make and I learned a lot that first time making it.
Not sure if this cake pan is still available (hopefully, it is)but you'll find all the info. for making this cute Snowman Cake and Centerpiece in this previous post: Make a Snowman Cake for an Adorable Centerpiece & Dessert.
Shh, don't tell anyone but I'm not a huge lover of hot tea. I wish I was since I'm always cold in the winter. I'd much prefer a big mug of hot chocolate, but I did enjoy this cozy fireside tea several years ago. As soon as I get back home, I think I'll fire up the fireplace and recreate this moment with a good book. If you can't escape the cold weather by flying off to a warmer climate (like my friend, Teresa, who'll soon be leaving for some vaca time in Australia) we'll just make the best of it right here! Sound like a good plan?
Looking forward to all the beautiful tables linked for this week's Tablescape Thursday!
*If a post is sponsored or a product was provided at no charge, it will be stated in post. Some links may be affiliate links and as an Amazon Associate, I may earn from qualifying purchases. *