Welcome to the 518th Tablescape Thursday!
I always have to be dragged kicking and screaming into fall. I know it's not that way for a lot of folks who can't wait for a bit of relief from the heat. When it comes to checking out the new dishware offerings for autumn, no dragging is needed. Ha! Yesterday I stopped into the Pottery Barn and Williams Sonoma near my home to see if they had their fall/autumn dinnerware out, and they did! It was almost enough to make me start thinking "fall." Almost.
Before we get into all the fall offerings, I have to share something I am seriously thinking of ordering today as soon as this post goes up. It's these beautiful, white embossed chargers that are currently on sale, 20% off, plus another 20% off with the promo code FALL at checkout. I LOVE the design!
I only have one set of white charger plates and I use them all the time during the summer months. I'm often asked about those in comments here at the blog. I would love a second set to use during spring and summer.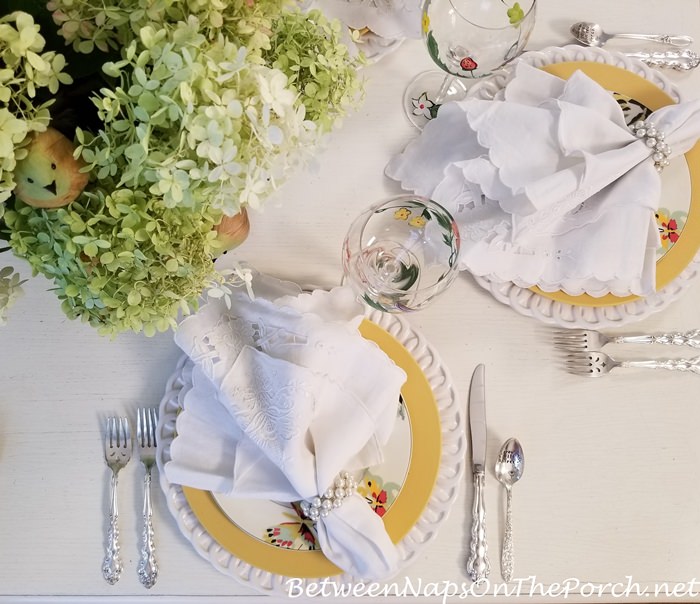 Here's how they look in a blue and white table setting. If you've been looking for a pretty set of white chargers that will go with all your dish patterns during the spring and summer months, you'll find these on sale here: White Charger Plates.
If you decide to get a set of these chargers, don't forget to use the word "FALL" in the Promo box at check out to get free shipping and an additional 20% off.
Update: I just ordered 8 of these while they are on sale. The promo code FALL did work and gave me another 20% off the sale price, plus free shipping. Super excited to get these!
Let's go fall shopping!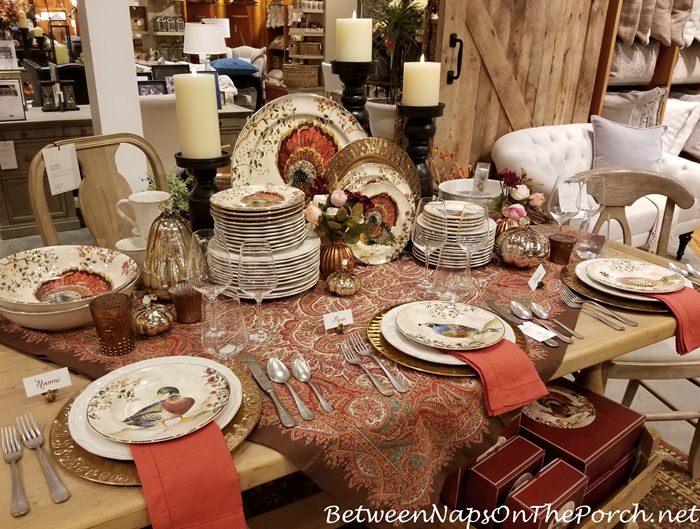 In addition to the white charger plates above, this was the next most-tempting item for me. I love these wildlife salad plates featuring colorful game birds. Just look at all that gorgeous fall color!
I asked the sales associate if these would be going on sale anytime soon. She said no, because they would most likely sell out before that happened. I knew what she meant, I've had that happen before at PB with their most popular seasonal items.
Update: It appears the code SAVEMORE works for getting these plates (and the other fall items below) on sale up to 30% off depending on how much you spend.
I just love them! They say autumn to me! Here's a photo showing all four designs in the set. You'll find this set available here: Gamebird Salad Plates.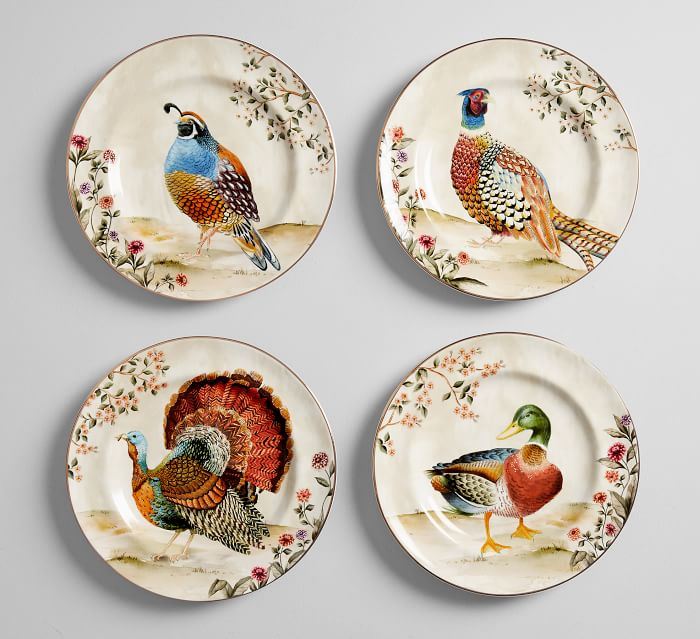 Here's another beautiful table I saw during my shopping trip.
The highlight of this pretty autumn table were these cute pumpkin plates. See all four designs for these plates here: Pumpkin Plates.
They set a stunning table, don't they?
Love how they look topped off with these pumpkin bowls available here: Pumpkin Bowls.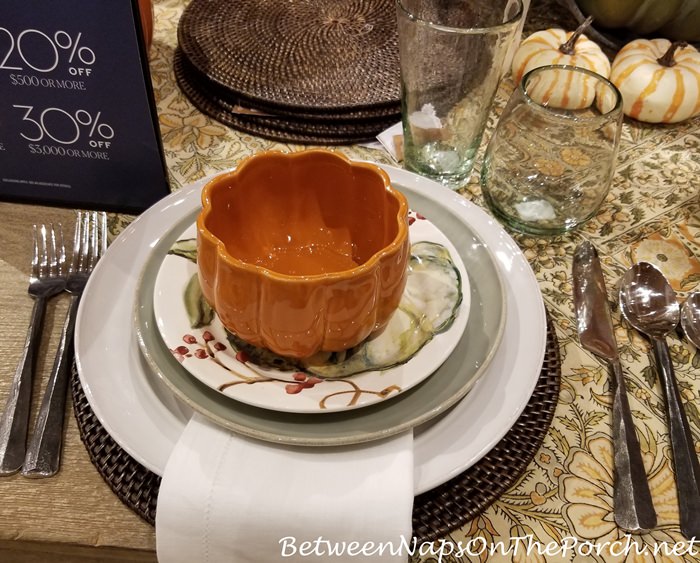 If you're looking for a great theme for an upcoming Halloween party, think Pirates! Only these pirates have become scary ghosts/skeleton pirates!
This large pirate ship that's perfect for chilling the wine or drinks would make a great centerpiece for any Halloween party table. The pirate flag cracked me up! lol Love those little details! It's available here: Pirate Ship Wine-Drink Cooler.
Cute, cute pillow for Halloween! It's available here: Crow Pillow. I need two of those for the black benches on my front porch.
I loved these mummy plates!
They reminded me of the DIY Mummy Candle Holders I made and shared in this post: Halloween Craft: Mummy Candle Holders. It will be time to bring those out before long!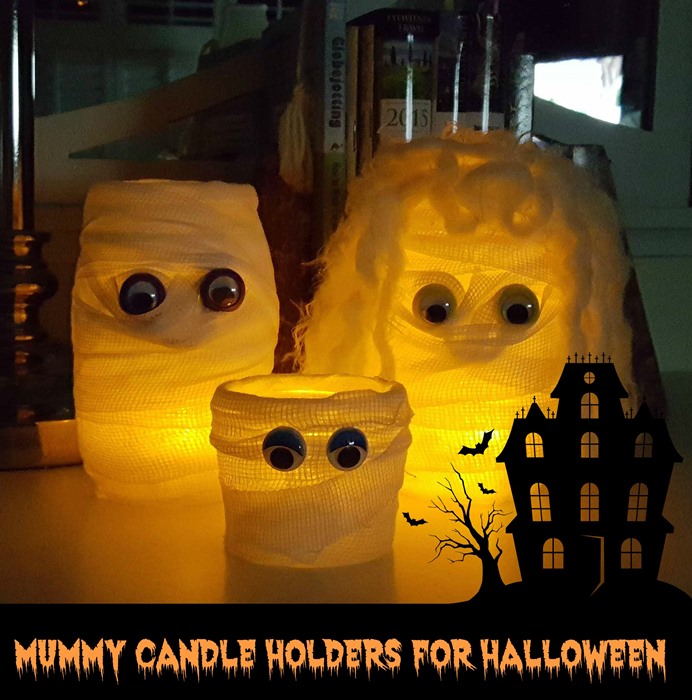 I think the mummy plates are large enough to work as salad plates. Arggg, they are so adorable! They are available here: Mummy Plates.
Below the mummies were some really cute black and white kitty mugs and appetizer plates. Love those for serving treats on Halloween! They are available here: Kitty Mugs/Plates. (Scroll down at that link for the plates.)
I think they had the ghost mugs last year, I was tempted by those then. They are available here: Ghost Mugs.
They've brought back their bark-edged chargers this year. I still prefer these that I found here: Bark Edged Chargers, plus they are a better price.
My favorite thing on this table was this big ole fat turkey. He would make a great centerpiece for any fall or Thanksgiving table. He's currently on sale here: Large Figural Turkey Tureen. I think that's a great price for a piece this big. I paid more than double that for my large turkey and mine is purely decorative, not a tureen.
The last thing I saw as I was about to leave were these bark candles…so pretty for a fall display. They are available here: Bark Candles.
Reminder: Don't forget to use the promo code SAVEMORE for additional discounts on all the fall dinnerware and fall decor. If ordering the white chargers shared at the beginning of this post, use the word FALL at check out for another 20% off the sale price.
Looking forward to all the beautiful tables linked for today's Tablescape Thursday!
Pssst: I post almost daily to Instagram. Follow Between Naps on the Porch on Instagram here: Between Naps On The Porch.
If you enjoyed this post, subscribe for free email updates when a new post is up here: Subscribe for post updates.
Tip: Please do not use a Hotmail e-mail address to subscribe if you can avoid it. Hotmail is notorious for filtering out perfectly good emails. Google and you'll find tons of people complaining about this. I've found Gmail to be awesome, it's what I use and it's free! Plus, they don't filter out the e-mails you want in error like Hotmail does.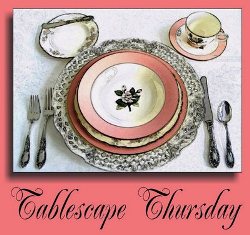 Tablescape Thursday
If you are participating in Tablescape Thursday, please be sure to add your permalink below, and not your general blog address. To get your permalink, click on your post name, then copy and paste the address showing in the address bar, into the "url" box when you link up.
You'll need to include a link in your post back to the party to link up and participate. That's so visitors to your blog will be able to find the party and the other Tablescape Thursday participants. Requiring a link back also prevents businesses and scammers from linking up to sell their products. (Yup, that really happens, unfortunately.)
*If a post is sponsored or a product was provided at no charge, it will be stated in post. Some links may be affiliate links and as an Amazon Associate, I may earn from qualifying purchases. *