Packing is definitely my least favorite thing about travel. It feels a bit overwhelming, trying to decide what to take to a far-a-way place you've never been, especially when the trip is occurring during the changing of the seasons.
Per The Weather Chanel, the weather is going to be quite chilly during the time I'm away. I'm leaving sunny weather that's in 70's for a place where the high each day is in the low 50's. Those tulips better be really beautiful!!! 😉
Since I think I'm freezing to death when it's 50 degrees outside, I'm going to pack warmly for the trip. Below you'll see a few of the things I'm thinking of taking with me.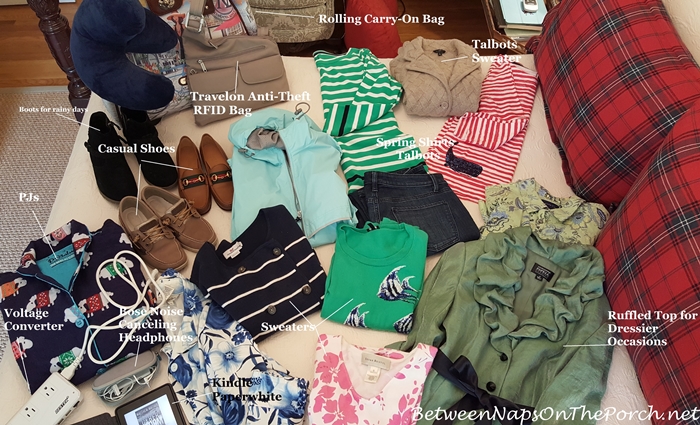 In the top left corner is my beloved rolling carry-on bag that will carry my laptop, camera and other assorted goodies. (Bag is available here: Rolling Tote)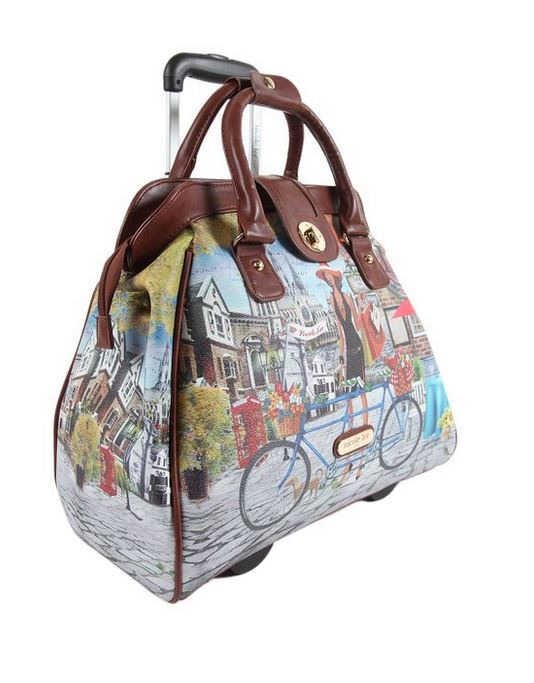 I'm definitely taking my Anti-Theft Travelon bag with RFID pockets, wouldn't go to Europe without it. It worked great during my trip to Italy. (Available here: Anti-theft Travel Purse) Read more about this awesome bag in this previous post: A Peek Inside My Travelon Travel Purse
I'll definitely be taking along my travel pillow, love that thing! (It's available here: Travel Pillow)
I'm taking along my waterproof Teva boots that kept my feet toasty dry and warm during torrential downpours in Italy. They are sooo comfortable! (Available here: Waterproof Boots.)
I'm also taking a pair of casual loafers that are comfortable for walking and maybe my Sperry Topsiders, although they don't offer as much arch support.
Pants wise: I'm taking a pair of jeans, a pair of navy slacks (not pictured) and a somewhat dressy pair of black slacks that are currently being hemmed. I think those three pairs of pants are all I'll take since they will go with all the tops I'll be wearing.
The windbreaker I wore all over Italy when I walked out and left my Barbour coat on the kitchen table, will be making the trip. It has a hood so it was great for taking photos in misty rain. I never could have managed an umbrella and a camera at the same time.
I may also take my Barbour "Forever" coat, too with all its roomy pockets. It was invaluable on all our early morning safaris in Africa last September. Will have to see how much room I have. I'd like to take both.
I just purchased two long-sleeved, striped shirts (a green/navy and a red stripe with blue sequinned whale) from Talbots when they had their big "top" sale going on, the one I blogged about here: Awesome Spring Sale From One of My Favorite Stores. I will probably take those although not sure I'll get to wear them, unless it's underneath a sweater. I may be wearing sweater-style tops with with all my pants since it's going to be pretty chilly.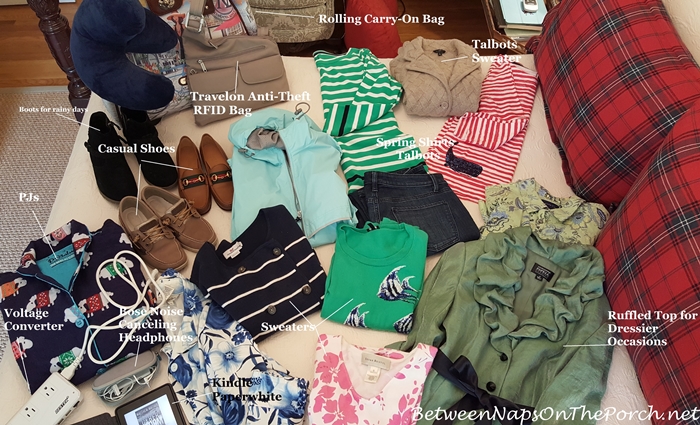 The dressier green top with the black satin sash on the right (below) will be paired with nice black slacks, the one's that are currently being hemmed. That was the outfit I wore to our farewell dinner in Italy and it was really comfortable and a lot warmer than a dress would have been. I wore the pants with heels that night, so though they were a tiny bit long, it worked out okay. I have that same dressy top in a cream color and love it for those occasions when you want to dress up a bit.
Now we get to the really important stuff, the stuff that truly matters. lol I NEVER travel without my Bestek Voltage Converter. I love this thing because I can charge my laptop, headphones, phone and Kindle all at the same time. It has been a lifesaver on other trips. It's available here: Voltage Converter
The Kindle (available HERE) keeps me sane on the long flights and the Bose Noise-Canceling Headphones block out all the engine sounds of the plane so I can watch movies on my laptop in total quiet. (I never like the movies they have available on the flight.) They were also invaluable in one hotel in Italy and on the Property Brothers cruise where thin walls were an issue. They totally blocked out the noisy neighbors who liked to stay up really late each night.
A tradition I kinda started by accident back when I booked my first trip to Africa, is purchasing an Eyewitness Travel Guide each time I schedule a trip. Even though I'm going on a tour, I will have a little free time to explore on my own, so I like learning as much as I can before it's time to leave. The Eyewitness Travel books are detailed with little pictures all throughout, and I love how once I return, they continue to be a little reminder of the places I've traveled.
I just added The Netherlands and Brussels to my little collection, and I'm eyeing the one for Amsterdam. It has a cute bike on the cover which perfectly represents that city with all its bike traffic. Do you have any little traditions like that, something you always buy each time you travel abroad or plan a trip? Eyewitness Travel Guides are available here: Travel Guides)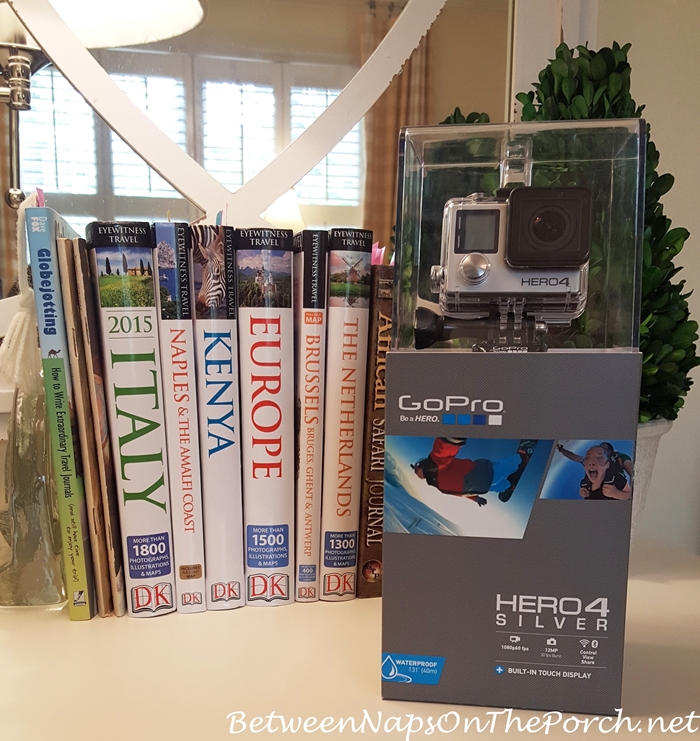 While on the trip I took to Italy and the Amalfi Coast, one of the other folks on the tour had taken the "pre-trip" to Venice. One day as we were en route to another adventure, she shared some video she had shot while being serenaded during a canal ride in Venice. Oh, my gosh, it was amazing! I could have watched it over and over and over.
I was so impressed with the video she captured on her Go Pro! It uses a wide-angle lens, so in addition to wonderfully capturing the beautiful serenade, it easily took in all the surrounding scenery. It was a truly spectacular video! Between seeing that video and the one you can see at the end of THIS post that was also filmed with a Go Pro camera, I decided to purchase one of these tiny, powerful cameras some day.
I found them recently for $70 less than what they normally sell for so decided to buy one now before this trip. I have just a few days to figure out how it works. Hopefully it isn't too complicated and I'll have some wonderful video to share when I return.
If you're interested in buying one, you'll find them here for the best price I've seen anywhere: Go Pro Hero 4 in Silver. I compared all three models and the Hero 4 (Silver) has all the features I most want. It also seems to be their biggest seller. Do you have a Go Pro camera? If so, would appreciate any tips you have for using it.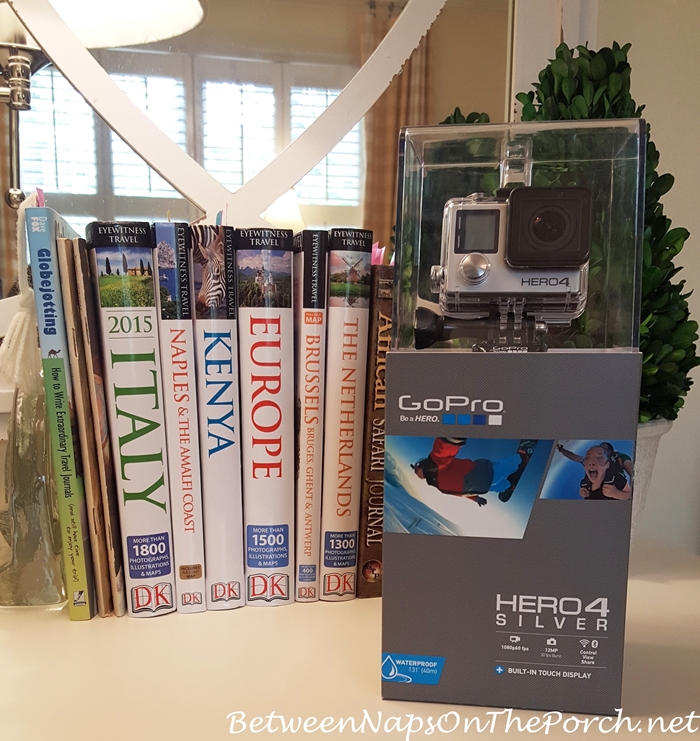 So that's the packing plan for now. Now I just have to hope for more sunshine days than rainy ones.
*If a post is sponsored or a product was provided at no charge, it will be stated in post. Some links may be affiliate links and as an Amazon Associate, I may earn from qualifying purchases. *