Welcome to the 533rd Tablescape Thursday!
This has been such an interesting, busy week. Yesterday I was awakened at 4:15 in the morning by a trembling bed. Having experienced two earthquakes during the last 10 or so years, I was pretty sure we were having another one. A quick check of Twitter confirmed it. I rarely visit Twitter but it's a great place to go if you're wondering if an earthquake has just happened. Everyone seems to go there immediately to ask, "Did anyone else feel that or am I just losing my mind?"
By the time I was fully awake and knew what was going on, it was almost over, lasting only about 10 more seconds. They are saying this is the biggest one we've ever had here…measuring at 4.4. It didn't feel as intense to me as the other two I've experienced, perhaps because the epicenter was further away this time in Decatur, TN.
Don't know why, but I awoke again this morning at 4:15. I have a Christmas party to attend today, but after that I think I'm coming home and taking a big, fat nap. lol
Tablescape Thursday
Last Christmas season, I had so much fun creating this table setting with a "Christmas Vacation" movie theme. If you missed that previous tablescape, you'll find it here: Christmas Vacation-themed Tablescape.
As I was taking photos of this table last Christmas, I was thinking how awesome it would be if I had a few more of the Dept. 56 Christmas Vacation houses, then I could do another row of houses behind the three seen below. Last year I only had Clark's house, his garage( seen to the right of his house) and his neighbor's (Margo and Todd) house next door. It's the blue one with the tree crashing through the upstairs window. Ha!
Many years ago I created this Christmas table below with Dept. 56 lit houses. When I created that tablescape, I had enough houses to line them down both sides of the table, as well on the ends, just like in a real neighborhood. I loved how that looked, although my table is almost too narrow to pull that off. lol
I still have all those houses, so I suppose I could mix a few of those in with the Christmas Vacation houses, but I'd really rather use houses that are from the actual Christmas Vacation series. (View more of this table setting here: Christmas Tablescape with Dept. 56 Lit Houses.)
Most of the homes from the Dept. 56 Christmas Vacation series have been retired, nonetheless, I was shocked when I saw what they were going for on eBay. For example, Boss Frank Shirley's House (Clark's boss in the movie) is currently selling as a "Buy It Now" for $475 with $20.30 shipping. Or, if you prefer the auction style, there's one that's up to $202.50 with 13 bids and 4 more days left to go. This is how the prices looked last year when I was shopping for additional Christmas Vacation houses on eBay.
After seeing these prices, I was a bit discouraged thinking I'd never be able to add to my collection. There's just no way I was going to pay those kinds of prices for the Boss Shirley house.
One more example: Todd and Margo's house (the neighbors who live next door to Clark in the movie) is a house I currently have, having tripped across it in A Classy Flea for $10 a few years ago. It was missing its light which was easy and inexpensive to replace since they can be ordered online from Dept. 56, and it had a teeny, tiny chip in the snow at its base. I knew fake snow would hide that when it was displayed, so decided to buy it. That was actually the first piece of the Christmas Vacation collection I ever purchased.
Currently, with 8 bids, it's selling for $610.00 + shipping, with 11 hours left to go on the auction. It will be interesting to see the final selling price.
I kept my eye out and eventually, I found Boss Shirley's house at a semi-reasonable price. I can't remember now what I paid since it's been almost a year, but it was nowhere near the prices I'm currently seeing on eBay.
So, this year we're going back to Clark's neighborhood. There are two new additions to this year's Christmas Vacation table setting, so the folks sitting on the right side of the table will have more to see than just the backs of the houses, although the backs are kinda pretty, as well.
Oops, I see a moose cup trying to wander away. lol I kept moving pieces to get better photos of the scenes. It's easy to see the scenes when dining at the table, but a bit harder when just looking at photos.
Clark is still at it, trying to get those stubborn Christmas lights to light up!
Cousin Eddie is nearby, beer in hand cheering him on.
The lights may not work but at least Clark has found the perfect Christmas tree for this year's family Christmas.
Uh, oh. Margo and Todd have just arrived home and Margo doesn't look too happy about Eddie's fancy RV parked out front.
Looks like she's on the phone right now with their local Homeowner's Association. lol
On the other side of town, or in this case, the other side of the table…
…there's a lot happening on Melody Lane where Clark's boss lives. Looks like Boss Shirley is in a bit of a bind!
After Boss Shirley stiffs Clark out of his yearly Christmas bonus, Cousin Eddie decides to grant Clark his one Christmas wish: Boss Shirley brought from his happy, holiday slumber to "right here with a big ribbon on his head." Ha! It's one of the funniest scenes in the movie, for sure!
Next door we find the Belmont & Co. department store. Who's that we see inside?
Oh, it's just Rusty catching Clark in the act of flirting with the sales girl behind the counter. Ooops!
For this fun table setting, I'm mixing plaids and paisley for our napkins. Reindeer napkin rings work well with this whimsical themed table.
Snowman plates are acting as our appetizer plate. I've had these for years but I saw them recently in a HomeGoods while out shopping, so maybe they are back again this year.
The adorable moose mugs used in this table setting (like those seen in the movie) are available here: Moose Mugs. I bought the non-breakable version for my two grandchildren and they can be found here: Non-breakable Moose Mugs.
Love these Better Homes and Gardens salad plates depicting a woody car bringing home the Christmas tree. These just seemed fitting for this table for some reason. 😉 You'll find them available again this year, here: Woody Car.
The dinner plate is also from Better Homes and Gardens.
A view with the chandelier turned down low…
Clark finally got those lights working!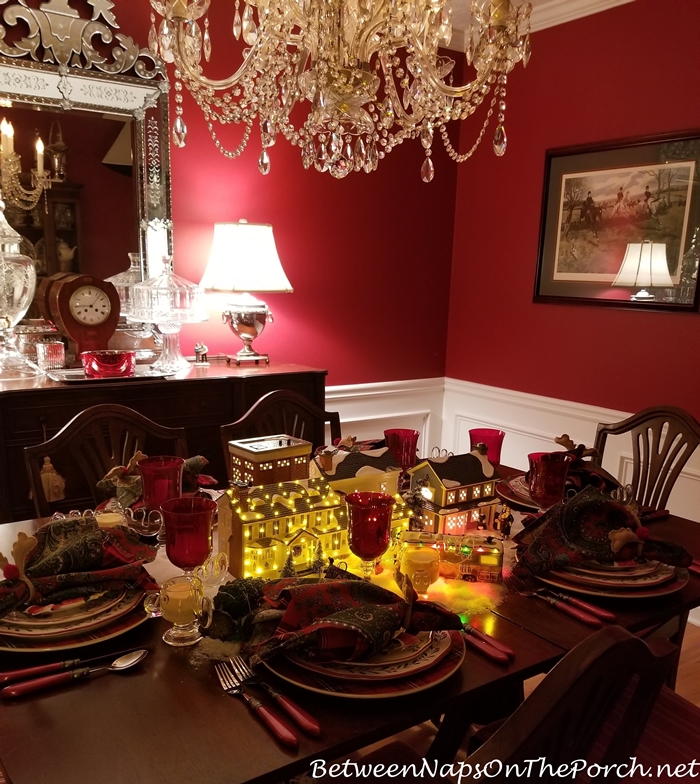 A view with all the lights off, even the lights in the entryway are turned off.
Whenever I create a table setting with a lit centerpiece, I often get questions about how it's lit. In this case, I brought all the cords together behind the houses, then I opened up the table in the center, separating the two halves just enough to get the cords through. I pushed the two halves of the table back together as tightly as I could without damaging the cords. I sprinkled snow all over the cords running back behind the houses so they are not visible.
Then I covered the gap in the table with a bit of masking tape and sprinkled more snow over that. I snapped this photo before fully covering it so I could share how it looks.
Underneath the table, all the electrical cords are plugged into a power strip and the single cord from the power strip runs out from under the table to the outlet under the sideboard. In the past when I've used a similar centerpiece for Christmas, I've tapped that cord down to the floor with masking tape t0 ensure no one tripped over it.
The candle burning over on the sideboard is another Woodwick candle, the kind that makes a wonderful crackling, fireplace sound. I'm so addicted to these candles! The scent for this one is called Crimson Berries and you'll find it available here: Crimson Berries.
Merry Christmas to you from the Griswold Family. And me!
Looking forward to the beautiful tables linked for this week's Tablescape Thursday!
Pssst: I post almost daily to Instagram. Follow Between Naps on the Porch on Instagram here: Between Naps On The Porch.
If you enjoyed this post, subscribe for free email updates when a new post is up here: Subscribe for post updates.
Tip: Please do not use a Hotmail e-mail address to subscribe if you can avoid it. Hotmail is notorious for filtering out perfectly good emails. I've found Gmail to be awesome, it's what I use and it's free! Plus, they don't filter out good e-mails in error.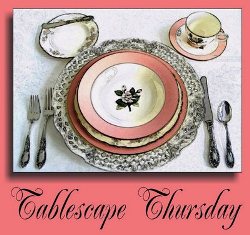 Tablescape Thursday
If you are participating in Tablescape Thursday, please be sure to add your permalink below, and not your general blog address. To get your permalink, click on your post name, then copy and paste the address showing in the address bar, into the "url" box when you link up.
You'll need to include a link in your post back to the party to link up and participate. That's so visitors to your blog will be able to find the party and the other Tablescape Thursday participants. Requiring a link back also prevents businesses and scammers from linking up to sell their products. (Yup, that really happens, unfortunately.)
*If a post is sponsored or a product was provided at no charge, it will be stated in post. Some links may be affiliate links and as an Amazon Associate, I may earn from qualifying purchases. *