I don't know when I first fell in love with decorating in blue and white, I just know I passionately love it. We're talking, a-big-kiss-right-on-the-mouth, love it! I think it may have started when I found this Ralph Lauren comforter set for my guest room. I love flow blue transferware and have collected a few pieces over the years, so I guess the bedding reminded me of beautiful flow blue porcelain. It provided a jumping off point for the color scheme of the room.
You've probably noticed by now, I love mixing lots of patterns in a room. It was love-at-first-sight when I came across a blue/white checked chair in the back room of an antique store years ago. Though the store usually just sold vintage and antique furniture, this day they had a back room filled with odd lots of new furniture. I get a lot of e-mails asking about this chair and the matching ottoman. It was the only one in the store that day and unfortunately, the store has long since closed.
I'm so obsessed with blue and white, I even decoupaged a pumpkin for Halloween in the same pattern as the bedding in this DIY Country Living Knock-off project. (You'll find a tutorial showing how to decoupage a pumpkin (or almost anything) in a pattern you love in this post: Decoupage a Blue and White Pumpkin)
I was still on my blue and white kick when I came across an "upstairs" family room while on a home tour in Atlanta. I had never seen an upstairs family room but loved the concept for my then, empty bonus room. The armoire holds a TV and books and the sofa is a sofa sleeper, so this room also acts as a spill-over guest room when needed. The trunk keeps pillow, linens and blankets readily available.
This room is bathed in sunshine all morning long since it's on the east side of the house. I wanted to keep that sunshine feeling, especially since I already had a cozy paneled family room on the main level. I went with a super casual look so my son could enjoy this space with his friends, and enjoy it they did. If you raise the lid on the window seat there under the double windows, you would still find it filled to the top with board games.
A local antiques dealer (who has since retired) used to make two trips each year to Sweden and Denmark where he hand-picked antique pine furniture to sell here in Atlanta. I purchased several pieces from him over the span of 2-3 years, having been inspired by the cover article in this issue of Traditional Home. He was so good to me. He knew the pieces I wanted for my bonus room, so when his shipments from overseas arrived, he would meet me at his warehouse about 2 miles from my home and let me have first dibs on the pieces he brought back.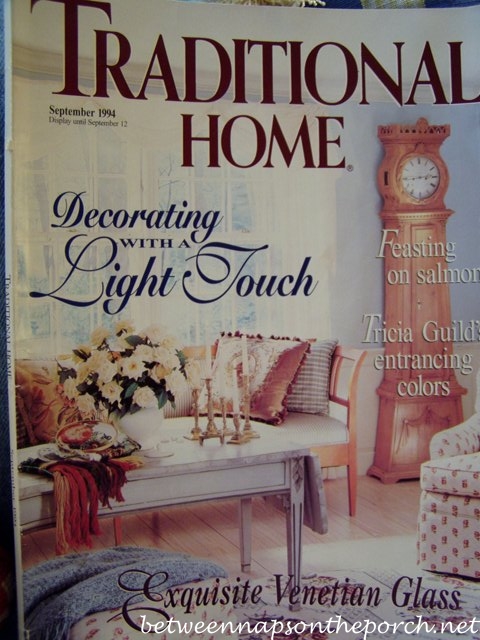 We were young and were trying to furnish a home on a modest budget so when he had a piece I wanted, he would deliver it to my home and let me pay whatever I wanted as a down payment. Then he would let me pay whatever I wanted each month. So, each month, as soon as I was paid at work, I drove to his home about 3 miles away and placed an envelope with a check in his mailbox. Remember checks? I don't know when I've last written a check. Anyway, when that piece was paid for, he usually had another shipment in and the process began again. That's how I bought the grandfather clock, armoire and chest in this room.
Why do I share this story? Because if there's an antique piece you have your heart set on and it's just not in your budget, ask the dealer if they will let you pay for it over a few months. It never hurts to ask and the worst thing that can happen is they say, no. But they may say, yes!
This was to be my second blue and white room. Again, the fabric had touches of yellow which worked well with the warmth and patina of the antique pine. Like my fancy end table? You can read the story of those giant books in this post: Recycled Bound Newspapers Become End Table
Blue and white feels so clean and fresh. This is one of the two dormer windows in this room.
I love that blue and white decor is still hugely popular. I truly don't ever see it going away. The next four photos are from House Beautiful online and they are wonderful examples of how beautiful a blue and white color scheme can be. Notice the few touches of yellow here and there in this room.
So love this! Wouldn't this be wonderful for a cozy little attic room or a beach cottage!
Blue and white can feel bold (like above) or feel soothingly soft like it does in this room below.
This makes me want to paint my red dining room a periwinkle blue. Love the blue and white toile curtains!
The following pictures are all from Traditional Home online. There are two things I immediately notice about this blue and white room: 1. Lots of pattern…love that! 2. Yellow is sneaky and often finds its way into a blue and white room.
Beautiful! And would you just look at that wonderful brass lantern and the brass sconces on either side of the fireplace. Brass is back, Baby! Of course, we lovers of brass know it never really left.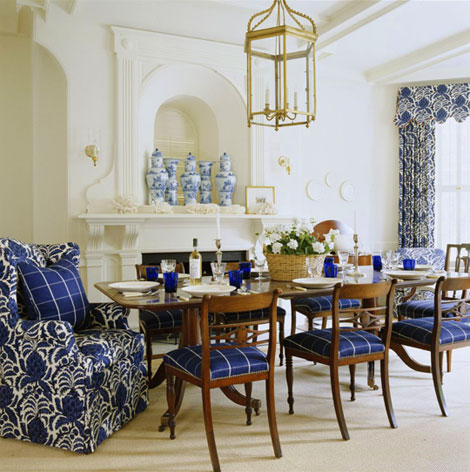 I think my hero, Mario Buatta, would love this room. It reminds me of his amazing spaces. Notice the garden seat, they are so versatile and this one is standing in for a chair-side table like the one in my guest room.
I never finished my earlier thought about how blue and white almost took over my home. I stopped after two rooms but it almost ended up in my kitchen, too. If I look back through my old kitchen-inspiration-file, I may be able to find the picture I ripped from a magazine of a blue and white kitchen. As I recall, it had a blue and white design in the tiled back-splash.
I ultimately went with a neutral pallet in my kitchen since I wasn't sure how a blue and white kitchen was going to work with my green/red family room on the same level. A blue and white kitchen is certainly stunning! This one can easily be changed down the road since it's just the wallpaper and fabric showcasing the blue and white color scheme. Love the paper! I'm no longer afraid of wallpaper since I discovered the trick professionals use to remove it. If you missed that post, you'll find it here: Best Wallpaper Remover
Blue and white toile bedrooms have never (and never will) go out of style. Never. Ever. Never. (Thank-you, Taylor Swift)
Is this not drop dead gorgeous?
More drop-dead gorgeousness! Is that the Golden Gate bridge in the background? The chair fabric reminds me of my guest room bedding fabric. Notice how they have mixed several shades of blue and they all look beautiful together. Don't be afraid of the Blue! I think the ceiling may even be blue. Love that rug!
I love this room…the warmth of the wood, the striped fabric, the button accented bedding, the baskets under each bed and those fabulous lanterns! It feels practical and sumptuous at the same time. That's not easy to pull off! Once again, blue and white steals the show.
I'm obsessed with the fabric on these chairs, not to mention all the great blue and white transferware. Again, we see a blue ceiling painted in the prettiest sky-blue color. Notice how the warmth of the brass and the wood hutch keep the space from feeling too "cool." The warm brown of the hutch provides a wonderful backdrop, grounds the space and enhances the beautiful blue and white color scheme.
Are you a lover of blue and white decor? Have any blue and white rooms in your home? If so, I declare you forever in style and forever tastefully classic. My hat is off to you and your blue and white savvy self! 🙂
*If a post is sponsored or a product was provided at no charge, it will be stated in post. Some links may be affiliate links and as an Amazon Associate, I may earn from qualifying purchases. *