Welcome to the 564th Tablescape Thursday!
Remember these adorable jungle print melamine plates I shared in a post a couple of months back? I think I mentioned in that previous post that I'd be taking them to Ohio to create a fun table setting for my grandsons. (Jungle plates are available here: Jungle Plates.)
Last summer, during the month of May, I put together a fun seaside table for them and it was a big hit.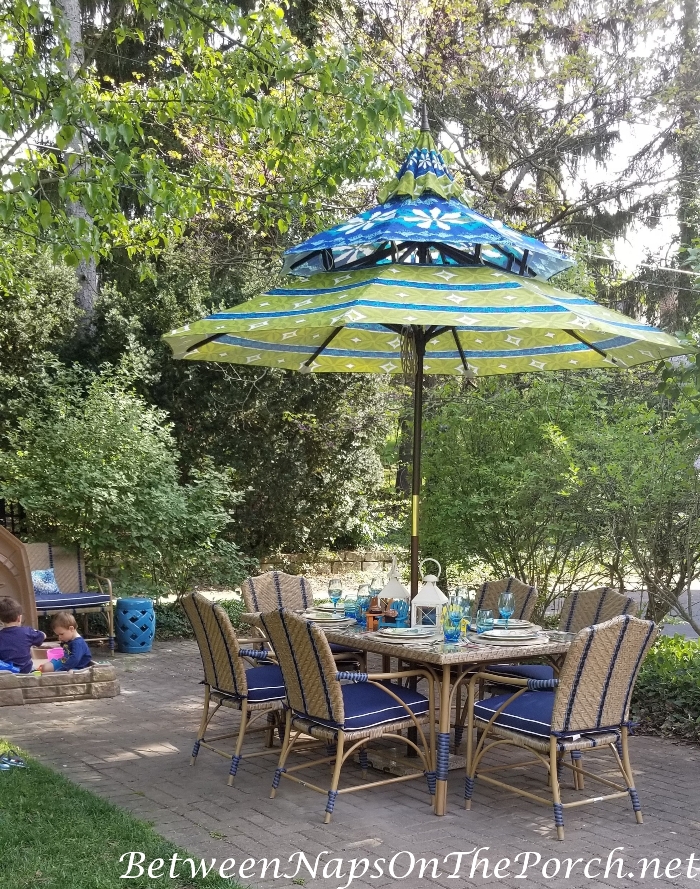 Here's a close up of that previous table…see the table in full in this post: Dining Outdoors for Summer: A Mostly Child-Friendly Table Setting.
Funny story: During my recent visit to Ohio, my dil told me that each time the boys (ages 3 and 5) see these Adirondack chairs in the bottom of the china cabinet where she has them stored, they ask if they can have cupcakes. For some odd reason, they now associate Adirondack chairs with cupcakes! I've warped their young minds for life! 😉
Unfortunately, the jungle table I had envisioned never happened for a bunch of reasons. When I first arrived, it rained for days and days so we weren't able to dine outdoors, the place I had in mine for this table. I joked with my son and dil that I had brought the rain with me because it had been doing the exact same thing in Georgia just before I left for Ohio.
When the rains finally stopped, there were a lot of events/activities going on that pulled us all in different directions. When we were all back together and things had settled down a bit, the temps outside were hitting the 90s every single day. Then I came down with a horrendous cold/virus. Thankfully, no one else in the family caught it. Though we spent a lot of time outdoors watching the boys play in their dinosaur pool, it was simply too hot to enjoy dining outdoors.
So today I thought I'd describe a bit about the table I had planned to create in case you purchased these plates when I first shared them and would love to create this table for your children or grandchildren–or, maybe just for you and your friends. 🙂 I left everything I had purchased for this table in Ohio because one of these days, this table will come to life!
I pulled my inspiration for the table from the jungle-themed plates.
They looked great when I paired them with the driftwood chargers I purchased for my son/dil last summer. Also, the chargers are very child-friendly since they are made of wood. Love these for both indoor and outdoor dining!
Here's how these chargers looked in a previous patriotic table. Love the contrast with the red, white and blue! You'll find them still available here: Driftwood Chargers.
I purchased these adorable monkeys that can be positioned in fun ways due to their velcro hands.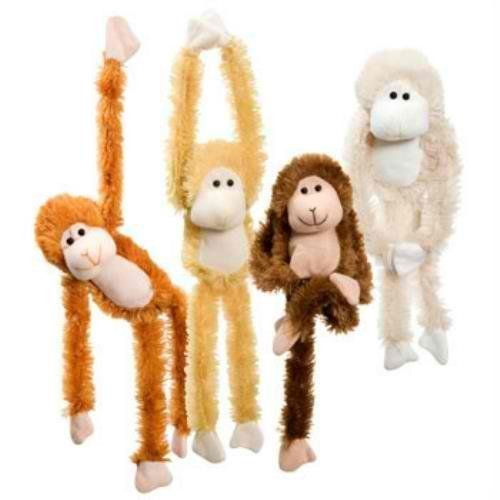 I was envisioning hanging them from the umbrella supports under the pagoda style umbrella. Wouldn't that have been a riot?! I may purchase one more set since they are so inexpensive. They would be cute attached hanging from the chairs or wrapped around the center pole of the umbrella. (Monkeys are available here: Monkeys.)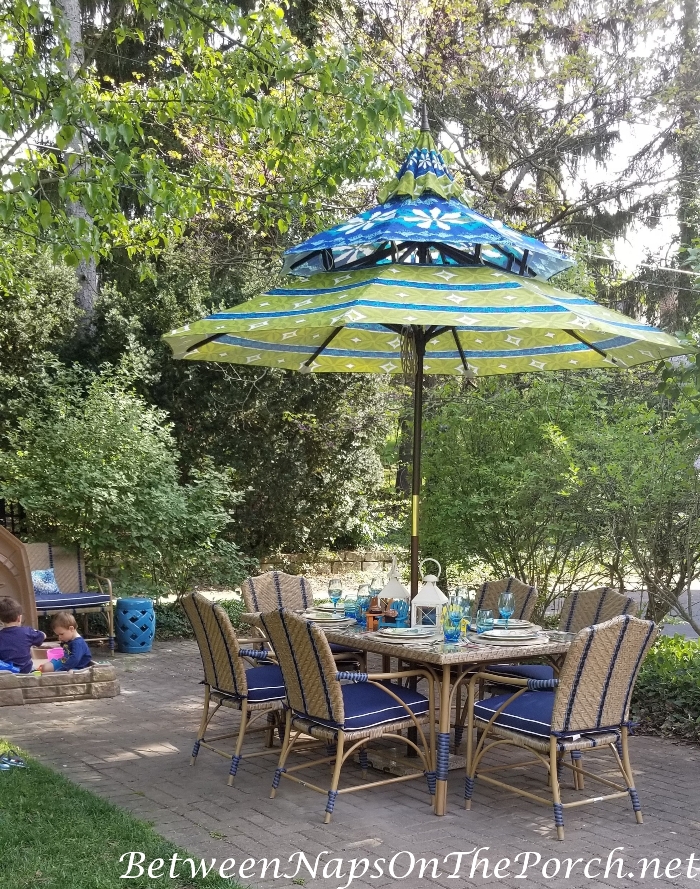 The other item I had purchased before getting sick during my visit was this childhood favorite game, Barrel of Monkeys. Do you remember this game from your childhood? My plan was to hang one of the little monkeys off the rim of each of the glasses I'd be using in this table, then scatter the rest on the table. After the dinner was over, the boys could gather all the monkeys together for a game.
Barrel of Monkeys game can be found here: Barrel of Monkeys.
I never found any child-friendly "jungle-themed" glasses that I liked, but these giraffe glasses I brought back from Giraffe Manor would have been really cute for the adults.
If you would like to see how these looked in a previous "safari" table I created back in 2016, you'll find that post here: On Safari: An African Safari Themed Tablescape.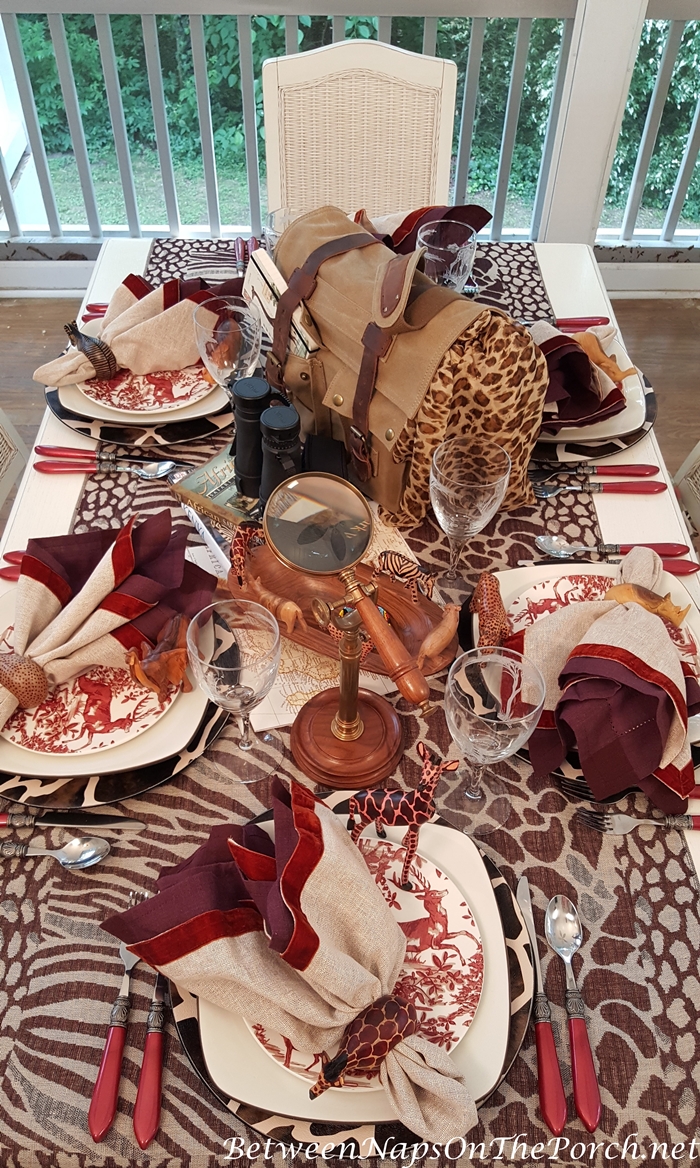 The animal napkin rings I used in that previous table would have been so cute in a jungle themed table. I forgot to take those with me to Ohio, so maybe it's a good thing this table never came to be. I'll be heading back up to see them in a couple of months. Maybe by then, it will be cool enough to set a jungle table outdoors.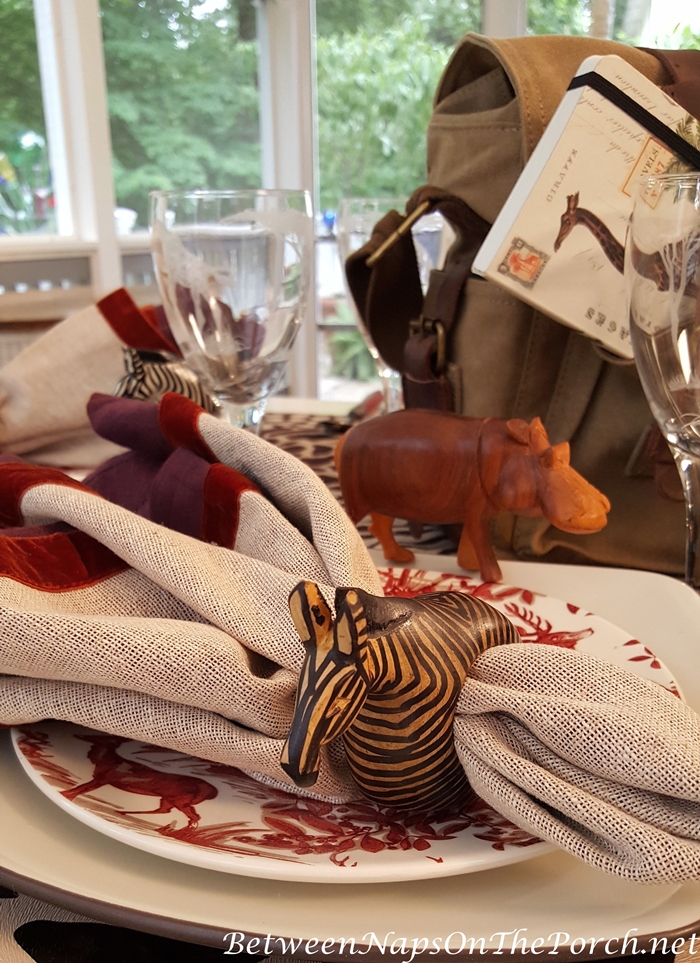 Hope you found this helpful if you previously purchased the jungle plates for your summer dining. I would love to have created a table this week but since arriving home late Monday evening, I've been going through a months worth of mail, unpacking, washing clothes, filing a claim with my insurance company for the "incident" that happened driving home (see yesterday's post for more details) and trying to get over this nasty cold before I leave for England in three days. I can't wait to share a table from the Cotswolds with you for next week's Tablescape Thursday!
Oh, and I haven't forgotten that several of you have asked for the recipe for the breakfast casserole my daughter-in-law made during my visit. She texted over the recipe a couple of days ago and I'm going to attempt to make it either today or tomorrow. I'll share that recipe along with photos very soon.
Thanks so much for all your wonderful, caring comments on yesterday's post. Appreciate them all so very much and will do my best to reply over the next few days. Love you!
Looking forward to the beautiful tables shared for this week's Tablescape Thursday!
Pssst: Follow Between Naps on the Porch on Instagram here: Between Naps On The Porch on Instagram .
Tablescape Thursday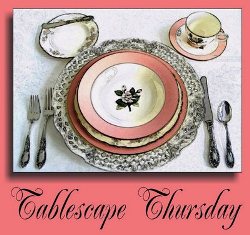 If you are participating in Tablescape Thursday, please be sure to add your permalink below, and not your general blog address. To get your permalink, click on your post name, then copy and paste the address showing in the address bar, into the "url" box when you link up.
You'll need to include a link in your post back to the party to link up and participate. That's so visitors to your blog will be able to find the party and the other Tablescape Thursday participants. Requiring a link back also prevents businesses and scammers from linking up to sell their products. Please let me know if you click on a link that isn't a tablescape or table related so I can remove it.
This party has ended, click button below for the links to all who participated.
*If a post is sponsored or a product was provided at no charge, it will be stated in post. Some links may be affiliate links and as an Amazon Associate, I may earn from qualifying purchases. *