Yesterday I shared my friend, Marie's whimsical Valentine's Day tablescape, HERE featuring lots of cute little froggies. Just off to the right, tucked backed into the corner, is a large white tree Marie decorates for various holidays. I realized later, I probably should have taken pics when I first arrived, but I was hungry, hungry and had lunch on my mind. We had so much fun shopping, it was starting to get dark out when we returned. So these pics aren't quite as bright as I would have liked but I think you'll enjoy and be inspired with ideas for your Valentine's Day decorating.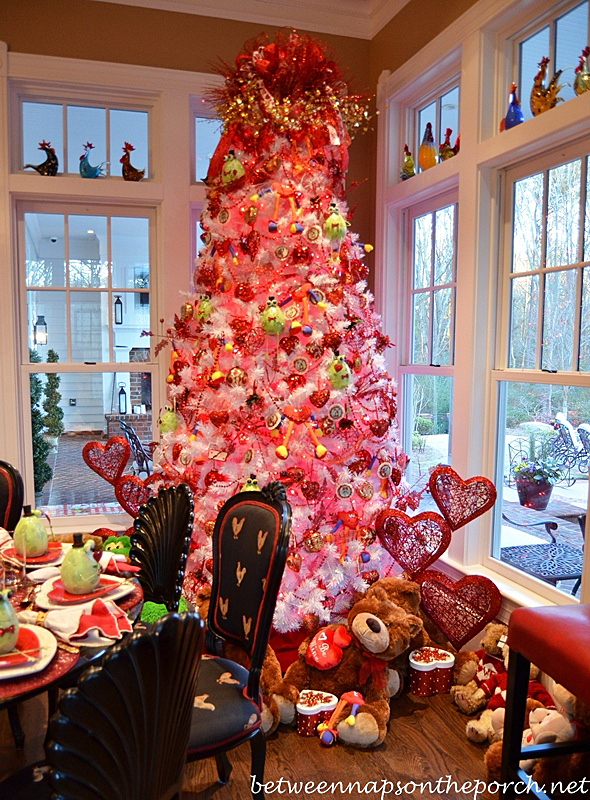 Sweet Teddy Bears with Valentines and heart boxes surrounded the bottom of the tree.
Remember the cute froggies on Marie's Valentine's Day table setting?
They hopped onto her tree, too!
Marie strung lights with large, red bulbs for this Valentine's Day themed tree.
The lights give the tree a soft, red glow. Maybe it's a good idea I didn't take pics when I first arrived. I'm not sure the lights would have shown up with the sun streaming in through the windows.
The cabinet on the other side of the breakfast table was decorated with white garland, mischievous little frogs and beautiful heart ribbon.
Don't you know Marie's six grandchildren LOVE all this whimsical fun!
Do you remember that old cartoon with the singing/dancing frog? Every time I see Marie's cute froggies, I think of of that frog and have to laugh. It's a classic! I embedded it here in case you've never seen it. It's only 6-7 minutes long and will give you a giggle. 🙂
The island in the kitchen was decorated for Valentine's Day, too. (See Marie's kitchen decorated for Christmas in this post: Tour a Beautiful Victorian Home Decorated for Christmas, Part III)
Sooo beautiful and romantic!
The hutch that was filled with Santas at Christmas time, was all decked out for Valentine's Day, too. ♥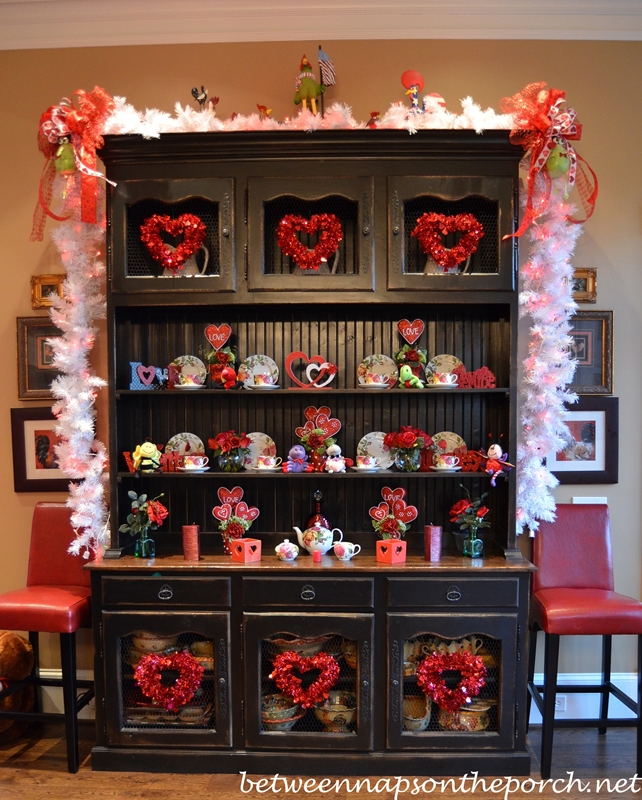 As I was leaving that evening, I snagged some wonderful Blue Hour pics of the exterior lit up at night. I'll be posting those soon.
In the meantime, you can view the exterior decorations by daylight in this post: Porch Decorated for Valentine's Day
Happy Friday!
*If a post is sponsored or a product was provided at no charge, it will be stated in post. Some links may be affiliate links and as an Amazon Associate, I may earn from qualifying purchases. *