Welcome to the 266th Metamorphosis Monday!
This weekend was so nice here, especially Sunday. I threw open both doors to the porch and spent some time enjoying our 70+ degree weather.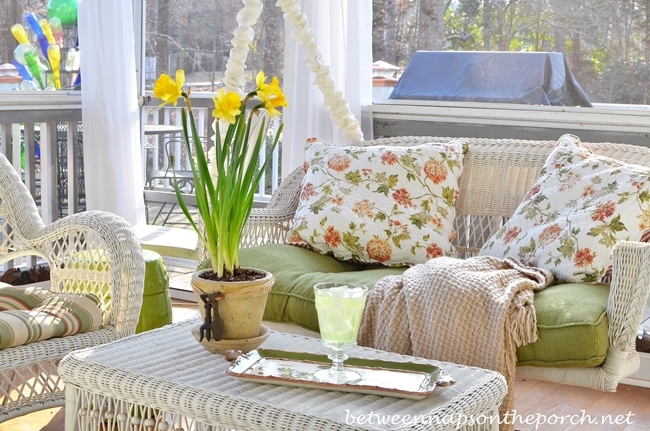 I did a little pre-spring cleaning, dusting off a few things in anticipation of the warm days to come.
Recently, I came across this little bird feeder in Lowes. It has a rope attached and when hanging up it looks like a porch swing. Cute, huh?
Eventually I'll fill it with seed and hang it up for the birdies but as I was looking it over today, I started thinking what a fun server it would be for a summer party. I could tuck a couple of small dishes down inside or perhaps line the compartments with something so it could hold snacky stuff. Can you see it? Be fun for a 4th of July cookout.
I brought the mosaic bird house (that lives on the porch during the summer) back out and placed it on the table along with some of the daffodils you saw in this previous DIY Potting Table post.
On Saturday, a friend came over and we hung out and went shopping for a bit. He's traveling to Australia and New Zealand soon and needed some last-minute things before he leaves for his trip. Later that evening another friend joined us for dinner in a restaurant we had all been wanting to try. Before we headed out to dinner, I gave each of them a pot of daffodils to take home. They made me laugh because at first they thought they were fake! Apparently, they looked too pretty to be real. 🙂
Just as I finished typing that sentence, I heard thumps and noises out on the deck. Mr. Raccoon is right on time for his nightly raid of the suet and bird feeders. 🙂
When you last saw the hutch here on the porch, it was decorated for Christmas with greenery, hot chocolate and peppermint sticks. (This dishware was previously used in this table setting: A Christmas Table Setting with Nature-Themed Dishware)
Before that, it had been decorated for fall.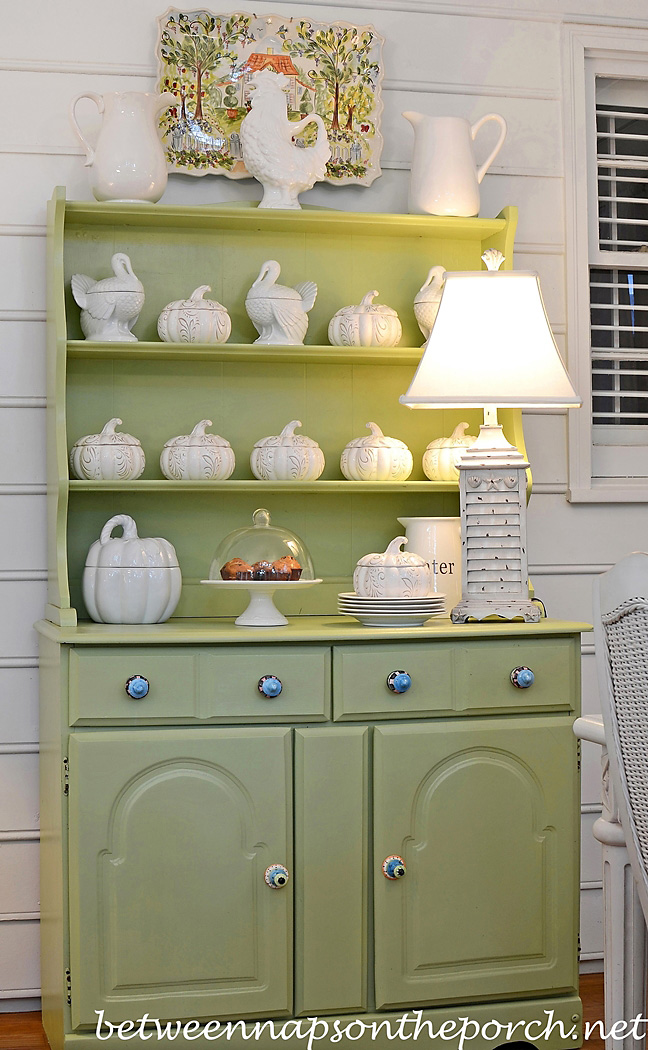 It was looking pretty bare since all the Christmas decor was long gone, so I pulled out my fave porch dishes and freshened it up for spring. Spring is fast approaching now. Our Redbud trees are in full bloom and the daffodils are peeking up out of the ground. The birds were chirping up a storm today and they were really active at the feeders. I think they know spring is almost here. I'm so ready to say good-bye to the cold for good. This warm weather is just a temporary respite I'm sure, but I'm enjoying it while it lasts!
Hope spring will soon be headed your way, too!
See more of the porch and the hutch decorated for different seasons in these two previous posts:
Looking forward to the Before and Afters linked for this Met Monday!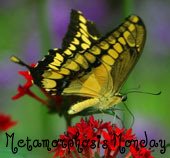 If you are participating in Metamorphosis Monday, you will need to link up the "permalink" to your MM post and not your general blog address. To get your permalink, click on your post name, then just copy and paste the address that shows up in the address bar at the top of your blog, into the "url" box for InLinkz.
In order to link up, you'll need to include a link in your MM post back to the party so the other participants will have an opportunity to receive visits from your wonderful blog readers.
Please observe these few rules:
Only link up Before and After posts that are home, gardening, crafting, painting, sewing, cooking, DIY related.
Do not link up if you're doing so to promote a website or product.
Do not link up a post that was just linked last week since a lot of readers will have already seen that post.
Do not type in ALL CAPS. It spreads the links waaaay out.


*If a post is sponsored or a product was provided at no charge, it will be stated in post. Some links may be affiliate links and as an Amazon Associate, I may earn from qualifying purchases. *