Well, it's almost that time! Very soon I'll be heading down to Florida to hop on a big ol ship to go "Sailing with the Scotts." I'm not sure what type of wifi connection I'll have available during the trip, but whenever I do have one, I'll be sharing the fun with you on Instagram. If you're not already following on Instagram, you'll find BNOTP here: BNOTP on Instagram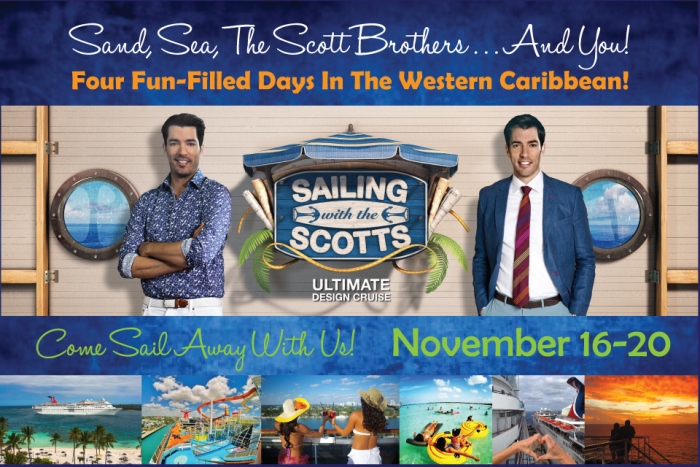 Snapchat
Anyone a fan of Snapchat? Snapchat is a free social app that you can add to your phone. Currently it has more than 100 million monthly users! Wow, I had no idea it was that popular until I looked up the stats this evening.
I joined several months back but never really used it. Recently, I checked it out again and I think I'm gradually starting to figure it out. One thing that has been a bit of a stumbling block for me is you have to specifically know a person's user name in order to follow them. Some are obvious, but some are not.
If you're on Snapchat and would be interested in following me there, my user name is: susanbnotp. I'm not exactly sure when I'll start posting there but this upcoming trip may be a fun time to start. If you're on Snapchat, give me your user name so I can look you up!
If you're looking for someone fun to follow, you gotta check out Jillian Harris! Jillian, one of the hosts on HGTV's Vancouver Love it or List It show, will also be on the upcoming cruise. She is so much fun on Snapchat! She totally keeps me laughing and enthralled with all she does and shares there.
Recently she took us along with her while she went through a procedure called Dermaplaning. It was fascinating but not sure I'd have the nerve to do it! As you might imagine, Jillian has quite an exciting life as one of the hosts of Love It or List It, so you never know where she's going to take you next on her Snapchat. I loved it when one night she took us to a secret party…so fun!
Today she was making pasta from scratch. She keeps it totally real, sharing the ups and also the downs–like the recent hacking of her Instagram account. If you would like to follow her, I think she's listed on Snapchat under her actual name: Jillian Harris.
Who do you like to follow on Snapchat? (Take a tour of Jillian's beautiful home here: Tour Jillian's Beautiful Vancouver Home)
Back to the Cruise…
So about that upcoming trip, just got this in my email yesterday and thought you might enjoy seeing the schedule. It's look pretty wild, doesn't it?!
I'm not sure how many things I'll participate in because I'm pretty set on visiting Ernest Hemingway's home in Key West. I want to see and love on those six-toed kitties I've been hearing about all my life. lol
Bucket List Goal: Pet a Six-Toed Kitty at Ernest Hemingways Home in Key West 🙂
I'd also like to spend a little time walking along one of these. If I can figure this Snapchat thing out, I'll take you with me! 🙂
*If a post is sponsored or a product was provided at no charge, it will be stated in post. Some links may be affiliate links and as an Amazon Associate, I may earn from qualifying purchases. *