Welcome to the 500th Tablescape Thursday!
Wow! It blows me away to type that number: 500! How did that happen? 🙂
Tablescape Thursday, initially called Tablescape Tuesday, got its start on August 24th, 2008. This was the first table setting I ever posted for our tablescape party. I had just added on the porch the previous fall/winter and was so excited to set a table with the beach-themed dinnerware I had just purchased a few months earlier.
Thirteen lovely bloggers joined in on that first TT party, and here we are, ten years later, still celebrating the joy and excitement of creating beautiful tables for our friends and family.
I knew absolutely nothing about taking photos back then, thus the blurry photos in that first TT post. Thankfully my photos have improved a bit over the years.
(Click the titles below to visit a table for additional photos.)
The Very First Tablescape Party
Were you here for our 100th Tablescape Thursday? I climbed a ladder to reach a beautiful magnolia blossom that was high up in the magnolia tree in my front yard, so wanting to use in the centerpiece of this special celebration table.
I went all out for that 100th celebration, bringing out the fancy flatware. I even managed to squeeze bread plates and salt cellars onto the table. A little crowded but who cared, we were celebrating 100 weeks of Tablescape Thursday!
Several years ago while visiting my sister, Glenda, who sadly has since passed away, she pulled out this beautiful luncheon set crocheted by our Mother during the time she was awaiting my arrival. Not long after my birth, our Mother became very ill and never recovered. She passed away when I was a Senior in college.
My sister said when my Mom was working on each piece of this 4-place-setting luncheon set, if she discovered a mistake in her needlework, she would either pull everything out to correct it, or if she was almost finished, she would complete the piece and give it away.
For the centerpiece, I brought in fresh gardenia blossoms from the garden. It was a bittersweet moment, setting this table. View this table setting here: Beautiful Crocheted Luncheon Set.
Here's a second table using this beautiful crocheted luncheon set. Mother's Day Luncheon with Crocheted Luncheon Set. For those who crochet, there's a photo of the pattern book in that post, also. It can sometimes be found on eBay or Amazon. I am in awe of the sweet little covers she made for the glasses. So beautiful!
One Tablescape Thursday, Mother Nature gave me a beautiful snowy-white tablecloth. I couldn't resist decorating it with a snow-flake, snow-themed setting.
A Winter Table Setting for the Birds, Tablecloth by Mother Nature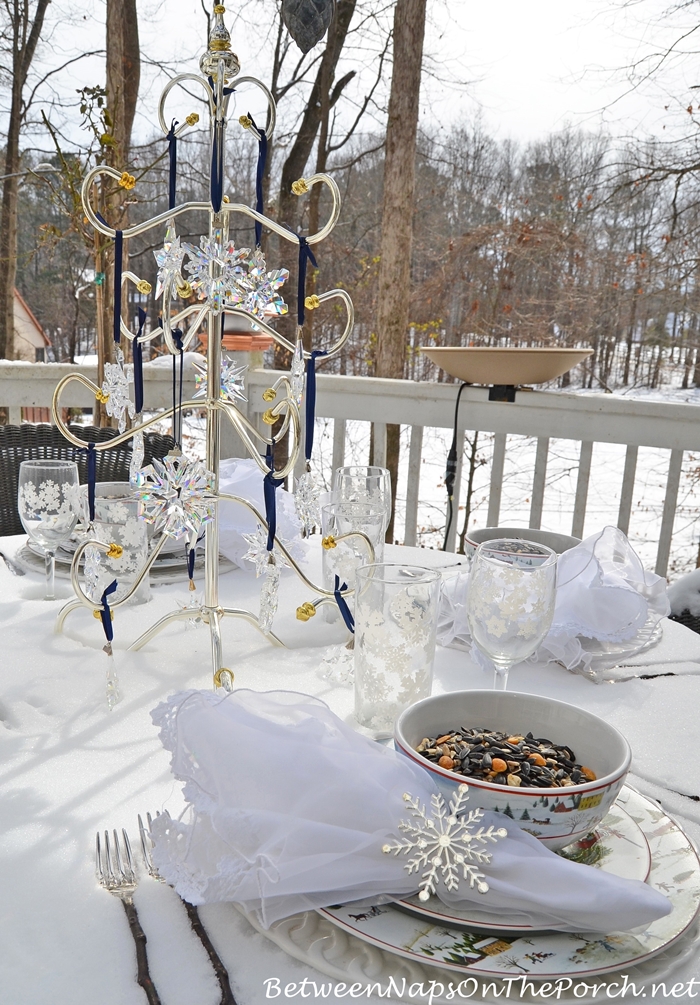 This particular dinnerware is one of my absolute favorites! I love the snowy village scenes it depicts. The birds who were coming to feeders that hang off the deck showed a keen interest in this table setting, as well! 😉
This was such a fun, fun table to create with whimsical Alice-in-Wonderland dishes.
Valentine's Day Tablescape with a Queen of Hearts-Alice in Wonderland Theme, Heart Cakes and Heart Napkin Fold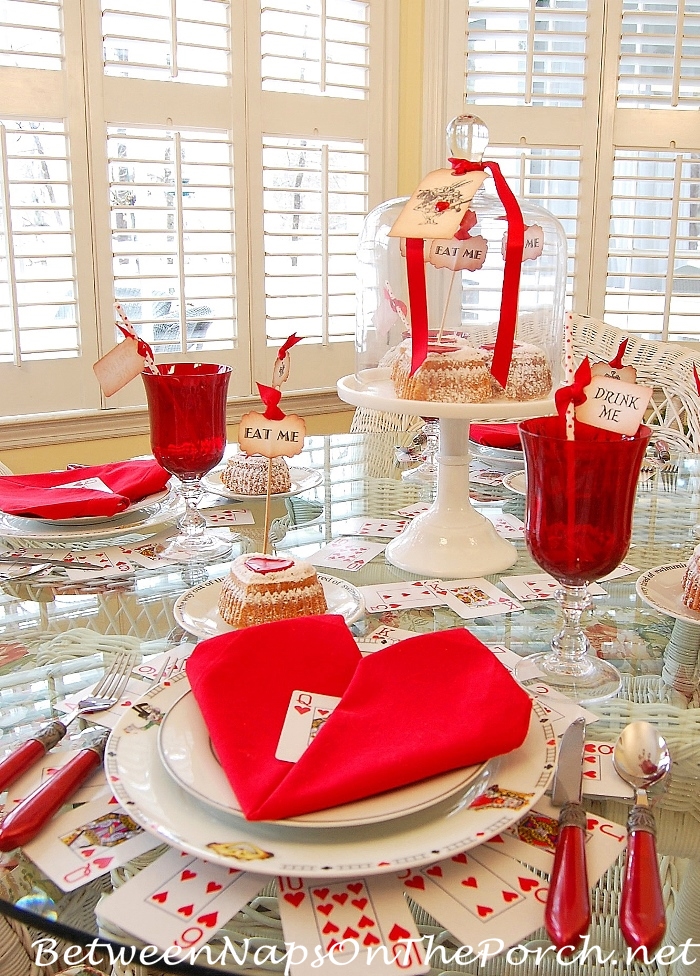 I've actually used this delightful pattern in four of five tables over the years.
I'll always remember this table because I was blessed with wonderful light on the porch that day. Over the years the trees in the backyard have gotten taller and taller, so the lighting can be a challenge for taking photos on the porch now.
Easter Spring Table Setting with Tulip Centerpiece and Bunny Cupcake Stands
This centerpiece can be created for a lot of different occasions. I'd love to create it again this summer, but with a different theme.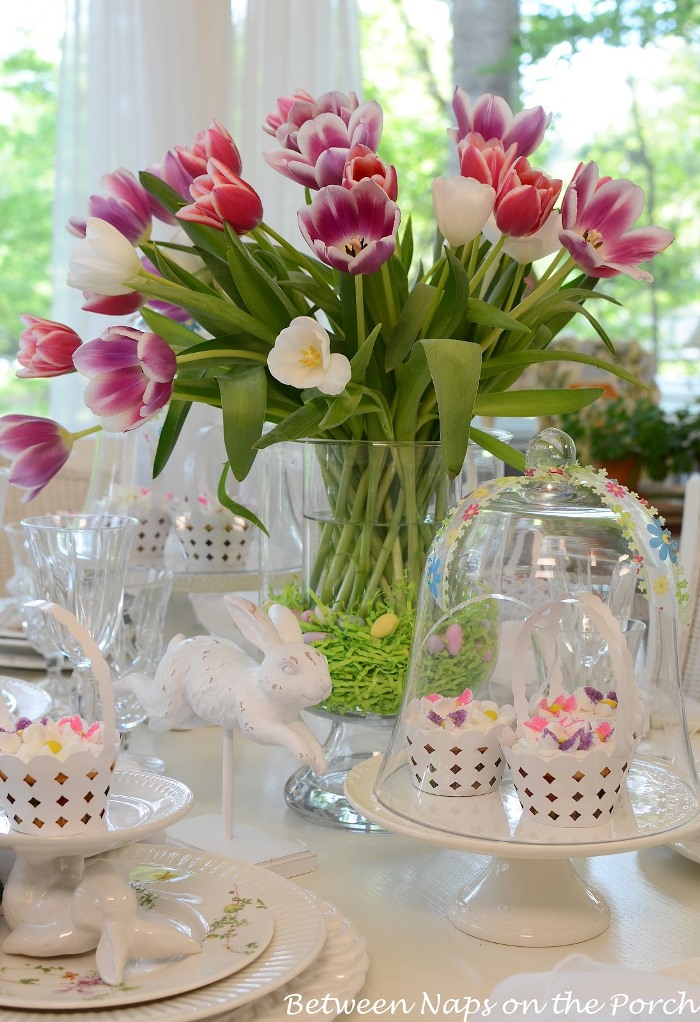 Some of my most favorite tables have been those that were set for just two. Soft lamplight can make any table feel special, especially if it's an outdoor table setting.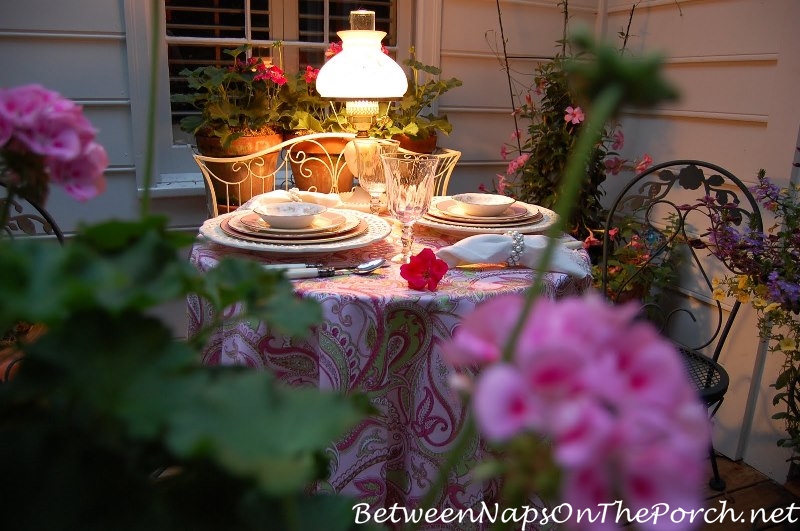 One more setting for two–loved the colors in this table.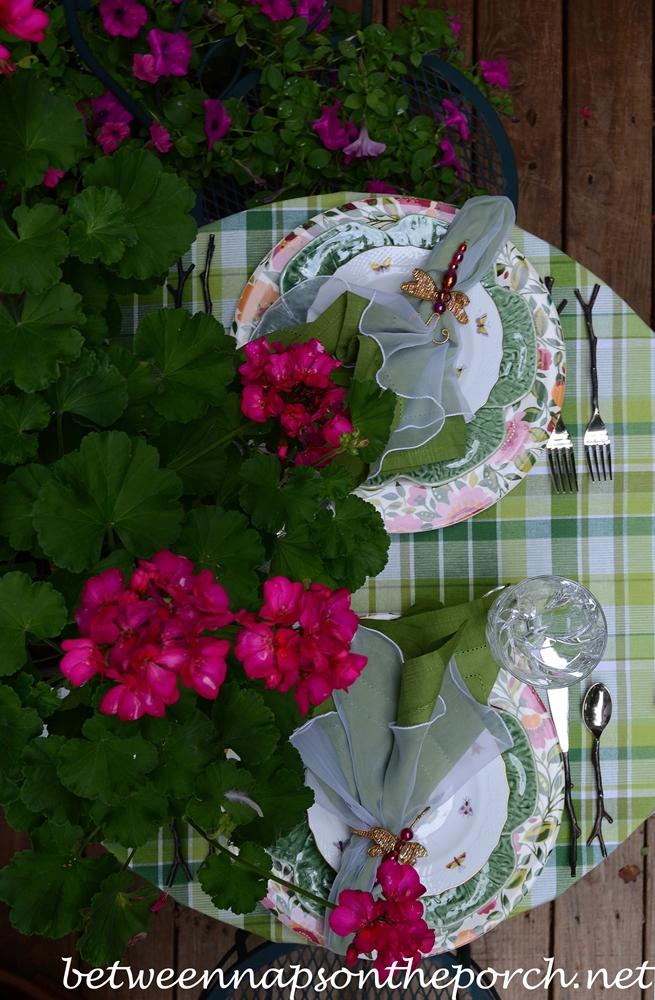 The petunias joined in and had a seat at the table, too.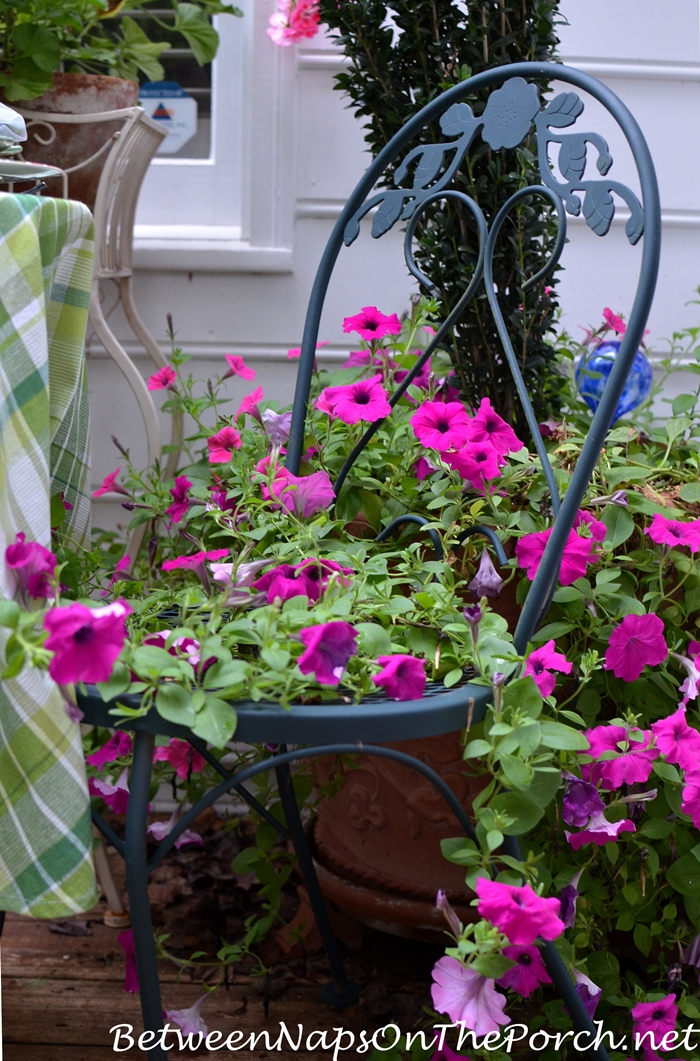 Went to a garden party to reminisce with my old friends,
A chance to share old memories and play our songs again.
Ricky Nelson, 1985
When Ricky wrote that song, I don't think this is quite what he had in mind, but I still sing it when I see photos of this table. The flower pots, complete with worms, are actually the dessert–Oreo Dirt Cake. Yum! Large clay saucers worked great as chargers for this garden party setting.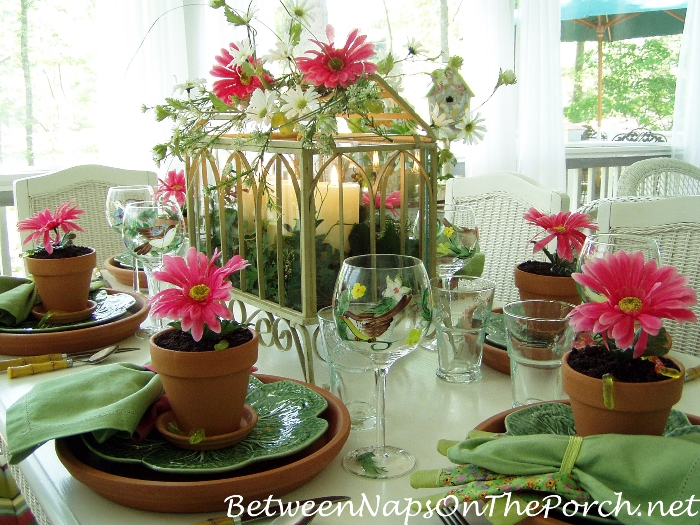 It was that same table that taught me about the Blue Hour. Couldn't believe what I was seeing when I downloaded the photos to my computer to create the post. A little Googling about that amazing blue nighttime sky I was seeing, and I felt as if I had just discovered one of the most amazing secrets of the universe!
What do you do when you are snowed in nine hours away from home visiting grandchildren, and it's time for Tablescape Thursday? You can't say that we haven't had a variety over the past 10 years! lol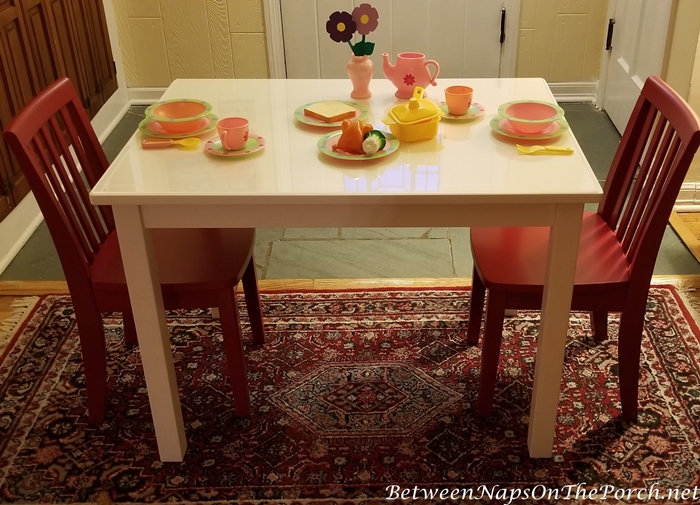 I've always loved Halloween, it's one of my favorite holidays. I have so many good memories from trick-or-treating with friends.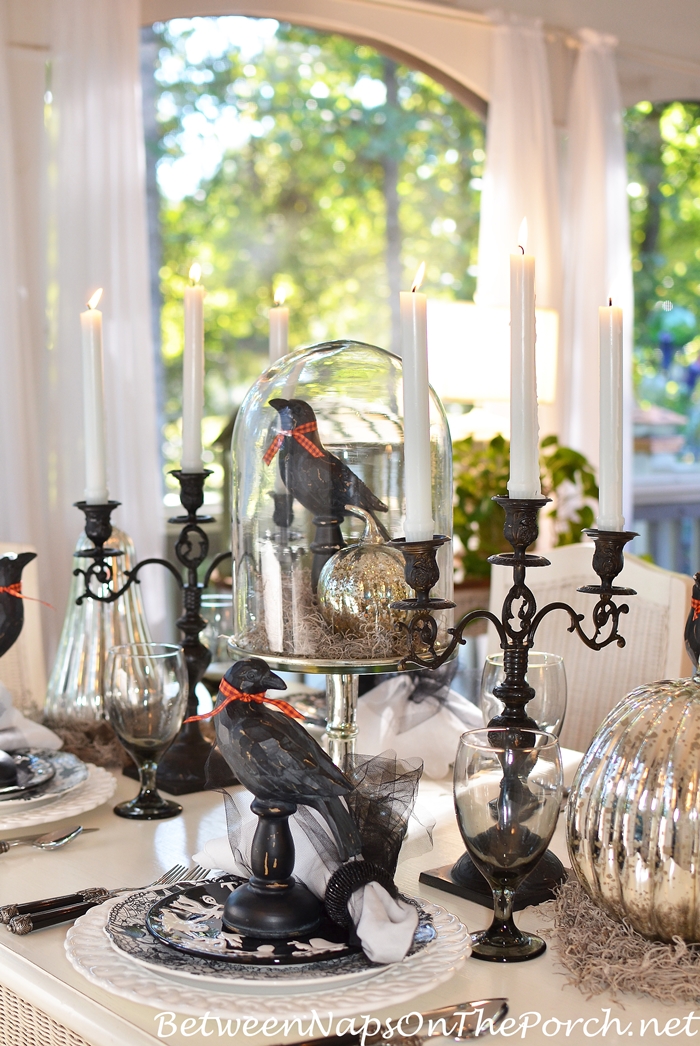 I had to include at least one table in this post where I used the shell chargers that took so many hours to make. Being a glutton for punishment, I made a second set of six, adding in a pretty aqua sea glass.
I've created a lot of Christmas table settings over the years…
Sparkle with a Touch of Whimsy
…but this is still my fave. We had our Christmas dinner here that year and this little village centerpiece stayed up all throughout the Christmas season.
Christmas Table Setting with Dept. 56 Lit Houses Centerpiece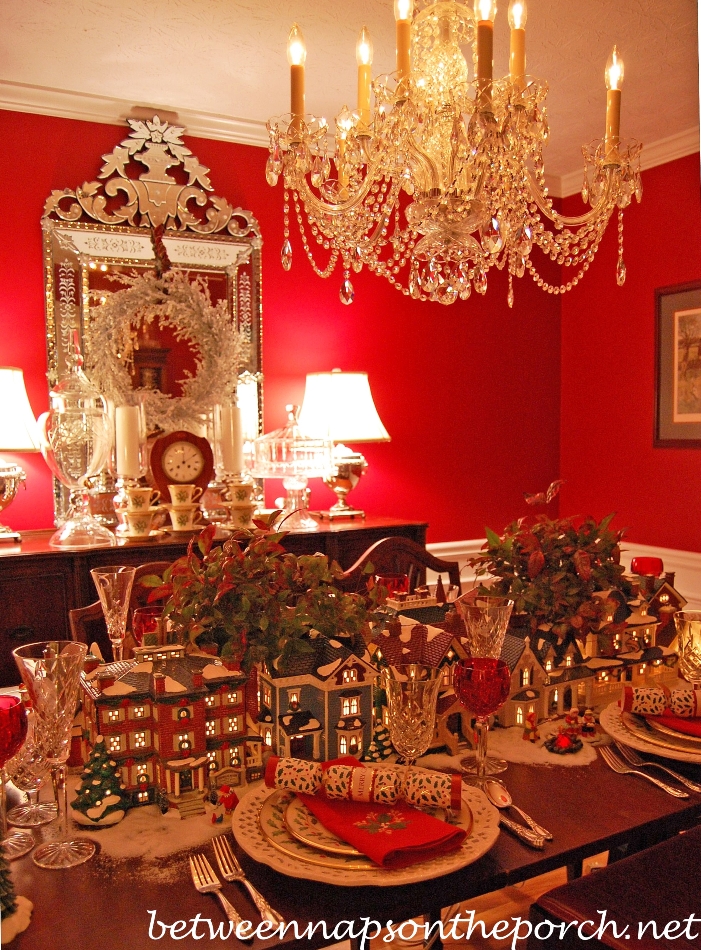 There were so many others I could have included in this 500th Tablescape Thursday celebration post, but I'll stop here. Thanks so much for your generous, kind comments over the past ten years of blogging and creating tables for Tablescape Thursday. Your friendship has meant the world to me! I'm looking forward to the next 500, dear Friends!
Looking forward to all the beautiful tables linked for this week's Tablescape Thursday!
Pssst: I post almost daily to Instagram. Follow Between Naps on the Porch on Instagram here: Between Naps On The Porch. If you enjoyed this post, subscribe for free email updates when a new post is up here: Subscribe for post updates.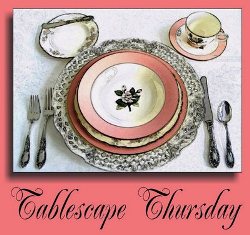 Tablescape Thursday
If you are participating in Tablescape Thursday, please be sure to add your permalink below, and not your general blog address.To get your permalink, click on your post name, then copy and paste the address showing in the address bar, into the "url" box when you link up.
You'll need to include a link in your post back to the party to link up and participate. That's so visitors to your blog will be able to find the party and the other Tablescape Thursday participants. Requiring a link back also prevents businesses and scammers from linking up to sell their products. (Yup, that really happens, unfortunately.)
*If a post is sponsored or a product was provided at no charge, it will be stated in post. Some links may be affiliate links and as an Amazon Associate, I may earn from qualifying purchases. *