Each month I share my favorites from the month before, the products/ things I love and that add significant value to my quality of life. For this month's favorites, I thought it would be fun to share my daughter-in-law, Nancy's favorites. I ask Nancy for a list and after reading about some of her favorites, I've ordered quite a few of them for myself.
Several of Nancy's friends have been singing the praises of this air fryer. Have you heard of air fryers? I had not until Nancy purchased this one a few weeks ago. Oh. My. Gosh! It is amazing! When Nancy cooks with her air fryer, she doesn't add any oil at all, but magically food comes out tasting crispy and delicious! You would swear she's been slaving over a hot stove frying all day!
Nancy and I both love this air fryer and as soon as I'm back home, I'm immediately ordering one for myself.
We've air-fried everything you can think of from french fries to grilled cheese sandwiches to chicken wings. A favorite we've air-fried are the Kroger Oven-roasted Chicken Wings. Actually, we've tried all the different flavors and the Oven-Roasted and Dry Rubbed are our favorites with the Oven-roasted being our absolute favorite. Yum! You can even make pizza in an air fryer, though we haven't tried that yet.
Nancy is using the air fryer right now as I write this post and the smell is driving me nuts! Smells sooo good! We've used the air fryer almost every day since it arrived, that's how much we like it! It's easy, fast, and convenient, I can't wait to buy one and use it when I get back home!
You'll find the air fryer Nancy uses available here: Air Fryer.
Nancy just purchased these beautiful earrings for summer and I'm definitely considering buying a set for myself. The smaller flower can be worn as a small single earring in each ear, or the larger flower can be attached to create a dangling earring look. I love them both ways.
These are available here: Earrings.
Nancy loves this cleanser for her face. She said, "I found this about 15 years ago and have never looked back. It takes off any and all makeup." She added that even my son uses it now and that the large 32oz size lasts both of them for a whole year.
You'll find it available here: Facial Cleanser and here: Facial Cleanser.
In addition to her Calista Tool, Nancy loves using the Aplatir by Lange for styling her hair. Nancy said, "Lange is a hair game changer. I have multiple wands and then got the Aplatir and use it to both curl and straighten my hair. It would be top 3 of what to bring if you were going to be "deserted on an island" list."
You'll find it available here: Hair Aplatir Flat Iron.
Nancy really enjoys Spanx Leggings. She said, "I purchased 2 pairs of black and one navy all petite size XS. Wore them every day this winter and I'm still wearing them every day currently."
Wow, I've never worn Spanx and had no idea they lasted so long. That's impressive! The Spanx leggings Nancy loves and recommends are available in various sizes/heights here: Spanx Leggings.
Nancy shared some of her favorite makeup products. She said, "I love this so much I get it on my "Subscribe and Save" every 4 months. It's a brow life saver and lasts all day until you scrub it off. I apply it with a small eyeshadow angled brush that I got from Sephora." You'll find the eyebrow gel Nancy uses and recommends here: Long-lasting Eyebrow Gel.
Another makeup product Nancy uses and recommends is the Mally Dark Circle Corrector. She purchases it here: Dark Circle Corrector.
Nancy and I both share a love for lipstick. In addition to the House of Sillage lipsticks that we both enjoy, Nancy loves a great lip gloss. Nancy said, "I loved these so much I bought a second set while the "special value" was still going on here: Lip Gloss."
Nancy eats really healthy, gets plenty of sleep, and never misses a day riding her Peloton. In addition to eating well and her daily workouts, she always drinks the Super Greens Supplement below.
She said, "I have taken one of these tablets once a day for the last 6 months and haven't gotten sick even once. My overall digestion is better, my skin hair, nails, and workout stamina. And I don't have to worry about cramming 8 servings of greens into my diet every day. I mix a tablet with one water bottle each morning and drink while I work out."
I just ordered this for myself today since I know I don't eat all the greens that I should each day. The reviews look amazing! I'm thinking about ordering the one for the skin, as well. You'll find it available here: Super Greens Dietary Supplement.
Nancy and I both were talking about Cutemol the other day and we both agree we've never found anything that's even half as good for dry skin, especially skin that cracks and splits during the winter. Cutemol is (for us) a miracle cream. We NEVER allow ourselves to run out, so it had to make this list of favorites. Nancy and I both purchase it here: Cutemol.
Note: When you apply Cutemol, it takes a while to work its magic and to completely dry. So it's best to apply it when you won't be using your hands for about 5-10 minutes. It only takes a little so don't over-do it when applying it.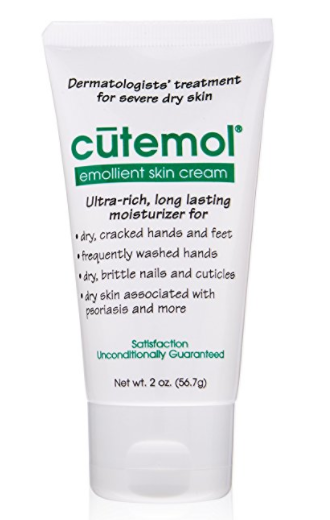 Thanks so much to Nancy for sharing so many of her favorite products with me so I could share them with you! I'm going to be trying many of these–I've already ordered the greens and the facial cleanser and will order the air fryer as soon as I'm back home. I love learning about awesome products, especially when they are recommended by someone I trust.
*If a post is sponsored or a product was provided at no charge, it will be stated in post. Some links may be affiliate links and as an Amazon Associate, I may earn from qualifying purchases. *